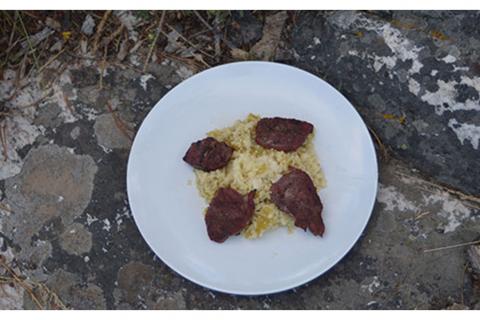 Prep Time: 10 minutes 
Cook Time: 10 minutes 
Servings: About 6
INGREDIENTS
3 cups water or broth  

2 cups couscous

8 oz. (2 small cans) diced green chilis

12 oz. (1 package) Wisconsin cheese curds

1/2 lb. chorizo or sausage (optional)

sour cream (optional)
DIRECTIONS
Couscous is a go-to for many camping and backpacking trips. It is lightweight, quick and easy to prepare, and just as important: versatile. Couscous makes a great base, but adding flavors is key. Here green chilis add complexity and layers of flavor, while cheese curds add salty goodness, and bring a nice texture to the dish.
Green Chili and Cheese Curd Couscous makes a hearty side dish that pairs well with grilled deer loin steaks. It could also take center stage on the plate, especially by adding chorizo or sausage.
1. If using chorizo, brown meat thoroughly. Drain off excessive grease.
2. Boil water. As water begins to boil add couscous. Remove from heat. Cover and let stand for 5 minutes.
3. Fluff couscous with fork. Stir in green chilis.
4. Add Wisconsin Cheese Curds. Stir thoroughly.
5. If using chorizo add at the end.
6. Garnish each serving with sour cream.