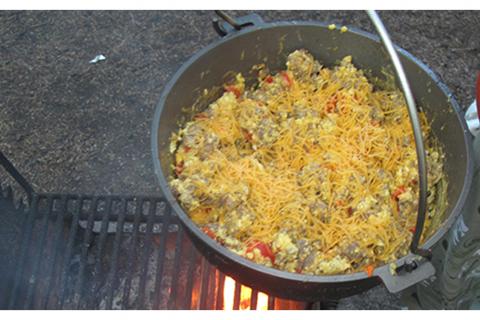 INGREDIENTS
1 pound bacon, ham or sage sausage

1 26-ounce package of frozen hash browns, or equivalent

1 dozen eggs

2 cups shredded cheddar cheese

Salt and pepper to taste
DIRECTIONS
Grits and granola will do the trick for a day or two, but after just a few mornings in the woods I'm ready for a breakfast hearty enough to get me over the mountain or around the next river bend.
The venerable Mountain Man is a staple, and it is infinitely customizable to suit any family's taste and quirks. The foundation of eggs, cheese, hash browns, and breakfast meat (bacon, ham, or sausage) can be the final product or just a starting point.
Other add-ons can include sauteed onions and peppers, chopped fennel, garlic and various cheeses. Our family favorite is roasted red peppers, coarsely chopped and sprinkled on top.
In a skillet, Mountain Man is more of a scramble. In a Dutch oven, it's a breakfast casserole. Either way it will kick-start a day-long adventure. And it's so easy the kids can do the cooking and let mom and dad sip coffee by the fire. Here's the drill.
Brown one pound of bacon or sage sausage, or heat ham in a large skillet. Remove to separate platter and retain one-half of the cooking grease (you might need to add a little oil and/or butter if using ham). Brown hash browns in remaining grease. While the hash browns are cooking, scramble eggs in a separate bowl. Or, crack eggs on top of cooked meat and place over medium heat until thoroughly cooked.
When hash browns are cooked, dump in the cooked bacon, sausage or ham, pour in the eggs and mix. Season with salt and pepper. Cover and cook over medium heat, stirring occasionally.
When the eggs are nearly done, sprinkle cheese on top, cover, and continue cooking until cheese is melted.