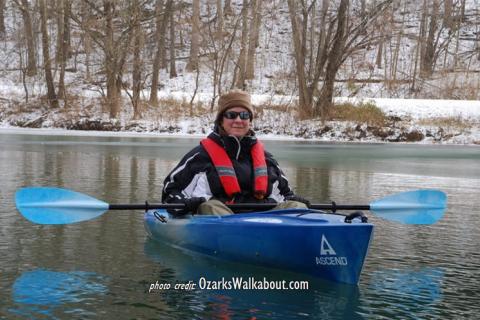 Winter kayak fishing can be a great escape from the hustle and bustle in town. To do so in most areas you'll need to beef up your wardrobe since the temperature will be around or below freezing for the next few months. The following five things should be on your list for making kayak fishing in the winter a much more enjoyable time.


Remember to never go kayak fishing alone in cold conditions, check the weather forecast and never, never forget your life jacket.
1. Take Care of Your Hands With Gloves

Winter kayaking gloves come in all shapes, sizes and functions. You can get neoprene gloves which will let some water in but use your body heat to warm the water and insulate against the cold. Wool gloves are another popular way to go. You'll also want to check out gloves that give quick access to your fingertips which will make tying knots quite a bit easier.


My preferred gloves for kayak fishing in the winter are some of the cheapest. Fingerless wool gloves over some latex gloves like you see in a doctor's office are a great combination. Your hands stay warm, water doesn't saturate the gloves, and you still have dexterity in your finger tips to tie knots as needed.



Tip: Find men's gloves at Bass Pro Shops here
2. Choose Bibs or Pants That Repel Water

Winter fishing offers two alternatives for pants: insulated pants or bibs. I personally prefer the bibs to the pants because of gaps. If you wear pants and a jacket, especially on a kayak, and are bending and moving, there will be a gap between your jacket and your pants. This gap allows the cold wind and water a place to go. Since fishing bibs are basically overalls, when worn with a jacket, no gaps appear so you stay warmer.


When choosing rain bibs, go with a material that repels water. When you paddle in the winter, water finds its way onto your lap through fish, paddle drip, spray from waves, and occasionally precipitation. I like Gore-Tex fabric bibs. They cost a little more up front but will last a long time and keep you dry which is most important. The Bass Pro Shops 100mph Gore-Tex rain bibs have reinforced knees, extra large pockets, and will keep you warm and toasty against the wind and water


3. Jackets Need to be Wind and Water Resistant

A jacket is the most common item people grab for fishing in the cold. Just like the bibs, you'll want something wind and water resistant. Another thing to consider is a jacket with an inner shell. The days can warm up quite a bit between first light and lunch. When it does, you need some protection from the elements but not quite as much. A layered shell jacket meets this need.


I've used the Columbia Bugaboo Interchange jacket for a couple of years and it's perfect for changing conditions. The inner jacket is fleece lined and works perfect for cool, not cold days, and when you pair it with the outer shell, you've got a great cold water combo.


4. Keep Your Head Warm
Everyone is a little different in the head warming choices. For me, a fleece lined beanie cap, or wool skull cap are my preferences. I usually buy them a little larger than I need and pull them down over my ears as another layer of cold protection. Wool can have gaps in the weaving so make sure you check that out when purchasing one of these. My favorite over the last cold season was a Carhartt fleece lined beanie. It's lightweight, has no wind gaps, and is plenty warm. It also has a deep crown so it fits over my ears well.



Tip: Find men's hats and caps at Bass Pro Shops here

Tip: Check out this creative comfort: a simple way to insulate a kayak for winter paddling.
5. Footwear
Depending on how much you'll be in the water during launch and if you'll have to get out to drag your kayak can determine what type of footwear you'll need for winter fishing or paddling. Knee high neoprene boots are a good option for a lot of folks. Tall muck boots typically used for duck hunting are also a good option. You'll want a good pair of wool socks to cover your feet regardless of the boot you choose. RedHead has a lifetime guarantee on it's all-purpose sock. I'd also recommend going up ½ a size for room to layer.


Muck boots are probably your best bet if you need to grab some off a store shelf. I like the Muck Boot Company's Wetland Waterproof Boots. Make sure to take your wool socks with you when trying these on so you can get a comfortable fit.


Watch Video: How to Protect Yourself from Hypothermia When Kayak Fishing