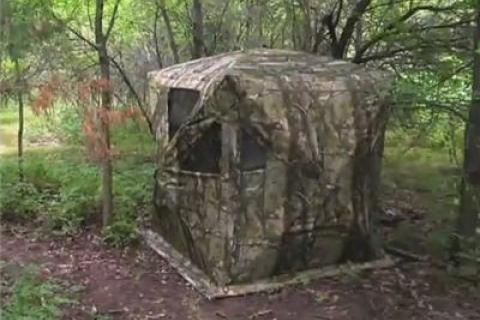 When I received my new BlackOut hub style ground blind, I was extremely impressed with the ease of operation.


Within seconds after reading the instructions, I had the blind opened in my living room. At that moment, I knew I had an invaluable asset to my hunting arsenal and more…….


Check out this video of the BlackOut hub style blind from Bass Pro Shops.

The construction and material used are of top quality and the blind offers shooting access 360 degrees. The window configurations make shooting with any weapon a breeze and uses for this blind are endless.


Being an avid spear fisherman I decided to put the blind to a winter of frozen abuse to see how durable the blind really was. The Black Out material proved to be exactly what's needed for keeping the light out and allowing a perfect view of the lake bottom.


An Effective Spearing Shanty:

Not only does the blind cut the wind and weather, the zippers are heavy duty and the blind withheld the abuse from dozens of below zero days on the ice, without harm.


The Black Out Blind is an awesome hunting tool and, it is a very effective spearing shanty for the angler on the move looking for trophy fish.