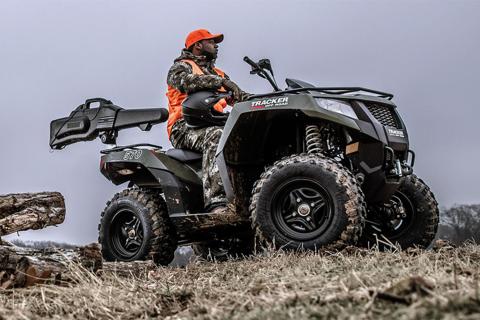 ATVs are a popular tool for modern hunters. Part pack mule, part truck, part tractor – ATVs have so many uses that many hunters won't go afield without one. Outfitting one to fit your needs is part of the fun. Just make sure that you're getting everything you need.
Tips for Taking Care of You and Your ATV
1. One of the main things you need to concern yourself with is recovery, both of the machine and yourself. A winch, like a Warn VRX 25-S Winch or Champion Power Equipment winch kit, or Provantage winch is an essential piece of hardware. Whether pulling your machine out of the muck or pulling that big buck up a steep hill, a good winch will prove to be worth its weight in gold. Make sure you get a big enough one for your machine.
You'll want 3,500lbs to 4,500lbs for a UTV and at least 2,000lbs for an ATV. They also make loading your ATV on a truck or trailer a snap.
2. You also need to make sure you get back as well. Never go for a ride, even on your own land, without a first-aid kit. Have a decent supply of bandages, gauze, and other first aid essentials. Also make sure you have fire starting materials as well as a lighter or waterproof matches. In a survival situation, you'll be glad you have them.
3. Always have a basic tool kit for in-the-field repairs as well as a small air compressor and tire patch kit for flats. You also need to wear a helmet, as essential for safety as the seatbelts in your truck.
Tip: Fix everyday flats on your ATV, UTV, lawn tractor, and more by yourself  with the Slime Power Sport Tire 22-Piece ATV Tire Repair Kit.
Specialty ATV Storage Options for Hunters
4. ATVs and UTVs offer an amazing amount of cargo capacity, and when you're headed back to deer camp that can come in handy. There are a lot of options for rack extensions and rack bags available to turn your ride into an all-terrain suitcase on wheels. Hard case ATV cargo boxes  have the advantage of being more water-resistant and better for fragile gear.
Soft bags allow flexibility and work very well for resting against during a long ride. I've seen more than a few guys using them as pillows while catching a few trail-side ZZZ's. It's all a matter of personal taste and what fits your situation.
5. Carrying your bow, crossbow or firearm afield on your ATV or UTV is pretty easy with the amount of options available. Depending on local regulations, you can get all sorts of gun racks or cases. I am a big fan of the Kolpin Gun Boot. Where I live, it is law that all firearms, bows and crossbows must be cased while in transport. The Gun Boot not only is a great case, it slides into a bracket on my ATV for secure carrying.
Making the Most of Your ATV Investment
6. There are a lot of accessories on the market that make life easier when it comes time to ride off into the field come hunting season. Big on my list is lighting. While the lighting system on the TRACKER 700 EPS ATV is great, I can use a few extra watts of light. That's where the Blazer International Hybrid LED light-bar comes into play. Whether flooding a trail with light while headed out after dark to setting decoys for a morning goose hunt, extra light is not only helpful but also safer.
7. I do a lot of food plots around my property and have come to swear by the Bad Dawg ATV/UTV GroundHog Max disc plow. It is compact, inexpensive compared to other plows, and it works really well.
8. Other things you need are good ramps for loading and unloading your machine and a good set of tie downs to secure it to your truck or trailer. I value my money and the money I spent on my ATV. They're not cheap, so good tie downs are a sound investment.
Tip: Shop ATV accessories for ramps here
Above all, be safe and enjoy your time in the field aboard your ATV. They are great tools to get the most out of this hunting season and all the ones down the trail.