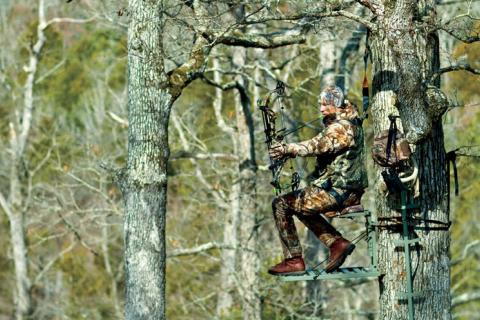 The back half of summer is here! It won't be long and there will be a night when the temperature and humidity both drop, and in the morning that faint, distant whiff of fall will be in the air. It's the first clue that hunting season isn't too far away.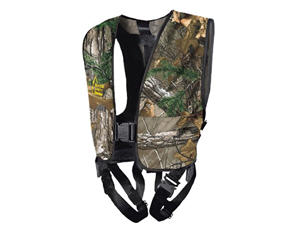 When that happens, and even before it does, the white-tailed deer hunter's thoughts turn to hanging tree stands. The search will be on for the perfect spot and the perfect tree where we plan for our meeting with copiously antlered destiny. But enough of the day dreams, for now! There's a lot of work to be done before any of that can happen.
Hanging tree stands is often hot, sweaty, buggy … and if caution isn't taken … dangerous work. Hunting unprepared to be safe in a tree stand is dangerous, but going out to hang tree stands unprepared is downright suicidal. If you wreck yourself hanging a stand, you may never get to hunt the stands you've hung … and that means no meeting with destiny.

Tip: Click here to watch video "How to Hang a Tree Stand" by Primos Hunt
Tree Stand Safety is First
The first rule of tree stand safety is you never leave the ground without wearing a proper safety harness and having it tethered to a safety line. Never, ever … and that includes when you're hanging stands, not just hunting from them. Actually it's more important when you're hanging stands because falls are even more likely to happen then.
Numerous manufacturers make hunting tree stand safety harnesses  and life lines. If you're not familiar with life lines, you should be! They are lines to which you tether your harness when you're climbing into and out of a tree. A Prusik knot is used on the life line to arrest your fall should one happen, but it's easily slid up or down the line by hand when you're climbing and descending. With a little ingenuity, you can tie off a life line even before you climb into a particular tree for the first time, then resecure it once your stand is locked in place.
Extra ropes, carabiners like the Muddy Safety Harness Carabiners, and a linemen's climbing strap are also handy safety devices for climbing trees and securing stands in place. Make sure you take a supply with you as well as any tools you might need.

Tip: Check out Bass Pro Shops hunting tree stand safety harnesses and accessories or Cabela's tree stand safety harnesses for great selection of equipment.
Climbing Sticks Provide a Safe and Stable Climb to the Hunting Stand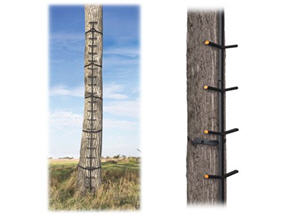 Especially when placing hanging-type stands, you'll need a good set of these lightweight tree steps. They can also be an aid to safety and convenience for placing ladder stands, too. Quality sticks are essential. In fact, you may need many sets depending on how many stands you'll deploy and whether you want to leave some steps or a complete ladder at each stand.

Tip: Click here to watch video "How to Safely Hang a Lock-on Deer Stand" by Realtree Outdoors
 
The Risk of a Fall or Injury is Too Great to go By Yourself - Partner Up
If for no other reason than safety, hanging stands is a two-person job – at least. The risk of a fall or injury is too great to go by yourself. There's good reason to have at least three people for placing heavy ladder stands.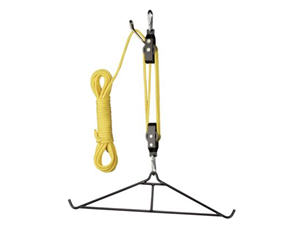 Whether hanging a tree stand or hunting from one, you should always tell a responsible person exactly where you'll be going and when you anticipate being back. Then if something happens there will be someone to get a search started, and they will know where to look.
Even with two or three people, it can be awkward getting a stand up into the tree and holding it in position until it is secured. A block and tackle can help.

Tip: The same Gambrel System you use for hoisting your deer for weighing and skinning can help move a tree stand up a tree and hold it in place while you lock it down.
Work From the Ground Rather Than While in the Tree
If the first rule of safety for hunting from a tree stand is always wear your tree stand safety harness, the first rule of safety for hanging tree stands is do as much work as you possibly can from the ground rather than while in the tree.
The number one tool for this purpose is a pole saw. You might also know it as a pruning saw or tree saw like the Hooyman Extendible Tree Saws. The handle will telescope to up to 10 feet, allowing you to clear most shot obstructing branches easily, but with your feet remaining securely on the ground.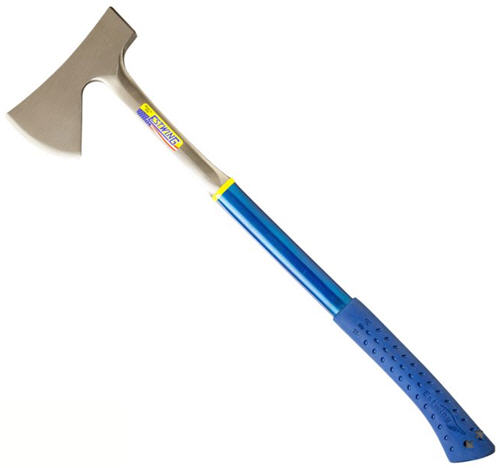 For those branches you can't reach from the ground, the pole saw allows you to safely cut them while seated in your stand without leaning and stretching which are two of the most dangerous maneuvers in any kind of tree stand. Just reach out with the saw, and carefully cut the offending branches away. However, always be sure to know the rules where you're hunting. Especially on public lands, cutting brush and trees may be illegal.
More cutting implements can be safely used on the ground, too, like tree pruning shears, folding saw, a machete, or axe like the Estwing Long Handle Camper's Axe at Bass Pro Shops.
Check the Weather Before You Plan Hanging Your Tree Stand
Don't plan your stand hanging outing for a day on which precipitation is likely. If it rains, abandon the plan for hanging stands and go scouting instead, or stay in the shop and work on your other gear. When steps and stands are wet, the odds of an accident go way, way up.
Often Forgotten Conveniences for Tree Stand Setup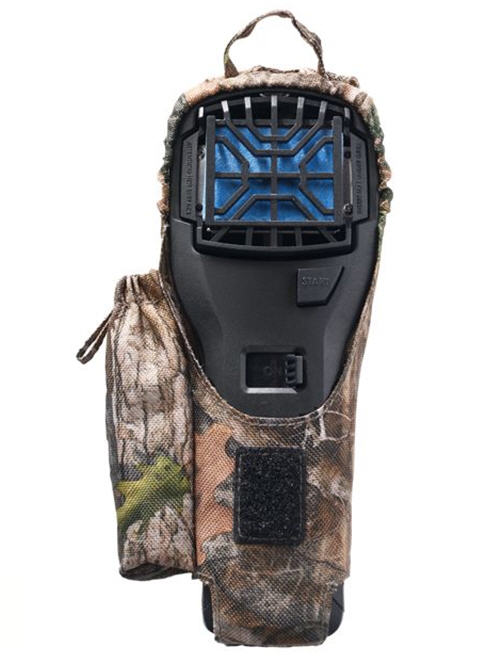 Swatting at mosquitos is not what you want to be doing while you're strapped to a tree, 10 or 15 feet above the ground. Plan ahead with spray-on insect repellent or a ThermaCELL Mosquito Repellent unit fired up and strapped to your belt. Better yet, use both.
Another welcome, but often forgotten, tool for hanging treestands is a simple pair of leather gloves like the RedHead Workorse Leather Gloves found at Bass Pro Shops. You'll get a better grip on the stands, and you'll protect your hands. Remember, for a successful hunting season you must avoid injuries that might prevent you from making the shot at the moment of truth … or even getting into the woods at all.
Conclusion
Hanging hunting stands is fun and helps to build the anticipation for hunting season. It's also a great opportunity to mentor young hunters and teach them the ways of the deer and other wildlife. Just take every precaution to make sure you hang your stands safely this season.
Check out this video: Tree Stand Safety – Hunters Stay Connected for more tips on tree stand safety.
Watch this video about: How to Hang a Tree Stand by Primos Hunting
Watch this video about: How to Safely Hang a Lock-on Deer Stand by Realtree Outdoors