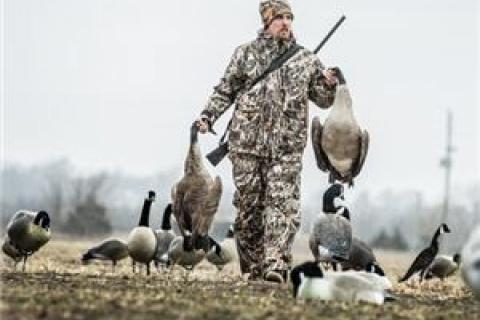 Hunting Canada geese late in the year is not an easy task, but when the winter storms in the north start pushing down those final flights of birds, hunters are going to take to the field. Having a good hunt on those harsh days is possible but takes preparation and work.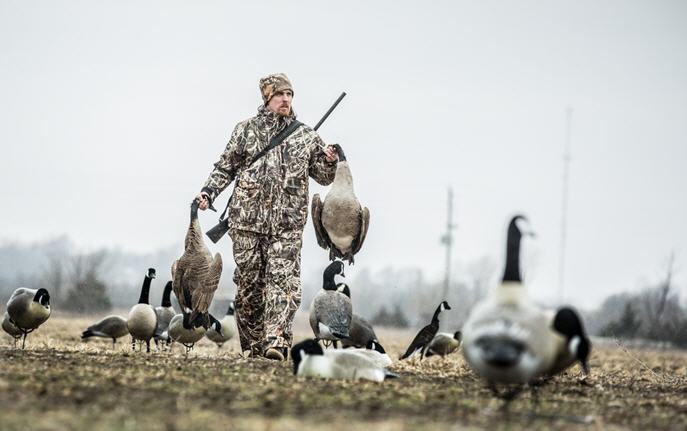 While it's tougher to hunt late season geese, you can knock some *** out of the sky. But you better heavy up on your decoy spread.
A Burlap Blankey for Your Dekes?
While early season geese can be brought in with minimal spreads, late season migrating birds require every quality goose decoy you can muster. Use a bigger spread and have your decoys closer to your blind to build confidence. I also like to mix in a few snow goose decoys.


Frost plays a major role in decoys late in the year. Nothing can derail a hunt like shiny decoys. On morning when it's going to be really cold, it can be hard to keep the frost down. Some recommend using disposable hand warmers inside the bodies of the decoy; I disagree. What has worked best for me is going out and setting all the decoys up. I have pieces of burlap fabric that I keep inside of a Yeti cooler along with my Thermos. Once the decoys are set up and as dawn approaches I'll get everyone to go out, and we cover the decoys with the burlap. Once the sun comes up and birds take a notion to getting up, we go out and quickly uncover the decoys. The beauty is – if you have a few early birds that breeze over before you have the burlap off, it's close enough color-wise that they'll often come in anyway in the lower light.


The burlap technique also works for mornings when the wet snow is flying and piling up on decoys. If you don't have a cover, make sure to take a broom or an automotive-style brush with you to quickly clear the dekes.


Spruce Up Your Layout Blind
The easiest technique is a snow cover made specifically for your layout blind, but you'll notice, most snow covers still have stubble straps. This is important. Make sure you're still using local vegetation, be it corn stalks, or grass, to brush in your blind. I like to use Christmas tree spray snow or white spray-paint to make some permanent stubble, cutting down on time needed for this work in the morning.


An old sleeping bag in your blind can help keep you warm. I like to take an acrylic water bottle and fill it with extremely hot coffee and put it in my blind too. It gives off a ton of heat and stays warm for a long time. The bonus is, it's ready to drink about the time I need to refill the thermos.


Looking for little dips in the field will not only help conceal your blind, but it'll help break the wind, too. Any little thing you can do to help stay warm and keep the decoys looking like geese will help make your late season hunt more successful.
Do you have the right shotgun for goose hunting? Here are some factors to consider for picking the best one.


While it's tougher to hunt late season geese, you can knock some *** out of the sky. But you better heavy up on your decoy spread.