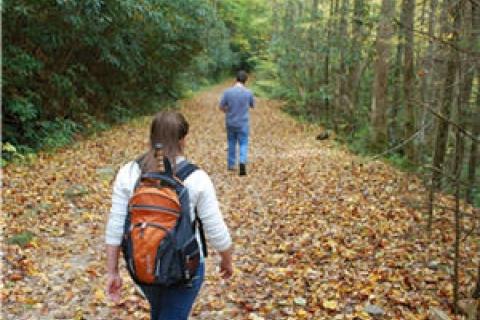 The rain ended an hour before daylight, but the ground and brightly-colored leaf litter covering the forest floor remained wet. Rain water dripping off of the tree limbs was beginning to slow its rhythm. A few vehicles already lined up in the trailhead parking lot, as others pulled in carrying autumn hikers. The family and I worked our way up the trail consisting of rock outcroppings; some of the trail was on exposed rock making for some slippery steps.


The family of four on the trail ahead of my group had just arrived at the top of a small waterfall. Although the waterfall was not extremely tall, the terrain surrounding it was bare stone with wet leaves covering. The father of the family dug out his camera while his wife and two kids walked away from the trail towards the crest of the waterfall to pose for a photo. Quick as a wink, the youngest child, maybe six years old or so, slipped and fell. Luckily his dad made a quick grab and rescue, which kept the boy from going over the falls.


Hikers who are attracted to the seasonal changing of the leaves, a few key tips should be respected to ensure a safe, fun autumn hike:


1. Stay on the marked trail. Trail planners have planned the safest route of travel, but with adventure in mind for a great outing. Breaking this rule is the primary reason for trail accidents.


2. Wear hiking shoes or boots designed for hiking that provide effective traction.


3. Use two trekking poles for maximum stability on wet, leaf-covered trails.


4. Pack drinking water and a high carbohydrate snack for energy.


5. Plan your hike and hike your plan. If hiking a trail with little traffic, inform someone of your plans and return time. Use a map and compass or handheld GPS unit.


6. Be sure to plan enough time to complete the hike before dark. Don't stumble around looking for the way out without lighting.


7. Include a small first aid kit and survival tools in your backpack.


For ideas on where to hike this fall, visit Take a Hike! Explore These Places at Bass Pro Shops 1Source.