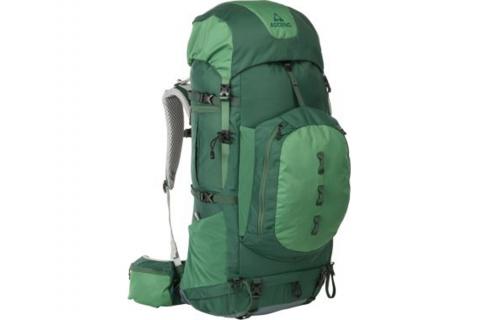 The last thing you want while you're happily hiking down the trails is an uncomfortable pack that pokes and prods until you decide you've had enough for the day. Educating yourself before buying a pack will give you greater comfort – and a more enjoyable time on the trail.
A couple considerations to keep in mind are the kind of activity you'll be doing, the equipment you'll need for that outing, your trip's duration and your size. Here are a few tips for finding the best pack for your back.
Frame Type: External vs. Internal

External Pack
External frame packs generally have a greater carrying capacity than internal frame packs, which makes them ideal for carrying heavier loads over shorter distances (like packing out large game). They handle well when worn on established trails, but are a bit clunky if carving out your own path through trees and shrubs.

An external design allows for a more natural upright stance when walking than an internal frame. That, and your head won't hit against the pack since it sits higher. Also, external packs generally offer better air circulation since the bag doesn't lie directly against your back.

External frames typically offer three shapes: An S-shape, which fits closest to your body, yet holds the load away from your back for superb circulation; a straightened design; and a hip-wrap design in which a free-floating hip belt carries the bulk of the weight.

Internal Pack
These packs are made to carry lighter loads for longer distances. Their slimmer profile makes them more conducive than an external frame to maneuvering around branches and brambles. They hold the weight closer to your body for better balance overall. The hip belt holds 70% of the weight on the hips while the shoulder straps carry the rest.

These packs move more uniformly with your body than an external frame, which makes them ideal for intense range-of-motion activities, like cross-country skiing, climbing, bouldering and rock scrambling.

Internal packs are highly adjustable, which is great for varying trips and weights. They also make great travel companions if your trip includes airplane travel since the straps can be easily tucked in.

Internal frame packs come in a day pack style, or a larger extended-trip style, which are about two to three times larger than most day packs. Day packs are good for activities like climbing, while overnight packs are ideal for extended trips.
Determining Your Torso Fit
Each pack maker establishes their own guidelines for determining torso fit, so if you have a specific brand in mind, be sure to find out how they determine torso length before you buy. Generally speaking, the torso length is determined by measuring from the seventh vertebrae to just above your waistline.

Solicit help from a friend to take your measurements. Use a flexible seamstress measuring tape instead of a rigid carpentry-style for a more accurate measurement. Tuck your chin in to expose the seventh vertebra (the one that protrudes from the base of your neck). Then place your index fingers around the top of your hip bones with your thumbs extending behind your back. Draw an imaginary line from the tips of your thumbs to your spine. Take the measurement from the seventh vertebrae to this line to determine your torso length.

Most people's torso lengths fall between 16" to 22". Generally, if your torso length is 18" and under, you'll fit into a small pack. 20" is a medium and over 20" is a large pack.
Carrying Capacity
A weekend trip is quite different than a weeklong adventure, and the amount of gear needed for climbing will be much different than equipment needed for a daytrip. Carrying capacity is largely determined on the type of activity and the duration of your trip. Here are some general guidelines.

Less than 2,500 cubic inches:
Ideal for ultralight overnighters, climbing, cross-country skiing, snowshoeing trips or any other high-intensity day-trip activity.

2,500 to 3,999 cubic inches:
The perfect range for weekend trips, excluding winter trips that require bulkier clothing and more equipment.

4,000 to 5,999 cubic inches:
Great for a winter weekend or a week or more any other time of the year.

6,000 cubic inches and over:
An ideal number for longer extended trips, winter camping or adventures requiring a lot of gear. It's also the magic number for parents who will be hauling gear for their kids.
Features
The more features included into the pack, the more useful the pack will be to you in a variety of settings. Here are some features that make carrying-life easier.

Torso length ruler: Some packs come with a torso length ruler on the pack itself, which makes for less guesswork and greater accuracy when adjusting the pack's length. It's useful also if you intend to share a pack with someone of a different torso length.

Daisy chains: a.k.a. carabiner attachments. These are especially useful for climbers who need to carry extra gear on the outside. But remember, it is always better to carry objects inside the bag rather than dangling objects from the outside.

Sleeping bag separator: While the idea of a separator is not new, now some packs have a separator that can be unzipped, so you can either opt for a sleeping bag compartment or one large opened area.

Straps: Now days, straps are more comfortable than ever. An S-curve shoulder strap offers women a more snug fit. And some women's packs now come with an adjustable sternum strap that slides vertically up and down the face of the pack. This allows you to position the strap in a position that won't cut in to the chest area. Also, easy adjustability allows you to compensate for shifting loads while you're out on the trails.

Back padding: Since the weight of an internal frame pack sits directly against the back, padding and air circulation are of utmost importance. The more mesh, the better airflow the pack gives you. For example, a trampoline-style back mesh panel is designed with a gap between the back and pack for maximum air circulation.

Built-in rain shell: Most packs are made with water-resistant material, but are not fully waterproof, so it's important to own a rain cover. Some packs come with an attached shell, alleviating the need for an extra purchase.

Packing Lessons for Pack Rats
Of course, eliminating unnecessary objects from your pack is the first step in a more comfortable hike. Pack the heaviest objects in the middle, and cushioned between lighter objects that sit at the top and bottom. Pack medium-weight objects on the sides. It is a good idea to place food items and rainwear near the opening for easy access.

Try Before You Buy
A last word of advice when shopping for a pack; trying it on is the best way to feel how comfortable it is on your back. All packs will feel lightweight when they're empty, so ask the store merchant to add weight before trying it on. You could even request using objects from the store comparable to the equipment you'll be carrying on your trip. This will give you a more realistic idea of how it will feel when you're out on the trail. Remember, a comfortable-fitting pack makes for happier trails. So the next time you feel the weight of the world on your shoulders, throw on your new pack and comfortably carry only the things that matter.