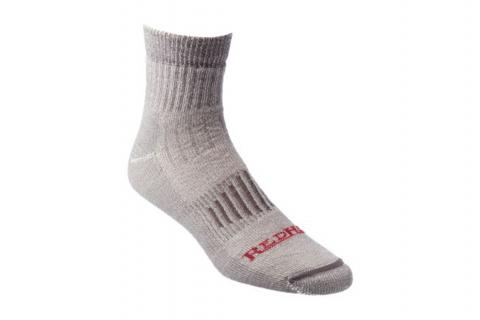 From thick to thin, we give you the inside scoop on socks.
Sock Weight
When you need to match the right kind of socks with your next adventure, ask yourself, "How strenuous is my activity?" If you plan on being on the move, you won't need as much weight as when participating in a sedentary activity. Snowshoeing, hiking and running are all good examples of activities that generally require lightweight socks. However, while hiking, walking, running and often wading, heavyweight socks may be required to avoid blisters and hot spots due to high amounts of friction. Snowmobiling, hunting from a treestand, waterfowling and ice fishing require less movement, so heavier-weight socks may be needed for warmth. Keeping these hints in mind, following is a rundown of the different sock weights available.
Liner Socks – Are typically worn as a base layer next to the skin. Liners can add to the functionality of technically advanced socks. They often move moisture away and keep your feet drier than using socks alone.
Lightweight/Casual Socks – Lightweight, casual, everyday socks are often used for early-season hunting. They effectively wick moisture without high levels of warmth retention. The soles may be padded for extra cushioning and support.
Medium-Weight Socks – Crafted for year-round comfort and moisture control, medium-weight socks are ideal for everyday hunting or hiking. Extra padding in the soles provide cushioning and comfort. These can be worn with liner socks for extra moisture management.
Heavyweight Socks – The heavier construction delivers superior warmth and moisture management. A good choice when you need extra warmth and bulk. Often offered in taller heights, they're perfect with hunting boots, pac boots, rubber boots, waders and taller boots. These also can be worn with liners for extra moisture management.
Sock Height
The next step in determining which socks are right for you is figuring out the height of socks you need. Most often this choice is directed by the height of the footwear your activity demands. Below are the various sock heights found on the market.
Micro – These socks usually fall below the ankles. Typically 3" in height, they're also called "no-show" socks.
Low-Cut – Short-height socks that fall below the ankles. These socks are typically 3" to 4" in height.
Quarter Height – Typically 4" to 6" in height, these socks are commonly called mini crew.
Midheight Crew – Sometimes called ¾ Crew, these socks are typically 7" to 8" in height.
Crew – These socks extend above the ankles, but not above the largest part of the calves. They are typically 9" to 12" in height.
Midcalf – Typically 13" to 13.5" in height, these socks extend to the middle of the calves.
Over-the-Calf – These socks extend above the largest part of the calves and are typically 15" in height or higher.
Sock Materials
After selecting the right weight and height, it is time to look at the various material/fibers to determine what best suits your needs, activity level and body type. Here is a rundown of the most-common fibers used in sock construction. Note that several of these fibers are blended together to give a good combination of warmth, wicking, support and padding.
Lumiza Acrylic – One of the few moisture-wicking acrylic fibers on the market. This advanced fiber contains micropores with capillary action for quick moisture transfer and evaporation. Although it is a lightweight fiber, it has superior insulation qualities. It's also soft, breathable and quick to dry.
Polypropylene – A superior water-repelling fiber that won't accept moisture. It is used alone or with absorbent outer layers that work to wick moisture away from your feet. It is strong and has the lowest specific gravity (lightest) of any synthetic fiber. It is sometimes labeled as olefin.
Nylon – A strong, versatile, hard-wearing fiber. Socks made of nylon can be thin and silky or bulky and highly elastic. Nylon is often blended with or used over the top of other fibers to add stretch or to improve durability.
Spandex – A synthetic fiber that provides elasticity, recovery and a close fit. Most often, it is woven into the fabric for a top-to-toe stretch that holds the leg in place. This uniform elasticity adds overall comfort and a snug fit.
Wool – The original easy-care fiber. Wool fibers are made up of millions of coiled springs that stretch during use, but coil back to their original positions. Inherent qualities include wrinkle resistance, colorfastness, shape recovery and breathability. Knit into various weights, wool provides exceptional insulation for every temperature. Wool yarn, when knitted into a thicker sock, tends to be bulky and lofty. This high-loft structure traps air, body heat warms it up and this makes wool socks an ideal insulator. Wool socks also keep feet drier because wool absorbs as much as 30% of its own weight before your feet feel damp.
Merino Wool – A fine-grade wool that comes from merino sheep. It has the characteristics classic to wool, but it boasts a luxurious softness provided by the fine-diameter merino fibers. Merino wool does not itch and it's shrink-treated to hold its size and shape, even after repeated washings.
Dri-release® Fabrics with FreshGuard® – These patented fabrics are crafted of synthetic and natural fibers. These blends boast hydrophobic and hydrophilic yarns that are scientifically blended to maximize moisture-absorption and quick-drying properties. The result – they never feel clammy or sticky against the skin. The fabric-embedded FreshGuard treatment found in all Dri-release fabrics neutralizes odors for up to 50 washings.
Thermax Polyester – Hollow-core fibers trap a layer of warm air around the foot while transporting perspiration to the outer layer of the moisture-wicking fabric. This heat-retaining fabric offers great softness and wicking ability.
Thermolite Polyester –This lightweight, breathable fabric combines a thermally efficient polymer and micro-sized hollow-core fibers. This advanced fabric traps air, warms it quickly and it pulls moisture away from the skin.
CoolMax Polyester – This advanced four-channel fiber quickly and effectively pulls moisture away from skin and its quick-drying breathability speeds up the evaporation of perspiration. This keeps feet dry and comfortable.
Elastic – This fiber features a rubber or spandex core that's covered with nylon. It provides an extreme stretch and recovery that's often used to create support braces in the arch or ankle areas of the socks.
Cotton – An organic, lightweight, moisture-absorbing fiber. No other fabric offers the comfort and feel of this natural fiber. It's also breathable, washable and biodegradable.
Treatments
There are some effects you may want that a material or fabric blend can't deliver on it's own. Using advanced treatments, many of today's socks include durable treatments that add to the material's performance. Here are a few examples:
Nanoglide® – 100% permanent, this advanced treatment never washes out. Using millions of PTFT microchannels, it wicks moisture away at a maximum speed keeping you cool and dry. Its other high-performance properties help eliminate heat, moisture, friction, and abrasion for less skin irritation, less heat build- up and more comfort.
Anti-Odor Technology – Many of today's high-performance socks include odor-fighting technology. These varied and safe treatments inhibit the growth of the microbes that cause unwanted odors. Chemically based odor-fighting treatments often defend freshness for up to 50 washings. Anti-odor technology has expanded to include metal-based treatments that virtually eliminate the growth of bacteria, mold and mildew. These copper-ion and silver-ion technologies infuse the fabric with negatively charged nanotechnology. Proven effective, these treatments reduce odors and maintain a neutral smell.
Matching the perfect pair of socks with your outdoor adventure might not be easy, but it becomes easier when you consider the following breakdown. For sock weight, remember to think about the temperature outside and your adventure's activity level. Heavyweight socks are best for low activity in the cold. Medium-weight socks are best for high activity in the cold. And low-weight socks are the best when temperatures are warm to hot. Sock height is often decided by the height of the footwear your adventure demands. When choosing the materials and treatments available, take your time. Examine each description looking for the advantages that would best serve to maximize your outdoor comfort. Weigh out your options, make an informed decision and enjoy the perfect pair of socks for your next adventure.