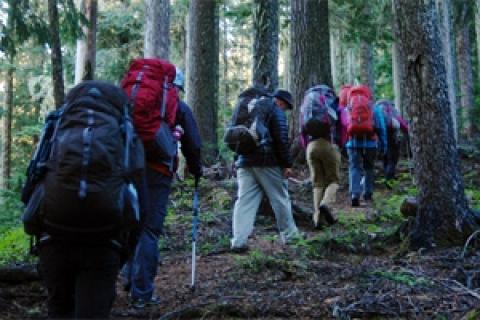 If you're a hiker, you've already set yourself apart from the hoards of people that never leave the parking lot. But even among those who love to cover miles of trail there is a lot of diversity of style. Do you fit into one of these hiker sub-groups, or maybe you are a "species" we have yet to meet?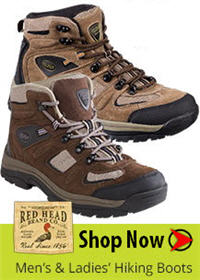 1. The Day Hiker
Pretty much everyone falls into this category from time to time, but for some, this is the bread-and-butter of the outdoors. They'll be seen wearing a small pack, shorts, a T-shirt and baseball hat. Footwear varies from street shoes to full-blown hiking boots. Most of the hikes will be within an easy mile or two from the car, although some day-hikers can put down serious distance before getting back home for the night.



Tips for day hikers — Even if you plan to get back to the car by sunset, always bring a flashlight or headlamp and layers of clothing appropriate for the climate in which you're hiking in case you get caught in a storm.


2. The Overnight Hiker

This is a next-step from the day hiker. Usually focused on a campsite objective, the overnighter can get by with just minimal camping gear plus a little food and water, but he or she will often also carry some extra luxuries like the ingredients for s'mores. Thus, their backpacks are usually almost as heavy as those out for longer adventures.



Tips for overnighters — You won't need a lot of food for one night and a morning, so focus on quality over quantity. Enjoy a "gourmet" camp meal that includes some veggies, meats and cheeses. If you love those hot dogs or brats over the fire, this is the time to carry them.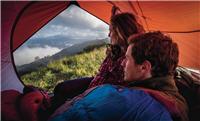 3. The Weekend Hiker

A two- or three-night trip requires a little more planning than a simple overnight and also means cutting back on the luxury items. Most weekend backpacking trips require each person to carry a 40-liter or larger pack to fit all the essentials plus food.



Tips for weekenders — You aren't going to be out long, so if you don't mind a slightly heavy pack, splurge a little for the first night with fresh ingredients for dinner. You'll want lots of calories by day two, so dried foods that rehydrate easily should be on top of the list.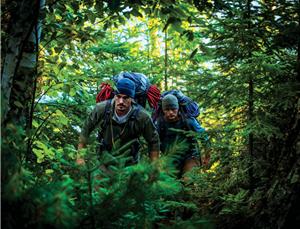 4. Distance Hikers
More than three nights out and things start to get a little trickier. Distance hikers aiming for several days will find solitude far from the trailhead and experience beautiful places few ever see.



Tips for distance hikers — Planning is very important at this stage. Pair your equipment down to the essentials. Experienced backpackers keep weight as low as possible by making sure that some items they carry have multiple uses. For example, using trekking poles as part of the structure of a tent or tarp (so you can leave the regular tent poles behind). While this might not always be possible, it sure does help keep a pack manageable.


5. Hunters, Fishermen and Photographers
These are hikers with an objective in mind. There is usually a (fun) job to do once camp is set far from the trailhead. These folks also tend to have significantly more equipment than other hikers, so the packs are heavy and miles hard to cover.



Tip for objective hikers — Get in shape before a remote hunt or fishing trip to better enjoy lugging all that gear to the far corners of the forest. Once in the wilderness, choose camp wisely the first time so you can focus on the job at hand, hunting, photography or fishing.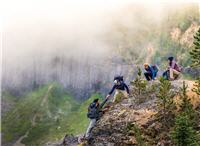 6. Fast-and-Light Hikers

You're really counting ounces in this group with the goal of covering huge miles. Fast-and-light hikers cross genres, tackling adventures like single day car-to-summit hikes of remote mountain peaks, adventure races or big mile treks in short times.



Tips for fast-and-light hikers — If you are in this group, you probably already know what you need and, more importantly, don't need. But remember not to skimp on safety. Emergencies can happen to anyone and you must have enough warm clothing layers, shelter, food, water and lighting to survive if fast-and-light turns into an emergency in the wilderness.


7. Trail Runners
Not really so much hikers as blurs through the forest, trail runners nonetheless need to carry calories, water and emergency supplies as they cover epic distances of up to 100 miles and beyond in a single go.



Tips for trail runners — Most mountain races require participants to carry a hat, gloves, sunglasses and water-resistant wind-shirt at the very least. If going solo, a cell phone and emergency personal locator beacon like the ACR ResQLink+ 406 MHz Buoyant Personal Locator Beacon are also good ideas.


8. Thru-Hikers
Bushy beards, worn shoes and a far-off look in the eye that can only come from spending months alone in the wilderness, through-hikers are the nomads of the trail. This type of adventure takes some serious commitment of time, money and planning, but the rewards are often spiritual in scale.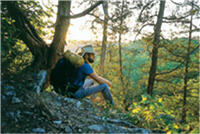 Tips for thru-hikers — If you plan to spend most of the summer crossing the continent on the Appalachian, Pacific Crest Trail, Continental Divide or other epic trail, you need some books, and many hours, for planning.