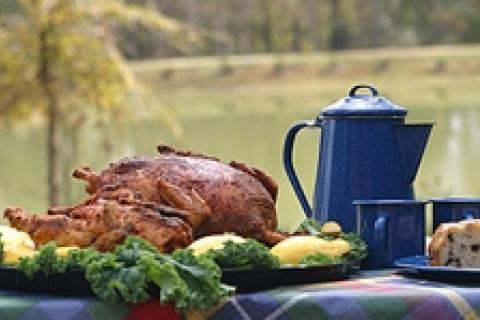 Writer Steve Bodio once had this to say about the big gamebirds so many love to hunt every spring: "How about real turkey, the wild kind? It actually tastes like bird, not cardboard, and has juice that doesn't come from chemical butter. Eat one, and you'll never go back." 
I must agree. Comparing the wild turkey with its domestic barn-yard cousin is like comparing Chihuahuas and St. Bernards. They may be the same species, but you'd never tell it by looks, or in this case, taste. If you expect a bird killed on the hunt to taste the same as one raised in a poultry house, you're in for a surprise. 
Tip: Find quality turkey hunting gear at Bass Pro Shops here.
In this wild turkey recipe article you'll find: Tips for harvesting tasty turkey and eight delicious wild turkey recipes.
Quick links to get you started on the wild turkey recipes: 
Grilled Marinated Turkey Breasts,   Lemon Herb Turkey Breasts,   Dijon-Breaded Turkey Breast,   Wild Turkey Parmigiano,   Swiss Turkey Breasts over Rice,   Turkey Breast & Gravey,   Butterfiled Turkey with Lime & Oregano     and   Turkey Fried Rice.
 Prefer deep fried turkey? Here's perfect solution Turkey Frying 101 video.
Tips for Harvesting Tasty Turkey
My friend, Jim Spencer, who has eaten many more wild turkeys than I have, offered these tips for enjoying a tasty bird. First, avoid body-shooting your bird. This is good advice from a hunting standpoint, too, because the best way to kill a turkey is to shoot it in the head and neck. If stray pellets find their way into the body, remove them when you clean the bird, and remove feathers the shot forced into the meat. Trim bruised and bloodshot meat away as well.  

Cool the bird quickly after the kill. To do this, hang it by one foot, allowing both wings and the untied foot to dangle. This spreads the turkey out and allows faster cooling. There's no need for field-dressing if you cool the bird quickly and keep it cool.  
Some hunters skin the bird because it's quicker and easier. But if you plan to roast or smoke your turkey, it's best to pluck it. Leaving the skin on helps keep the meat moist during cooking. You can pour hot water over the bird to loosen the feathers and make plucking easier. Eviscerate the bird after it's plucked, and remove the head and feet. Then you're ready to cook.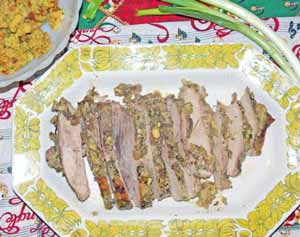 Unlike many other game animals, which may be harvested in quantity, wild turkeys are rare commodities, with only one or two killed each season by lucky hunters. For this reason, the hunter typically wants to use a preparation method that makes the most of this delectable game bird. Fortunately, this can be accomplished without a lot of fuss and bother. Simple preparation methods can be used for whole plucked birds, or, if you prefer, you can use boneless fillets of breast meat in the entree and saves other parts of the bird for use in making dressing, soup or other dishes.
All the recipes that follow are easy to prepare without exotic ingredients or hard-to-follow directions. And each transforms wild turkey into a mouth-watering repast that will have your family or dinner guests asking for extra helpings. Try them and see.
1. Grilled Marinated Turkey Breasts  
Boneless breast meat from one wild turkey
2/3 cup soy sauce
1cup brown sugar
1/4 cup lemon juice
1/3 cup honey
1 teaspoon minced garlic
Lawrey's Seasoning Salt
Adolph's Meat Tenderizer 
Slice the breast meat lengthwise to create fillets that are about 1/2 inch thick. Make a marinade by combining the soy sauce, brown sugar, lemon juice, honey and garlic in mixing bowl. Sprinkle the fillets with the seasoning salt and meat tenderizer, then transfer the meat to a zip-seal plastic freezer bag. Pour the marinade into the bag with the turkey and seal. Turn to coat all the pieces of meat, and refrigerate for 24 hours. Remove the fillets from the marinade, drain and grill over a medium-hot fire for approximately 10 minutes per side or until done to taste.  
---
2. Lemon-Herb Turkey Breast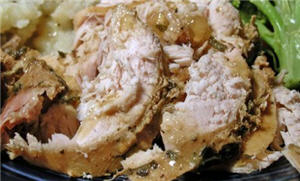 2 pounds boneless wild turkey breast
1/4 cup lemon juice
1 teaspoon rosemary
1 teaspoon oregano
2 tablespoons Dijon mustard
1/2 cup dry white wine
1 teaspoon salt
1/2 teaspoon black pepper
2 cloves garlic
 
Mix all ingredients but the turkey. Pour the mixture over the turkey breast in a Crock-Pot and cook on low 6 to 8 hours, basting the turkey occasionally with the sauce.
---
3. Dijon-Breaded Turkey Breast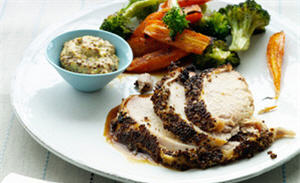 1/2 cup dry bread crumbs
1 1/2 teaspoons sage
1/4 cup minced fresh parsley
3 tablespoons melted butter
3/4 teaspoon salt
Boneless breast meat from one wild turkey
1/4 teaspoon black pepper
1 tablespoon Dijon mustard  
 
Mix together bread crumbs, sage, parsley, melted butter and half the salt. Season the turkey breasts with the remaining salt and the pepper, then brush them with the mustard and pat on the breading mix. Bake at 375 degrees for approximately 45 minutes or until done to taste.
---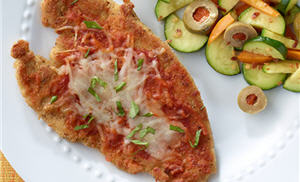 2 egg whites
1 tablespoon water
1/2 cup Italian-seasoned dry bread crumbs
2 tablespoons freshly grated Parmesan cheese
1 pound boneless turkey breast fillets
1 cup Italian-flavored tomato sauce
1 cup shredded Mozzarella cheese  
 
Preheat oven to 400 degrees. In a shallow bowl, beat egg whites with water. In another shallow bowl, combine bread crumbs and Parmesan cheese. Dip turkey pieces into egg mixture, then dredge in bread crumb mixture. Arrange the meat on a greased 10-inch x 15-inch baking pan. Bake 4 to 5 minutes. Pour tomato sauce evenly over the turkey and top with Mozzarella cheese. Bake 4 to 5 minutes more, or until turkey is cooked through, sauce is heated and cheese is melted. 
---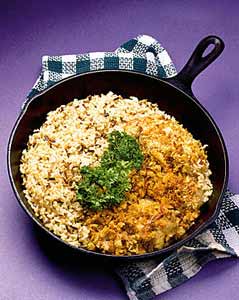 5. Swiss Turkey Breast Over Rice
2 large boneless turkey breasts, cut into three portions each
Nonstick cooking spray
6 slices Swiss cheese •1 (10-3/4 oz.) can cream of mushroom soup
1/4 cup milk •1 (8-oz.) bag herb-seasoned stuffing mix
1/2 stick butter or margarine, melted  
 
Arrange turkey breasts in a lightly-greased, 3-quart baking dish. Top with cheese. Combine soup and milk in bowl. Spoon over cheese. Sprinkle with stuffing mix. Drizzle butter on top. Cover, and bake at 350 for 1 hour. Serve over wild rice. 
---
1 large (14"x20") oven bag
1 tablespoon flour
2 packages (7/8 ounce each) turkey gravy mix
3/4 cup water
4 to 8 pound wild turkey breast
Salt, black pepper
2 medium onions, quartered 
Preheat oven to 350 degrees. Shake flour in the oven bag; place in 13x9x2-inch baking pan. Add gravy mix and water to the bag, and squeeze the bag to blend. Season turkey breast with salt and pepper, and place in the bag. Place onions in the bag around the turkey.
Close the oven bag with a twist tie; cut six 1/2-inch slits in top. Bake 1-1/4 to 2 hours, or until a meat thermometer inserted in the breast reads 170 degrees. For easy slicing, allow the turkey to stand in the oven bag 10 minutes. Stir gravy before serving. 
---
7. Butterflied Wild Turkey with Lime and Oregano
1 wild turkey, plucked
4 limes, cut into halves
4 teaspoons oregano leaves
Salt, pepper 
With poultry shears or a knife, split turkey lengthwise along one side of backbone. Pull turkey open; place, skin side up, on a flat surface, and press firmly, cracking breastbone slightly, until bird lies reasonably flat. Rinse and pat dry. (At this point, you may cover and refrigerate until next day.) Before cooking, rub juice from 1 or 2 lime halves over turkey; sprinkle with oregano, then lightly sprinkle with salt and pepper. 
Barbecue turkey by indirect heat, placing turkey, skin side up, on grill directly above drip pan. Cover barbecue and adjust dampers as necessary to maintain an even heat. Cook turkey until a meat thermometer inserted in the breast registers 170 degrees, about 1-1/2 to 2 hours. Every 30 minutes, squeeze 1 or 2 lime halves and rub over turkey.
---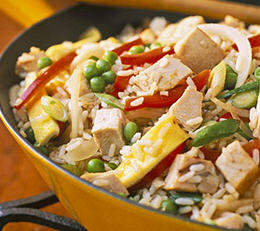 6 teaspoons vegetable oil, divided
2 eggs
1 small bell pepper, chopped
1 cup diced turkey breast
1 small onion, chopped
Soy sauce, as needed
2 carrots, sliced
2 cups cooked rice any type (white, brown, wild)
1 cup broccoli florets
 
Heat wok. Add 2 teaspoons oil. Add pepper, onion, carrots and broccoli florets. Cook until crisp, yet tender. Remove, and set aside. Add 2 more teaspoons oil to wok. Add eggs, scramble, remove; set aside. Add remaining oil. Add turkey breast, and stir-fry until cooked, about 10 minutes. Add soy sauce to taste. Return vegetables and eggs to wok. Add rice and additional soy sauce, as desired. Mix thoroughly and serve hot.
Prefer deep fried turkey? Here's perfect solution Turkey Frying 101 video.