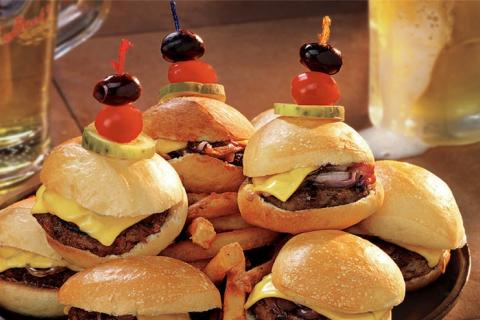 Super Bowl Sunday somehow seems to coincide with the time of the year when you discover those packages of wild game meat in the freezer. Yes, the hunting gods are smiling on you when that happens. You can use that meat you stowed away last fall (or even the one before that) to make delicious appetizer and entrée recipes that will delight your game-day crew. Here are just a few examples:
1. Way Better Thank Basic Beans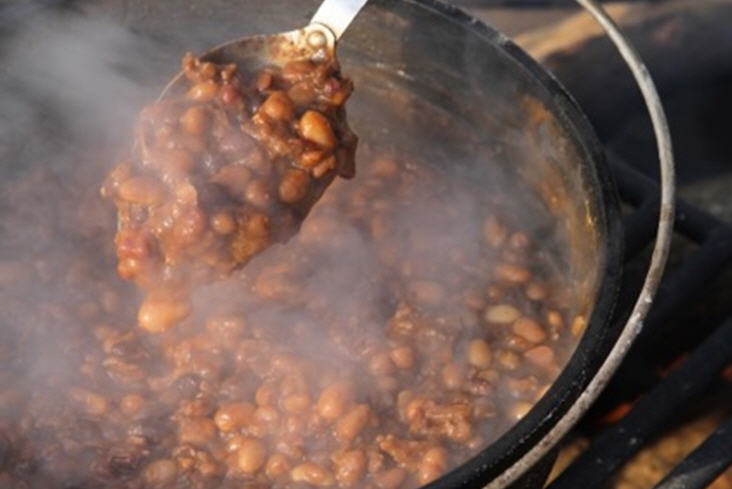 This is an imprecise recipe. It's nearly impossible to make a bad batch unless you burn it. So cook them low and slow. All day is best. Served with cornbread of either the sweet or savory variety, this makes a great meal for game day … or any day.
Basic Beans Ingredients
1 lb. ground venison or spiced sausage
1 large onion roughly chopped
3 cloves of garlic, minced
2 Tablespoons of cooking oil
½ large can of your favorite, pre-made baked beans
4-5 cans of beans, rinsed and drained (black beans, northern beans, kidney beans pinto beans, cannellini, white beans, etc. are all fair game. Mix and match your favorites)
1 cup ketchup
salt and pepper to taste
water as needed
ground cayenne pepper (optional; to taste)
hot sauce (optional; to taste)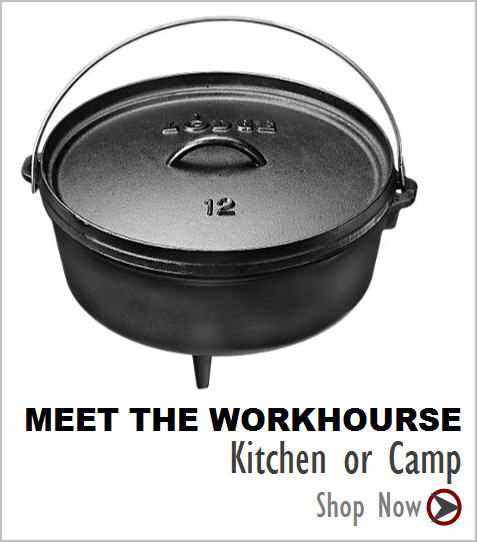 Instructions
In a large cast iron Dutch Oven, heat cooking oil and then brown meat. Be sure to use a steel spatula blade to chop meat finely and evenly as it browns. No chunks.
When meat is half browned, add onions. When meat and onions are nearly ready, add garlic. Stir together well and finish browning.
When browning is complete add the baked beans, canned beans, ketchup, BBQ sauce, and seasoning. Stir well. It shouldn't be too soupy, but if it seems there's not enough liquid, add a little water.
Place lid on Dutch Oven and cook low and slow for a long time. It can sit on stove top, edge of a campfire, or in the oven. It's also a great slow cooker recipe. Making a day ahead, then putting in the fridge and reheating is a great way to go, too!
2. Goose Jerky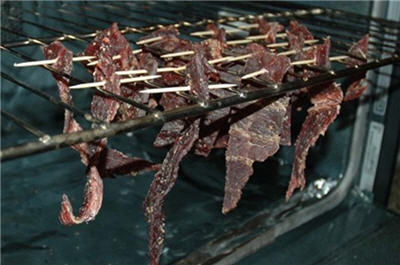 Wild goose can be a "hard sell" to folks who haven't had it prepared right. You'll hear comments like, "tough", "dry", "gamey", and "tastes like liver." But, if you make goose jerky as a game day snack, you're sure to win converts. In fact, you don't even have to tell them it's goose if you don't want to.

Tip: You can make this really simple if you want to buy a jerky cure kit like Hi Mountain's Jerky Seasoning Variety Pack. If you're more of a do-it-yourselfer, here's a recipe to try.
 
Goose Jerky Ingredients
Up to 5 lbs. of goose breasts sliced in strips the long way (with the grain)
2 cups of Worcestershire sauce
1 ½ cups teriyaki sauce
3 teaspoons liquid smoke
1 cup soy sauce
¼ cup black strap molasses
4 teaspoons onion powder
2 teaspoons garlic powder
1 teaspoon ground cayenne pepper
4 Tablespoons of brown sugar
2 Tablespoons of honey
Instructions for Recipe
Cut goose breast fillets into strips with the grain. Strips about 3/8 x 3/8 of an inch are perfect. For drier jerky, cut strips thinner. For moister jerky, cut them thicker.
Mix ingredients except meat in a large bowl or Dutch Oven like the popular Lodge Logic Cast Iron Dutch oven. When it's well mixed, add in breast strips and cover with liquid to marinate for 6-8 hours. Remove meat from liquid and roll on paper towel to remove excess marinade.
Remove the top grate from your oven. Turn it on to warm to the lowest setting which should be 175-200F. Skewer the individual strips on toothpicks and position to hang between the rungs of the great from the toothpicks. Place a large baking sheet on the bottom rack or cover it entirely with foil to catch any drippings.
Place the rack with meat in the highest position in the oven. Leave the oven door open a crack. A large spook handle or a ball of foil works good to prop it open.
At 3 hours, start checking strips. How much moisture you want in your jerky is largely personal preference. When they've dried as much as you want, shut down the heat source, but leave the jerky strips in place until they've cooled to room temperature. Then harvest the jerky and store in zipper storage bags in the refrigerator until you're ready to serve, but let them come back to room temp before you do.
TIP: Make your own delicious jerky with quality seasonings for wild or domestic meats.
TIP: A Quick & Easy Guide to Making Venison Jerky Plus Recipes
Watch footage of making jerky on Cooking With Cabela's
How to Make Goose Jerky - Cabela's Cooking Video
3. Smoked Turkey Legs...and Thighs
Particularly from a big old gobbler, most folks consider the breast meat when they think of wild turkey. That's what gets eaten first. So if you found a package marked "turkey" in the freezer chances are it's the legs and thighs.
Well, count yourself lucky if you did! The best meat on a turkey comes from the thighs. It's big and flavorful dark meat. Drumsticks are goo, too, but there's less meat and what's there is trapped among the tendons and sinew.
Soup is where these pieces often end up, and that's fine. But for game day try serving up smoked turkey legs and thighs.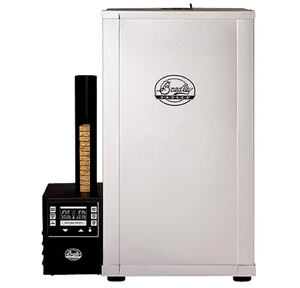 You'll blow away those expensive turkey legs you get at the state fair or renaissance festival.
While you can use your grill as a smoker, you're better off with a dedicated unit like the Bradley Smoker 4-Rack Digital Electric Smoker.
Smoked Turkey Legs & Thighs Ingredients
As many turkey thighs and legs as will fit on your smoker (Amounts here are for thighs and legs from one turkey, so two of each)
½ cup Morton's Tender Quick
½ cup brown sugar
2 Tablespoons of black strap molasses
5-6 dashes of hot sauce (like Tabasco, Red Hot, etc.)
4 cups of cold water
Instructions for Recipe
- Thaw the meat completely.
- Dissolve Tender Quick and brown sugar in water in a large, non-metallic container like a crock or mixing bowl.
- Add molasses and hot sauce. Stir well.
- Submerge meat in the mixture and weight with plate to keep underwater.
- Refrigerate and bring for at least 12 up to 24 hours. Check to make sure meat stays under water.
- Remove from brine and rinse thoroughly. Dry with clean paper towel. Allow to come to room temperature.
- Prepare smoke with your favorite wood.
- Start smoker on high setting to get the wood smoking, then lower temp to 200-225F.
- Lightly oil smoker grates and arrange legs and thighs on them so they are not touching.
- Smoke for 2-3 hours, then raise temp. to 275-300 and add more soaked wood chips.
- Smoke for another 1 hour.
- Remove legs and thighs from smoker. Allow to cool, then serve or store.
TIP: Check out these delicious wild game stew recipes
4. Blue Venison Sliders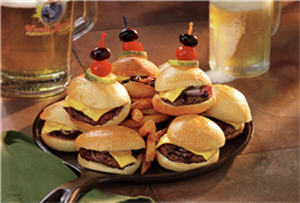 If you were lucky enough to bag a deer this season or have relatives or friends who did, it's time to thaw out that ground venison for some game day sliders! These easy delicious mini burgers are packed with juicy flavor and make the perfect meal or party snack for family and friends anytime.
Serve with chips, fries, slaw or potato salad (as a side or on your slider!)
TIP: Serve roasted sweet potatoes and tangy dill dipping sauce by Martha Stewart
TIP: Serve crispy salt and vinegar smashed potatoes (not mashed) by Comfort of Cooking
Blue Venison Slider Ingredients
1 pounds ground venison
1 pounds ground beef
6 slices bacon fried crispy, minced
2 Tablespoons olive oil
2 Teaspoons minced garlic
3 minced shallots
1 Teaspoon Italian seasoning
1 & ½ Tablespoons Worcestershire Sauce
1 egg beaten
Blue Cheese
Salt and pepper to taste
Instructions for Recipe
Cook bacon in a skillet over medium heat until browned and crispy. Pour bacon and grease into a heatproof container. Chop or crumble the bacon. Heat olive oil in skillet then add garlic and shallots. Cook and stir until softened, about 3 minutes; then add to the bacon / grease mixture, stir.
Allow to cool some before you mix in venison and beef, Worcestershire sauce, Italian seasoning, salt, pepper, and egg. Mixture should be evenly combined. Refrigerate for 20 - 30 minutes to marinate.
Preheat an outdoor grill for medium-high heat.
Shape the mixture into 6-8 patties and grill to desired doneness. Serve on broiled buns with melted cheddar cheese and blue cheese crumbles. Add your favorite toppings.
Optional: Brush each patty with olive oil both sides before placing on the grill.