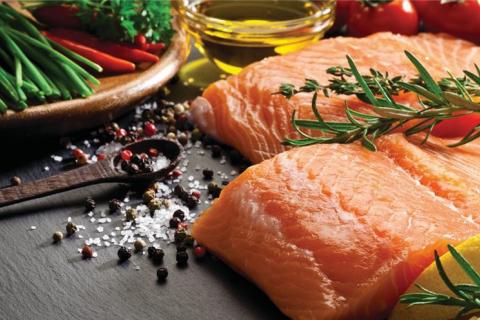 It's time to begin cleaning last season's harvest from your freezer as you prepare for the hunting and fishing ahead. These recipes are simple and delicious.
Hunters and anglers are especially blessed because our freezers are full of the healthiest, most delicious protein in the world – wild game and fish collected on our hunts. Actually, we are doubly blessed because not only can we enjoy the harvest, we had fun and made memories in the field while we were collecting the meat.
Tip: Shop grills and smokers at Bass Pro Shops here
Yet come summer and early fall, it's a feeling we've all experienced. We're planning meals for the day, and we stand staring into the overflowing freezer and think, "There's nothing here I want to make." One reason for that, perhaps, is that many fish and game recipes are so complicated. They are delicious, but they take many ingredients and much time to prepare.
Summertime cooking is about simple, easy recipes that get you in and out of the kitchen fast, yet still make the most of that incredible game and fish. The following are three recipes that couldn't be much easier, but they will be the centerpieces in meals that everyone in the family will enjoy. Compliment them with some summertime produce like fresh corn on the cob, sliced tomatoes, green beans or melon, and you won't find food that's any better … anywhere. And the diners don't need to know you didn't slave for hours in the kitchen.
Tip: Shop cast iron cookware and camp cookware at Bass Pro Shops here
Quick Stir Fry ... Anything Recipe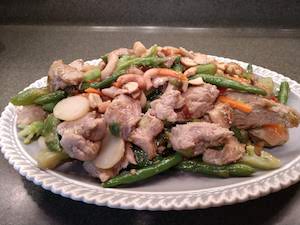 We used turkey breast for this recipe – this time – but the secret is you can use about any kind of game meat from turkey or pheasant to venison to wild hog. Just cut the meat into small pieces so it will cook quickly.
Ingredients
1 lb. wild turkey breast, cut into approximately 3/4-inch cubes or 1/2-inch strips
1 bag of frozen stir fry vegetables (use your favorite blend)
3 Tbsp. salad oil
1/2 medium onion, diced
2 cloves fresh garlic, minced
1 small can of mushroom stems and pieces
3/4 cup chicken stock
1 Tbsp. corn starch
2 Tbsp. soy sauce
salt and pepper to taste
Instructions
1. Heat skillet to medium high heat, add 2 Tbsp. of salad oil.
2. Saute onions and garlic, about 2 minutes stirring constantly
3. Pour bag of frozen vegetables into a covered casserole and cook in microwave until done – per instructions on the bag.
4. Add turkey breast to skillet and stir. Cook until meat is white on all sides. (Just browned if using red meat).
5. Remove turkey, onions and garlic and set aside.
6. In small bowl combine chicken stock, soy sauce and cornstarch, stir well.
7. Add remaining oil to medium high skillet, then add mushrooms and saute – about a minute.
8. Pour off any water from cooked stir-fry vegetables and add them to skillet. Stir into mushrooms.
9. Add meat, onions and garlic to skillet and combine with vegetables.
10. Stir the chicken stock mixture again and add to skillet.
11. Stir together gently as the mixture comes to boil and thickens.
12. It's ready to serve plain or over rice.
Click to print or download the Quick Stir Fry Anything Recipe
Twice Blessed Venison Backstrap Recipe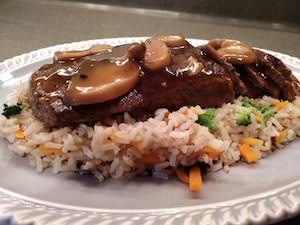 Why "twice blessed"? Because that's how you'll feel when you heat up any leftovers the next day – should there be any around. This one has darned few ingredients, but turns out the some of the most mouthwatering venison you've ever tasted.
Ingredients
1-2 lbs. venison backstrap (Usually I take it off the deer whole and cut into two pieces. Use one piece for this recipe.) Remove all visible fat and silver skin before freezing.
2 Tbsp. salad oil
garlic salt
black pepper
1 Tbsp. butter
1 cup beef bullion or stock
1 small can mushroom stems and pieces
1 1/2 Tbsp. corn starch
Instructions
1. Remove backstrap from fridge one hour before cooking and allow it to come up to room temperature.
2. Heat oil in cast iron oven safe skillet to high heat.
3. Preheat oven to 350F.
4. Use garlic salt and pepper to taste on backstrap. Press into the meat with hands.
5. When oil is just below smoking, sear meat on all sides – 30 seconds to 1 minute per side.
6. When meat is browned, place the whole skillet into hot oven.
7. Check frequently with meat thermometer and remove meat from skillet as soon as internal temp hits 125F. Set aside to rest.
8. In small bowl, mix together beef boullion and corn starch. Combine well.
9. Place skillet back on cooktop over medium heat and add butter.
10. Add mushrooms to skillet and saute for one minute.
11. Add bullion mixture and stir constantly until it comes to boil and thickens, then reduce to low heat. Add black pepper to taste.
12. Now slice rested backstrap across the grain into medallions.
13. Move to serving dish and ladle mushroom gravy over medallions.
Enjoy!
Click to print or download the Twice Blessed Venison Backstrap Recipe
Simple Seared Salmon Recipe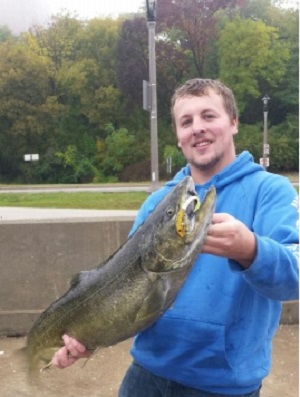 Fish does not get any easier than this. Choose your favorite garnish - chives, basil, dill - and serve with tartar sauce, lemon juice, or both.
Ingredients
2 lbs. salmon fillet, skin on fresh or thawed and at room temperature.
Olive oil non-stick cooking spray
Sea salt
Black pepper
Fresh garnish
Instructions
1. Preheat oven to 350F.
2. Heat cast iron skillet to medium high heat on cooktop.
3. Spray flesh and skin sides of salmon well with olive oil cooking spray.
4. Season flesh side with sea salt and black pepper to taste. Press it into the meat with your fingers.
5. When skillet is up to temp, lay salmon in skin side down and cook for three minutes.
6. Flip salmon in skillet and cook flesh side down for two minutes.
7. Flip salmon again and move skillet to oven.
8. Cook for approximately 3-5 more minutes in oven (depending on thickness of fillet.)
9. Remove from oven and move salmon to serving platter, skin side down.
10. Garnish the salmon and serve.
Click to print or download the Simple Seared Salmon Recipe