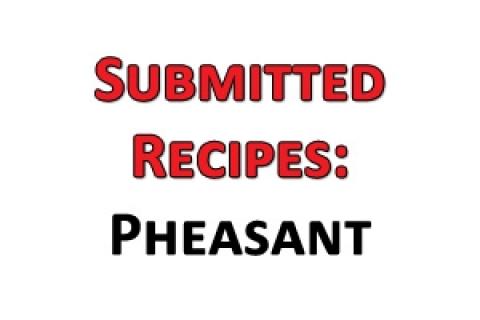 If you have a favorite recipe you'd like to share on Bass Pro 1Source, email it to community@basspro.com. Photos are also welcome!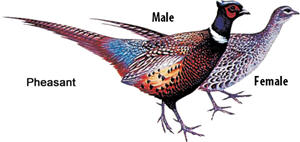 ---
1. Wok Pheasant Recipes
Posted By: Mike Davies 
Ingredients
1 or 2 pheasant de-boned  
1/4 cup soy sauce  
1/4 cup allegro marinade  
1 onion cut  
6 or 8 cloves of garlic  
1/2 cup of water  
2 tablespoons of oil
Directions  
In a wok add, oil, garlic and onion. Saute for a minute then add pheasant, cook until brown. Add soy sauce and marinade, and water. Cook until all liquid is gone. Stir occasionally. Serve hot!
---
2. Roast Smoked Pheasant
Posted By: Mark Mazour 
Ingredients
2 pheasants
2 tablespoons of Liquid Smoke
3 teaspoons of garlic salt 2/3 cup of soy sauce bacon toothpicks bamboo  skewers
Directions  
Take two pheasants and soak overnight in smoke salt brine made of Liquid Smoke, soy sauce and garlic salt and enough water to cover birds. Remove birds and truss legs to breastbone with a bamboo skewer. Make slice along each side of breastbone, and place 1/2 slice of bacon into the opening. Lay bacon strips over birds and secure with toothpicks and skewers. Salt and pepper birds. Grill "indirectly" on BBQ at 300 degrees for 1 to 1 1/2 hours. (Indirect grilling is accomplished when the meat is above a burner that is off and the other burner is on.) Place wood chips in iron smokebox for extra flavor. Keep lid closed as much as possible, and rotate birds if needed. Check leg to see if done. Remove birds from grill, take out toothpicks, and enjoy!
---
3. Pheasant Noodle Soup
Posted By: Mark Mazour  
Ingredients
1 whole pheasant  
broth or boullion cubes  
1 can of beer  
onion  
celery  
Reame's frozen egg noodles  
Garlic
Salt & Pepper
Directions  
Take one large pheasant, salt and pepper, and cover with water in a large stock pot. Simmer for approximately 1 hour. Take the bird out, LET IT COOL and then proceed to get dirty, and scrape all the meat off the carcass. You will need to cube up the breast meat. Try to get all of the feathers and shot out now! Then strain the remaining stock for reuse. Add the meat back to the stock with celery, onion, can of beer, salt pepper and bouillion to taste. As far as amounts — you decide what you want. Simmer this for approx 45 minutes or until the onion becomes transparent. Now add the package of frozen noodles, bring to a rolling boil, and turn down to simmer for 20 minutes or until the noodles are done.
The result is a tasty soup that can really warm up a cold day!
---
4. Glazed Duck or Pheasant
Posted By: Samuel Miller   
Ingredients
1 duck or pheasant (cubed)  
1/2 cup orange marmalade
1/4 cup apple jelly
1/4 tsp thyme
1/4 tsp. tarragon  
1/4 tsp garlic powder
Dash salt and pepper
1/2 cup diced onion
1/4 cup diced bell pepper
 4 servings white rice
1 can chile beans
Directions  
Mix marmalade, jelly and spices in a covered bowl, and add bird cubes. Marinade in refrigerator for about an hour. While marinating, prepare white rice and chile beans (seperately). Remove meat from marinade and place in a large skillet on medium-high heat. Reduce until all liquid is gone and the meat is carmalized. Place rice on plate, add beans then meat. Garnish with onion and bell pepper.  
---
5. Fried Pheasant Tenders
Posted By: Don Horkey   
Ingredients
1 whole pheasant deboned  
flour  
corn meal  
salt & pepper  
seasonings
vegetable  
oil  
paper towels  
dipping sauces (BBQ, Mustard, etc.)
Directions  
Take all the pheasant meat, cut into 1- to 1 1/2-inch cubes, and pat dry with paper towels. Roll the pieces in a breading mixture consisting of corn meal, flour, salt, pepper and seasonings of your choice. Drop the pieces carefully into hot oil. The oil needs to be preheated to work best. Fry until golden-brown (a few minutes) depending on oil temperature. Remove from oil with a slotted spoon.   Place the pieces on a paper towel and blot with several more to remove excess grease. Serve with dipping sauces.
---
6. Drunken Pheasant in a Field
Posted By: P.S. Ehoodin 
Ingredients
1 to 3 pheasant  
1 outdoor grill  
some tyme  
2 cups white wine  
1 clove garlic  
2 large oranges per bird  
2 large apples  
8 oz jar orange marmalade  
some salt  
5 strips baccon per bird
1 large juice/soup can (NO PAINT OR PRINTING ON IT, TOXIC!!!)  
1 stick butter  
enough wild rice to make a field to place your pheasant
Directions  
Melt the butter and garlic in sauce pan. After birds have been cleaned and dried, brush bird with enough to get wet. Stuff quarted apple and one pealed orange into the bird. Place strips of bacon between legs of bird. Tie legs together with wet cotton string. Tooth pic the remaining strips to the brest of the bird place bird on its back on grill; place the cleaned can on the grill (the two cups of wine go in the can along with tour seasonings) the heat from the fire will allow the wine to steam the birds as they cook for about one hour.
---
7. Beer Batter Pheasant
Posted By: Derry Taylor    
Ingredients
1 Pheasant Breast, boned and cut in 2" strips  
1 Cup of flour  
1 cup of corn meal  
1 can of beer  
salt and pepper
Directions  
Mix flour and corn meal. Add enough beer to make batter as thick as pancake batter. Fry strips til golden brown. Serve with rest of beer!!!!
---
8. BBQ Smoked Pheasant
Posted By: Rudy lcek 
Ingredients
Several Whole Birds  
Liquid Smoke  
Soy Sauce  
Garlic Salt  
Bacon  
Wood Chips and Coals  
BBQ sauce  
Salt & Pepper
Seasonings
Directions  
Soak birds for 24 hours in a brine of water, soy sauce, liquid smoke, and garlic salt. Remove birds and truss with bamboo skewer. Make slice along breast bone and insert 1/2 piece of bacon along each side. Wrap birds with bacon. Smoke birds over a charcoal smoker for 4 hours at approx 200 degrees or so. Remove birds and completely debone — go ahead and scrape all the meat off. Try not to eat all the breast meat (it will taste good, though) and save some fo remainder of recipe. Place meat in large crockpot with BBQ sauce and your choice of additional seasonings. I like mine spicy, so I throw in some hot sauce. Heat on high until hot, and then turn to low for 4 hours.   Stir every 45 minutes or so to break up meat. Now, you can eat some now over buns or just plain. Make a lot and freeze the remainder in small portions. Trust me, it is a crowd pleaser if you break out a container of this in the blind or in the field at lunchtime.