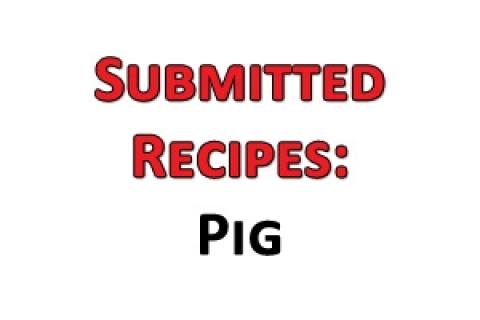 If you have a favorite recipe you'd like to share on Bass Pro 1Source, email it to community@basspro.com. Photos are also welcome!
---
Orange Basted Pig
Posted By: Michael Ullrich    
Ingredients
Backstrap, Loin or De-boned hind quarter of Feral Hog  
1 cup of Brown Sugar  
4 ounces of Butter (one stick)  
1/2 cup Soy Sauce  
1/4 can Frozen Orange Juice
Directions  
Heat brown sugar over medium heat. Add butter and mix well continuing to heat. Add soy sauce and finally the orange juice. Allow mixture to cool for about 30 minutes. While cooling, grill meat until thouroughly cooked. Baste meat about 15 minutes before pulling off the grill. If you baste it in the beginning, the sugar will carmelize the meat. You can also inject the meat with this mixture before putting it on the grill. This will make an exceptionally tender piece of meat.
---
Good for Three Meals
Posted By: Tom Gardenhire  
Ingredients
1 pound of bacon  
1 medium Onion  
3 pounds peeled and sliced potatoes
salt to taste  
course ground black pepper to taste
Directions 
This is a simple recipe for hunters or working people or when its cold outside and you just want to cook something easy. Cook a pound of bacon but not to crisp. Set a side. Drain fat from bacon except for about a tablespoon. Peel a medium onion and dice it then set aside.   peel approx 3 pounds of potatoes( it does not matter which type)slice or julianne them into a skillet or dutch oven. Add the onions and bacon with bacon grease and cook until the potatoes are able to be cut with a fork.(If you let the bottoms go crisp, it is very tasty)   serve either alone or with ketchup, peppers or cornbread. This recipe was my father's William J Gardenhire and we had it many times while we were hunting or out working fence line. It can be made for breakfast with eggs, lunch alone or for dinner when you have some venison or beef to round it out.
---
Famous Ribs
Posted By: Mike Jenkins 
Ingredients
salt  
pepper  
spray  butter  
pineapple juice
Directions  
Put a little of all the ingredients on ribs and then marinade in pineapple juice. Smoke the next morning — as you are smoking it spray butter over it every 1 hour.