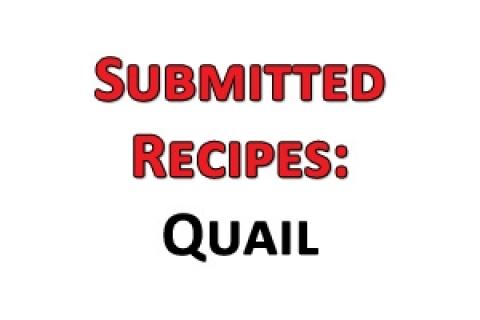 If you have a favorite recipe you'd like to share on Bass Pro 1Source, email it to community@basspro.com. Photos are also welcome!
---
Southwestern Quail
Ingredients
3-4 whole quail per person  
Red Devil hot sauce
Italian dressing
Jalapeno pepper slices
bacon
crushed red peppers
toothpicks
water
Beer
Directions  
Place quail in gallon Ziploc bag. Make a marinade of equal parts Italian dressing and hot sauce, and add 2 teaspoons crushed red peppers.
Pour over birds and let marinate 24 hours in refrigerator. Make sure to flip the bag a couple times. Take quail out and truss legs to breast with toothpicks. Then, place one jalapeno pepper slice in the chest cavity. Wrap each bird with bacon and secure with toothpicks. Grill on BBQ (300 degrees) for 20-25 minutes or until done. Be careful, and pay attention — the bacon grease can cause sudden flare ups. This is where the beer and water come in — the beer is for you, and the water is to put out flare ups. Take off grill, remove toothpicks and enjoy.
---
Cookers Love
Posted By: Jonathon and Bryce Loveland 
Ingredients
1 game bird  
1/2 cup salt pepper  
1 cup garlic  
1 cup chicken broth  
1 quart seasond salt
Directions  
Put the chicken broth and garlic in boiling water. Put the bird and seasond salt in the pot.
---
Casserole of Quail
Posted By: Joe Coley 
Ingredients
6 quails quartered  
2 tbsp. dry sherry  
2 1/4 cups butter  
1/2 cup diced onion  
1/2 cup celery
1 tbsp. cornstarch  
1 cup chicken bouillon
Directions 
Saute quail in butter for 10 minutes. Remove quail and saute onion and the celery in butter remaining in pan for about 5 minutes. Add corntarch dissolved in bouillon and cook, stir constantly, until thickened. Stir in sherry. Arrange quail in shallow casserole dish and pour souce over them. Sprinkle with 2 tablespoons chopped parsley. Bake 350 degrees oven for 15 minutes. Serves six.