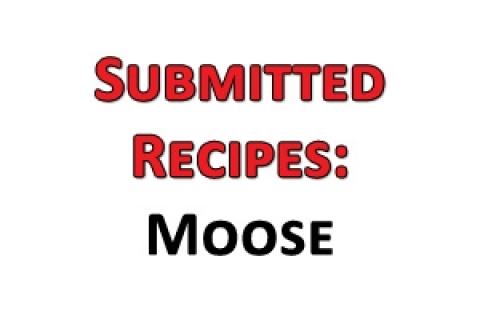 If you have a favorite recipe you'd like to share on Bass Pro 1Source, email it to community@basspro.com. Photos are also welcome!
---
Stuffed Moose Heart
Posted By: collin colby  
Ingredients
1 Moose heart, inside cleaned of arterties (scooped out)  
3 slices of fire dried bread (Place on top of air tight stove.This works well.)  
1 large onion 
2 gloves of fresh garlic 
salt and pepper (red is best, your choice!)  
1 bottle of beer (non-al is fine!)
Directions  
Break bread into small pieces and combine onion, garlic, salt/pepper. Stuff into heart, as you would a chicken. Place in pot just big enough to fit heart. Pour beer into pot. Put pot (lid on) in pre-heated (350 degrees) oven ... or better yet, med heat on BBQ. Cook for 30-40 minutes until all liquid has been cooked/absorbed off. Remove and let sit for 5 mins. Slice cross ways (from tip to top) Melt in your mouth good!!! We in our hunt camp never miss this meal. A couple hunter came across our camp (28 miles in middle of nowhere), last year. They were alittle lost, so we kept them for the night! This was the meal I was cooking up. First time they had ever tried heart, couldn't believe the incredible texture and flavour! Liked it better then the tenderloin!?! If you have hard time with the thought of eating heart, close your eyes. for just one bite, after that it won't bother you!! Enjoy!
---
Moose, Barley, Vegatable Soup
Posted By: Michael Woolstencroft 
Ingredients
1 pound of ground moose
1 cup of soup mix  
1 large onion  
4 carrots  
2 sticks of celery  
6 medium mushrooms  
1 tablespoon of worcestershire sauce  
beef boulion cube or packet  
garlic salt & pepper to taste  
2 tablespoons of olive oil
Directions  
Bring 2 quarts of water to a boil
Add soup mix  
Slow boil for about 15 minutes  
Add chopped onion  
Wait 10 minutes 
Add chopped carrots, celery and mushrooms  
Add beef cube and sauce  
Turn heat to minimum and cook slowly until all ingredients are fully cooked  
Brown 1 pound of ground moose in 2 tablespoons of olive oil and add to soup halfway through cooking.  
Enjoy
---
Moose Steak Marinate
Posted By: Julie Croston
Ingredients
1 cup Olive Oil  
1 brown sugar  
1 cup soya sauce  
1 small minced onion  
1 bulb of minced garlic  
1 tsp salt  
1 tsp pepper (white)
Directions  
Mix all ingredients well. Add moose or elk steak. Leave in refrigerater for 3 days to 2 weeks. (Stir occasionally)
Barbeque or cook however you want!!!!! You'll never go to beef again.