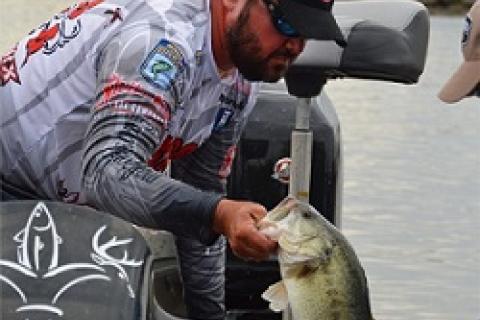 Quantum pro Greg Hackney takes the lead heading into Saturday at Lake Dardanelle Bassmaster Elite event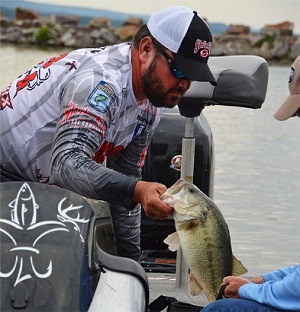 Elite pro Greg Hackney backed up his first day on Lake Dardanelle with a limit weighing 18 pounds 1 ounce for a two-day total of 39 pounds 14 ounces and the lead at the Bassmaster Elite Series event heading into Saturday. In second and just 9 ounces behind, is Day 1 leader Missile Baits pro John Crews with 39 pounds 5 ounces.


Rounding out the Top 5 are:
in third pro Zell Rowland with 37 pounds 1 ounce. Fourth heading into Saturday is pro Keith Combs weighing 36 pounds 8 ounces. Fifth is held down by Trokar pro Rick Clunn who weighed 36 pounds 3 ounces.


Hackney enjoying his week.
"I have no complaints at all," said Hackney. "I've had a great week. I'm kind of surprised by how much my fish weighed. I was catching numbers of fish today, just not many big fish. I'm happy with what I have. It is what it is and I hope to keep it rolling."


Crews ran.
"This is gonna be a shootout," said Crews. "It is only halftime. I'm happy I am in contention. That is all I can ask for right now. The water dropped and it is now coming up and clearing a bit. I'll get out tomorrow and adjust.


"I ran around to a bunch of areas today. I had no bites in some of my areas from yesterday and one area I caught nice fish. I caught a 3-pounder out of some new water. I'm just gonna try and stay on what the fish are doing."


Rowland on a fave.
"Dardanelle is one of my favorite lakes to fish," said Rowland. "I've been able to finish in the Top 10 twice here. I'm fishing where I know they live. I just put my head down today and fished hard. I only made one pass in an area and caught all of my fish."


Rowland weighed the biggest limit today, 25 pounds 5 ounces.

Combs adjusted.
"I made an adjustment midday," said Combs. "I caught fish after I adjusted, but I ended up catching all of the fish I weighed today the same way I did yesterday.


"If the current starts up again tomorrow I think the weights will go up. This is still anybody's game."


Clunn didn't adjust.
"I'm not catching fish real fast during the day," said Clunn. "I'm catching about one keeper an hour. We lost a couple hours of fishing time due to the fog today. I ended up catching two fish fast today, so that put me back on track to catch my five. I stayed steady for the rest of the day. I didn't adjust anything from yesterday."