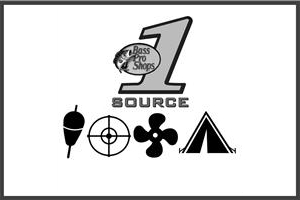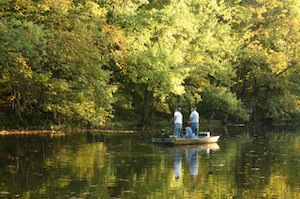 Small waters are what I consider to be ponds, stock tanks and flooded creek waters. All are within the range of 75 to 100 acres, and in some cases, less, but for the sake of argument … about 75 acres with a deep water point in the 15-ft. range. 
In some rare instances, this deep water range may be more, especially if it was built by the state as a soil conservation body of water, wherein the depth may exceed 50 feet. Regardless, the good news is that in most cases, the whole impoundment can be fished in one day, and there are no water skiers, wake boarders, jet skis, oars or jet bikes to stir up the water. Just you. And how great is that?
How to get access to small waters
Usually these types of waters are private and accessible only by permission of the landowner or the person in charge of the property, such as a ranch foreman, head manager, property manager — or wife of the owner. Just kidding. Anyone in charge of the property will let you access. A good ploy is to offer to split the catch if they, the owners, are in favor of taking fish from the water. Soil conservation lakes in some states make it a law that the landowner must give access to the government built lake. This is not true in all states, so make sure you know the law and maybe even have documentation on you to prove your point. But, be nice: If the owner doesn't want you there, leave … it would an unpleasant event if you stayed.
Gear for small waters
To fish these size waters, I use a small, 17-ft. aluminum Tracker bass boat with a small outboard. I never use a large fiberglass boat. Or, I use a two-man mini boat like the Bass Pro Shops Uncle Bucks Pond Prowler Fishing boat. There are a number of brands on the market today, and they're pretty nifty little boats. Most even have a livewell and rod tie downs and locator mounts. Regardless, this type of craft is what ya need! 
Add to this three fishing rigs, two bass rigs, one light spinning rig (in case of a crappie attack!), a tackle box or two, a cooler for food and beverages, and a paddle. Last, but not least: lifejackets and a flotation device besides a lifejacket, along with sunscreen and a stringer or a livewell bucket to put the keepable catch in. If you like to catfish, then you know what rigs you will need. 
Tips and tricks for small waters
The number one key to catching fish on this type of lake is making as little noise or vibration as possible. The waters are not usually invaded by noisy boats, water rigs and paddles sloshing around, or people talking, or music … so hold it down. Try not to start any outboard motor, except when you put the boat back on the trailer when you leave. 
Use your trolling motor to move around, and then at that, use the slow speeds. Remember: The vibration of a trolling motor blade is foreign to these fish. So be QUIET!
After you are launched, realize that you have traumatized the water where you launched, no doubt, so move across the lake to start fishing. Try the creek entrance, which is a great starting point. And note as you move across the water any channels, humps, brush piles or other structures in the lake and the presence of fish in the water. This will give you some plan as what to do later on in the day as the sun rises and the fish move out to cover and deeper water. I like to just start on a bank and work my way down it for a stretch. I like the stretch to have cover, lay down trees, foliage of some sort, logs and tree stumps — anything that offers habitat for feeding bass.
Other areas that I will seek are weed beds — those that have matted on the surface and are on the edge of channels or deep holes. Additionally, I seek foliage where it stops growing, and the bare bottom is left. I like cattails and bulrushes. I like lily pads if there are a number of pads that are gathered all together, and there is deep water nearby. Any heavy cover that is close to deeper water is good, but hard-bottom areas are best. I really don't care for muddy bottom areas. I know they hold fish at certain times, but I have a hard time configuring when that is. (Ha!)
Lures to use on small waters
Lures of choice … Well, I am Jimmy Houston, what do you think I would throw? A spinnerbait or crankbait. Why? Because I can make a lot of casts and cover a lot of water. I learned a long time ago that a fish is caught on a cast, and the more casts I make, the more fish I catch. Problem solved. Duh. 
And I like crawfish colored crankbaits, baby bass colors, frog colors and the color of grasshoppers. Those are what the fish feed on in these waters. Some ponds have shad, but that is the exception more so than the rule, so go with natural food sources. If I had to pick one, it would be the frog patterns. Plastic worms are good, too, but I use these in the later part of the day when I am fishing the deep water jaunts of the bass, like creeks and deep points, etc. Favorite colors are watermelon, dark blue, purple -- any dark worm with metal flake. And in some cases, specific colors like red or shad if the owner says he has caught bass on those colors in the past. History of catches can give you some really good insight to what to fish and where to fish. 
Etiquette for small waters
After the day is over, load up your gear and do one thing that is really important: Make sure you leave the property cleaner than when you arrived. Then take some of the fish to the owner, already cleaned. (That is, if the owner has given you permission to keep fish.) 
Be sure to thank the owner or manager. Let them know you are leaving. Don't make them wonder into the night if you are still there, and do leave before night so they won't wonder what you are doing out there in the dark.
No alcoholic beverages and no smoking — just a nice gesture. And the next time to come out, invite the owner or manager to go with you. It's just nice to do that.
by Jimmy Houston