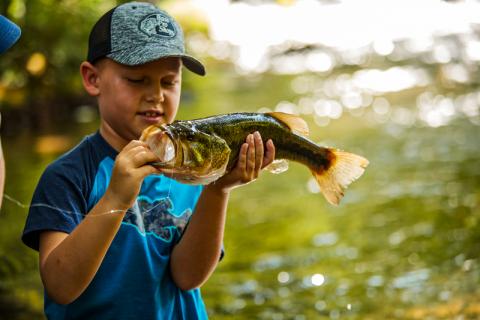 For more than 50 years, Bass Pro Shops has been committed to making the great outdoors accessible to families across North America. While this commitment takes many forms—combining value and service with the industry's widest selection of outdoor products, it is perhaps within the context of fishing, boating and conservation that it shines most clearly.
Bass Pro Shops and Cabela's unite sportsmen and women across North America with industry partners and some of the world's leading conservation organizations. The result is not simply the largest conservation movement that our country has seen in generations, but one that is changing the world for the better.
Fishing and boating are treasured American institutions.
Every year this movement conserves millions of acres of habitat, improves recreational access to public lands and waters, invests in the future of our sporting heritage and introduces millions of kids and families to wonders of the great outdoors. What follows is a breakdown of how Bass Pro Shops' commitment to conservation and to making the outdoors accessible benefits fishing, boating and habitats in fresh water and marine environments across North America.
Conservation paves the way for good fishing. Good fishing paves the way for recreational fishing and tourism. Conservation is good for the environment and the economy.
Freshwater: Making Fishing Better in Your Backyard and Across North America
Freshwater is an engine of fishing in America. Generations of sportsmen and women got their start chasing bluegill, bass and catfish on one of America's thousands of lakes, rivers and ponds. From Maine to California, Alaska to Florida, and Minnesota to Texas, freshwater fishing is part of the fabric of communities across the country.
Every year we support a variety of programs and partners who work to ensure a bright future for freshwater (and fishing) across North America. Here is an overview of this work.
The National Fish Habitat Partnership
The National Fish Habitat Partnership is the most comprehensive freshwater conservation program in the United States. It began with a spark of inspiration from Johnny Morris, founder of Bass Pro Shops and noted conservationist.
Johnny had grown concerned over the chronic degradation of freshwater habitat across the United States. Most reservoirs in the United States were impounded in the 1960s. When reservoirs were first created, they were full of submerged timber and other underwater habitat that is essential for bass, crappie and for baitfish. Over the years, the submerged habitat degraded, and many reservoirs were left with barren lake bottoms.
In 2006, Johnny Morris donated $2.5 million in seed money and invited leaders of conservation organizations and state fish and wildlife agencies to discuss the chronic, national degradation of submerged freshwater habitat in the United States. The result: a pilot project on Missouri's Table Rock Lake and the birth of the National Fish Habitat Partnership.
Specially built TRACKER Habitat barges helped execute the NFHP's pilot project on Table Rock Lake.
The first project on Table Rock Lake placed 2,100 mega structures on the lakebed using specially built habitat barges made by Tracker Marine. The pilot project also created a national model for submerged habitat improvement that is still utilized today.
Since its inception, the National Fish Habitat Partnership has executed more than 1,300 projects in lakes, rivers and streams in all 50 U.S. states. A great example of public-private partnership between the federal and state agencies, non-governmental organizations and industry partners, NFHP projects have generated an economic value of more than $1 billion and support 20,000 American jobs. To date, the NFHP boasts an economic return of 18:1.
Bass Pro Shops presents a check for $1.57 million to the National Fish Habitat Partnership.
In 2021, Bass Pro Shops donated more than $1.58 million from the U.S. Open National Amateur Bass Fishing Championship to the National Fish Habitat Partnership. The NFHP in turn leveraged another $3 million to fund nine major habitat improvement projects in lakes across the United States.
ShareLunker, Trophy Catch and A Tradition of Supporting State & Provincial Fisheries Agencies
Bass Pro Shops is a leader in support of state and provincial fish and wildlife agencies across the United States and Canada. From empowering research, investing in hatchery facilities and supporting angler engagement, this commitment makes a brighter future for fishing in North America.
Catching giant bass for conservation? That's a win-win.
Two programs, ShareLunker (Texas) and Trophy Catch (Florida), illustrate the impact of this work. The premise of these programs is simple. Anglers catch lunker bass and keep them alive in a live well. They then call state fisheries officials who pick them up and transport them to hatcheries facilities.
By connecting the recreational bass fishing community with state agencies, Trophy Catch and ShareLunker not only provide a steady supply of giant bass to spawn in state hatcheries but are supercharging the future of fishing in the process. Hatcheries use the lunkers as brood stock—using the offspring of big fish to populate lakes across the state.
The State of Florida and Bass Pro Shops present a check to one of the winners of the Trophy Catch program.
This is an important issue. After all, the bigger the fish that spawn in the hatcheries, the bigger the fish that ultimately populate the lakes and rivers. That is Genetics 101.
Bass Pro Shops has provided funding support and coordination for these and other state programs for decades. What began as isolated projects have grown to become a multistate model for angler-driven conservation.
The offspring of this tank of a bass will now be swimming in lakes across Texas thanks to the ShareLunker Program.
Keeping record of where big fish are caught also provides information on which lakes produce lunkers. Understanding which conditions produce large fish helps fisheries officials replicate those conditions in other bodies of water across their respective states. The result is better genetic contribution to fish-stocking efforts and a better understanding of the types of lake management that produce big fish.
Beyond our support in Texas and Florida, Bass Pro Shops and Cabela's support research, conservation and fisheries management work within state and provincial fisheries agencies across the U.S. and Canada. In many places, such agencies are where the rubber meets the road for conservation and management of freshwater fisheries.
Freshwater Habitat and Management
Each year Bass Pro Shops and Cabela's, along with the Bass Pro Shops and Cabela's Outdoor Fund, support hundreds of conservation groups working at local, state, regional and national levels. Groups who are active in freshwater conservation include Trout Unlimited, the Association of State Fish and Wildlife Agencies, the Nature Conservancy, the Audubon Society and many others.
The offspring of this tank of a bass will now be swimming in lakes across Texas thanks to the ShareLunker Program.
Saltwater: Inshore, Offshore and Everywhere in Between
Bass Pro Shops proudly maintains a long, active and successful tradition of empowering conservation in saltwater as well. This support spans partnerships and region, benefiting millions of anglers across North America.
The Modern Fish Act: Leadership and Transformative Federal Policy
Johnny Morris co-chaired the commission that led to the creation of the Modern Fish Act, a piece of national legislation that not only revolutionized federal fisheries management, but officially recognized the importance of recreational fishing for the first time. No matter where or how you fish, the Modern Fish Act directly benefits America's marine resources and those who enjoy them. For more on how the Act came to be, its importance and just how transformative its effects truly are, read the whole story—The Modern Fish Act: A Bright Future for U.S. Sportfishing
The IGFA: Sportfishing Heritage, Records and Conservation
Bass Pro Shops is the International Game Fish Association's largest lifetime industry donor. We proudly support the IGFA's work to chronicle the history and culture of sportfishing, compile the sport's world records in fresh and saltwater, and empower the group's wide ranging conservation efforts.
The Bonefish & Tarpon Trust
The Bonefish & Tarpon Trust is a world leader in fisheries research, habitat conservation and policy for the benefit of flats ecosystems of the broader Caribbean region. Perhaps the most iconic flats fisheries in the world are located in the tarpon and bonefish-rich waters surrounding the Florida Keys. The flats are among the world's most exciting (and fragile) fishing environments.
Catching a giant tarpon in the Florida Keys is a good reason to smile. BTT works to ensure the future of moments like these…
Bass Pro Shops is BTT's largest lifetime industry donor. The results of our partnership fund work that ensures a bright future for flats habitats and the magnificent gamefish (and communities) who depend on them.
Understanding Migratory Patterns and Life History Strategies of Large Pelagic Fisheries
Highly migratory species, such as marlin and tuna, are among the ocean's most magnificent creatures. With ranges that cover entire ocean basins, highly migratory fish are also very difficult to study. Deployment of satellite tags into billfish and tuna provides researchers and conservationists with the ability to understand migratory patterns and how to effectively manage their populations.
Bass Pro Shops proudly supports a number of satellite tagging studies. This cutting-edge research is essential to ensuring a bright future for fish that can travel thousands of miles over the course of their lifetimes. These studies include:
Bluefin tuna, like this one, are among the ocean's largest gamefish—and its most commercially valuable.
University of Maine Bluefin Tuna Tagging Program - earlier in 2023, the Bass Pro Shops and Cabela's Outdoor Fund made a five-year, $250,000 commitment to support deployment electronic tags on Atlantic bluefin tuna.
A satellite tag deployed by the IGFA in a marlin.
Great Marlin Race, IGFA and Stanford University - The Great Marlin Race is a one-of-a-kind research collaboration between the IGFA, Stanford University and the recreational sportfishing community. Bass Pro Shops is a long-term supporter of this program and has sponsored tag deployments in blue and white marlin up and down the Eastern seaboard of the United States and broader Caribbean/ Gulf of Mexico region.
Advocacy: Supporting Those Who Empower Fishing and Conservation
In conservation circles, advocacy is the term used to describe positively influencing legislation and policy. Bass Pro Shops has a long and successful history of creating partnership and uniting sportsmen and women to help with the passage of federal conservation legislation. When it comes to fishing legislation, Bass Pro Shops was intimately involved in the passage of the Modern Fish Act and the 1984 Wallop Breaux Act (that funded an aquatic resources trust fund that has proven immensely important to conservation of freshwater fisheries and resources), among others.
Bass Pro Shops and Cabela's also support many of the leading fishing and conservation advocacy groups in the United States. Among the groups who work on our behalf to ensure a favorable legislative atmosphere for fishing are the Congressional Sportsmen's Foundation, the American Sportfishing Association and the Center for Sportfish Policy. Along with our customers who support the Bass Pro Shops and Cabela's Outdoor Fund, we proudly invest hundreds of thousands of dollars each year to support these, and other, powerful advocacy partners.
Introducing the Next Generation to the Great Outdoors
For more than 50 years Bass Pro Shops has remained committed to making the outdoors accessible to kids and families from all backgrounds. In fact, introducing new audiences to the great outdoors is one the company's three fundamental conservation pillars.
Introducing kids and families to the outdoors is not just good for kids and families, it is also good for nature. Exposure to the outdoors in childhood provides a foundation of understanding and caring about the outdoors that can last a lifetime. Research also shows that time spent outside offers a variety of physical and mental health benefits to people of all ages—particularly children.
Bass Pro Shops proudly supports a variety of initiatives, groups and campaigns devoted to helping kids and families of all backgrounds enjoy the outdoors. These include:
The George H. W. Bush Vamos A Pescar Education Fund
In 2014, Johnny Morris launched the George H. W. Bush Vamos A Pescar Education Fund in Texas, as a tribute to his longtime friend and fishing buddy. The Fund supports initiatives that engage multi-cultural families, particularly Hispanics, to increase participation in fishing, boating and conservation nationwide. Since it's inception, Vamos A Pescar has expanded its reach, impact and influence.
Bass Pro Shops Outdoor Days and Special Events
In 2022 alone, Bass Pro Shops and Cabela's engaged more than 1.53 million kids in the great outdoors. In the past two years, Bass Pro Shops has donated more than 65,000 fishing rods and reels to kids.
The International Game Fish Association actively engages kids in fishing… across the country and around the world.
Support for Organizations that Introduce Kids to Fishing
Bass Pro Shops proudly supports a variety of groups that are committed to making it possible for kids to enjoy fishing and the great outdoors. These groups include: The State of Georgia's Gateway to Fishing Program (Bass Pro Shops donated 10 mobile fishing trailers to enable groups of kids and students to go fishing), the IGFA's Passport to Fishing Program and many, many others.
Bass Pro Shops' Mission: To Inspire Everyone to Enjoy, Love and Conserve the Great Outdoors
When it comes to fishing and conservation, there are a great many similarities. Bass Pro Shops is honored to have worked to inspire current and future generations of conservationists for more than 50 years. As often as not, these conservationists go about their passion with a fishing rod in hand.