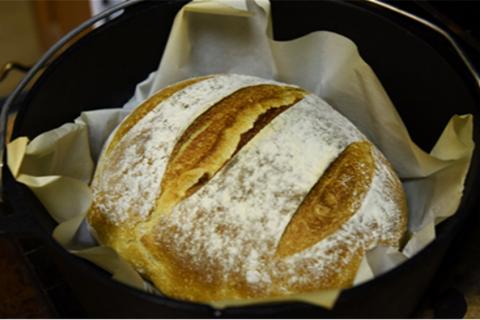 Steam is the Key to Baking the Perfect Loaf of Bread in a Dutch Oven
To bake the perfect loaf of rustic, artisan-style bread, bakers need to create a hot, steam-filled environment for the first 10 to 20 minutes of baking. Without getting into the science of bread-baking, a steamy oven keeps the exterior of the dough soft, allowing the bread to rise, or spring, before the surface gets too dry and stops the rising process.
For the home baker, there are couple ways to accomplish this. One can spray water into the oven when the loaf goes in, or throw a few ice cubes on the floor of the oven. I have also tried placing a pan of water on a rack above the loaf. All work, but not to the degree I need for the best loaf. So, I have started baking my bread inside a covered Dutch oven. This closed environment allows for the moist dough to create its own steam and creates the perfect, crusty loaf with a moist interior.
Although I typically cook my Dutch oven bread in a conventional oven, this technique can easily be adapted for cooking over coals or on a camp stove using Camp Chef's Dutch Oven Domes, which essentially create an oven effect surrounding the Dutch oven. The key, really, is to super-heat the Dutch oven before the dough is placed inside. It also works with just about any type of bread dough, though it seems to be tailor-made for multigrain and sourdoughs that naturally have more moisture than a standard, white-flour dough.
1. After the dough's rises initially, punch down the dough and shape it into ball, or round loaf. Place a sheet of parchment paper roughly twice the size of the loaf into a 10- or 12-inch pie pan or skillet. Gently place the formed loaf onto the parchment and cover with a towel or sheet of parchment paper.
2. As the dough is going through its final rise, place a Dutch oven into the oven. About half an hour before you are ready to bake, preheat the oven to 450 degrees.
3. When the dough is ready to bake, slash the top and carefully transfer the loaf to the heated Dutch oven, using the parchment paper to lift the dough. Place the loaf and paper in the Dutch oven and cover with the lid. Put the Dutch oven back into the oven and set the timer for 20 minutes.
4. Once the 20-minute timer is up, remove the lid from the Dutch oven and continue to bake the bread for approximately another 15 minutes or until the top is nicely browned.
5. Once the bread is fully baked, carefully remove it from the hot Dutch oven and place it on a cooling rack. Do not slice for at least 30 minutes to allow the interior of the loaf of finish cooking.