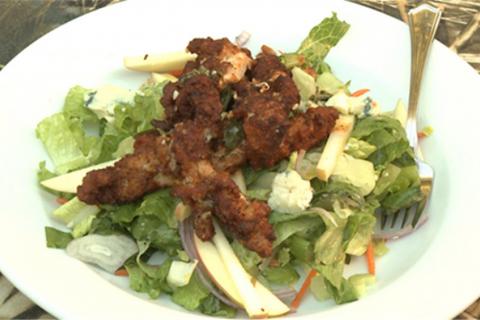 Reminiscent of buffalo wings, pan-fried strips of wild turkey breast are coated with hot Sriracha-lime hot sauce and served atop a mixture of crisp, cool greens, blue cheese crumbles, thinly sliced red onion and julienned apples.
Wild Turkey Salad Ingredients
Wild Turkey Preparation
2 cups wild turkey breast, sliced into thin strips
salt and pepper
1/2 cup flour
1 1/2 cups buttermilk
vegetable or peanut oil for frying
1/4 cup melted butter
1/4 cup Sriracha
2 teaspoons freshly squeezed lime juice
Salad Preparation
2 heads Romaine lettuce, chopped
1/2 small red onion, sliced into thin rings
1 cup carrots, shredded
1 cup celery, diced
1 large Fuji apple
1 tablespoon lemon juice
1/3 cup blue cheese, crumbled
Lemon-Basil Vinaigrette Dressing
1⁄3 cup fresh lemon juice
1/4 cup fresh basil leaves, minced
2 garlic cloves, minced
1/4 teaspoon Dijon mustard
1⁄2 teaspoon sugar
1⁄3 cup extra virgin olive oil
1⁄4 teaspoon fresh ground pepper
1⁄8 teaspoon salt
Directions to Prepare Wild Turkey Salad
1. Prepare Lemon-Basil Vinaigrette. In a medium bowl, whisk together lemon juice, basil leaves, garlic and sugar. While whisking, add olive oil in a thin stream. Season to taste with salt and pepper. If you would like a sweeter vinaigrette, add a little more sugar.
2. Use three separate bowls for flour, buttermilk and breadcrumbs. Season wild turkey strips with salt and pepper. Heat 1/2-inch of oil in a large skillet over medium-high heat. First dredge wild turkey in flour, then buttermilk, then breadcrumbs. Shake off excess. Place breaded wild turkey strips, a few at a time, into the hot oil. Pan-fry until golden brown. Drain on paper towels.
3. Slice apple into 1/-4-inch slices, then julienne into matchsticks. Toss julienned apple with lemon juice. In a large bowl, combine apples with remaining salad ingredients and toss well with a light coating of dressing. In a medium bowl, combine melted butter, Sriracha and lime juice. Add wild turkey strips and toss to coat evenly. Arrange wild turkey strips on salad and drizzle additional dressing over. 
Click here to print or download the wild turkey salad recipe