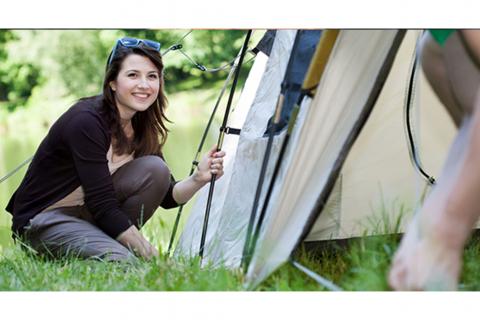 Setting up an organized camp starts now, while you are still in the planning stages. If you are going on a camping adventure, we will show you how to set up your site and keep it organized and efficient. This is, after all, one of the keys to happy camping.

Before You Go: Practice Strategic Packing
You might not know what the exact layout will look like, but you can count on a few things: There will be a flat area for your tents, a fire pit, and room for things such as a table, water station and cooking area.
Make your list and strategically pack items into plastic tubs with sealable lids: kitchen supplies in one, dry food in another, light sources and first aid in a third, etc. These bins will come in handy for ease of access and overnight storage, and they will help keep out wildlife.

Upon Arrival: Pitch Your Tents
When determining the lay of the land, create a space around a common area, such as a picnic table or fire pit. Tents and other stations will be spaced around this hub as the land permits.
Begin by setting up shelter. Tents first, then additional canopied tarps as protection from sun and rain. Involve all campers in setup. Their engagement will help them want to keep it organized.
Other tips include:
- If your campsite has a shaded area, set up the tents and shelter there.
- Place tents upwind from your campfire.
- Clear rocks and debris from where you will pitch your tent.
- Place a tarp under each tent. The ground can draw up moisture even when there is no rain in sight.
- If on a slope, position your tent so your head is higher than your feet.
- Inflate the air mattresses and set up the bedding in the tent now, so you do not have to do it later in the dark. Each morning, remake the bedding and straighten up your toiletries and such as they were when you first arrived. That way, it will be nice and fresh for you that night and the next morning.
Then Set Up the Kitchen
Erecting the cooking and eating area should be next on your agenda. A lot of time will be spent here, so make this area comfortable. If you brought a gas stove, set it up on the edge of a picnic table, some flat rocks or a table you brought. Or better yet, get everything in one with the portable Cabela's Standard Camp Kitchen, which has a removable middle table, sink, paper towel roll, arms for hanging lanterns and side tables with pantries. It helps with everything from food prep to washing dishes, and the kids might want to help because it looks really cool.
Other things to do at this point include:
- Set up your coolers under a tree (differentiate food and beverages with different-colored coolers or homemade signs).
- Prop collapsible garbage bag holders or pop-up trash cans around the kitchen area. Be sure to seal the lid when not using. Also, seal up bags and suspend them from a tree branch, so bears and critters are not attracted to your campsite.
- To further deter wildlife, lock your food in your car overnight.
Create a DIY Hand-Washing Station
- Prop a water jug at the edge of a table or on the back of a truck bed. Put a roll of paper towels in a plastic holder and wrap two bungee cords around jug to hold in place. Put a soap dispenser next to the jug and place a bucket under the spigot to collect the soapy water.
- Use different-colored water storage containers to help keep drinking water and washing water separate.
Keep It All under Control
Keep the campsite organized by cleaning up before night falls. This helps you avoid losing things and tripping over items.
Some more helpful tips to keep home base organized:
- Hammocks are a great way to keep gear off the ground and in one place. After a round of horseshoes, return them to this area. Put a camper in charge of the gear checklist, assuring everything is in its place before dark.
- Give everybody in the camp a headlamp of their own, so they always feel in control.
- Campers also get their own (comfortable) chairs, so no one is bickering over the green one or the one with a foot rest.
- Provide a table for meals, games and food prep.
When packing up, leave no trace of your presence. And if the people before you left any messes, be a good citizen and clean up those, too.