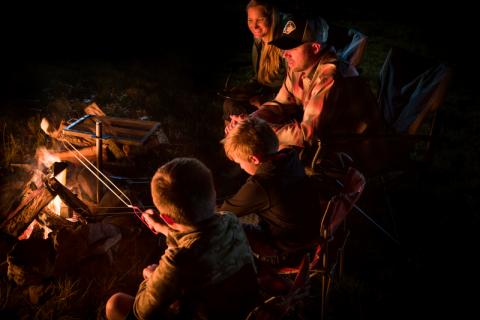 Camping is a great way to spend quality time outdoors. When done right, camping can result in wonderful memories that last a lifetime. For those head out camping without the right gear and adequate preparation, those memories may still last a lifetime—though they might not be the kind you'd like to remember.
This article provides an introduction to family camping with some proven tips for making it a good experience. These tips are accompanied by gear recommendations and a framework from which to approach the activity.
For the uninitiated, camping with the kids for the first time can seem daunting. After all, you'll have to bring everything you need with you… for shelter, sleeping, eating, drinking, illuminating the night, staying warm and dry-- all while keeping your food and drinks cold and your mountain of gear organized.
While this might seem like a lot, in reality creating a great camping experience is pretty straightforward. Camping success is really just a matter of picking the right spot at the right time and bringing the right gear. Here's how to do it.
Family Camping Gear Guide
At its most essential, camping fun results from creating a small number of physical spaces and preparing a few fundamentals. The camping equipment you'll need to bring is largely defined by the experiences you wish to create. In this way, your gear checklist also represents a plan of action.
Creating a Comfortable, Functional Campsite
Most fundamentally, there are three main components to creating a comfortable, functional campsite.
Creating A Comfortable, Dry Place to Sleep
No matter where you choose to go camping, your tent will serve as your home base. It will store your things during the day and keep you dry, comfortable and protected from the elements at night.
There are many styles and models of tent. They are largely defined by the number of people they accommodate, the materials their made from, their design configuration and their price.
If you are taking your family out to a state park for a weekend, you'll likely be well suited with a dome or cabin style family tent. If you are packing your tent into more remote location, you'll be best served by a lightweight adventure style tent.
To pick the right tent, just match the number of people with the capacity you need. Find an option that fits with your budget and you're ready. Our Guide to Tents provides a thorough explanation of your options.
When it comes to what you'll be sleeping on, there exist a variety of choices. These generally involve a sleeping bag and a pillow placed on top of a sleeping pad, cot, or air mattress. There is no right or wrong answer, it just comes down to personal preference and how much room you have to pack.
Sleeping bags are rated to handle temperature thresholds. The Bass Pro Shops 20-degrees Deluxe Sleeping Bag is a great, all around option. If you plan take your camping into colder regions, just make sure that your sleeping bag is rated to handle it.
Creating A Comfortable, Fun Hang Out Area
While your tent serves as your primary hangout while sleeping, you'll need to create a comfortable, fun area to hang out during the day. Though the specifics will vary, this area generally includes a fire pit and campfire, a table for cooking and eating and enough seating to accommodate your party.
When it comes to camping chairs, the options these days are great. The Cabela's line up of Big Outdoorsman chairs feature large seating areas, high weight capacities, durable construction and comfort across the line. The Big Outdoorsman Lounger and Muskoka chair are a couple of our favorites, but the Big Outdoorsman chair line up comes in a variety of great, comfortable and durable configurations.
Our Guide to Camping Chairs provides a thorough breakdown of the camping chair options. It includes a variety of price points, chairs that are highly packable and some great options for kids.
Pro Tip: hanging up a hammock while camping is never a bad idea!
Beyond seating, you will likely need a table or two in your camping hangout. Many state parks offer campsites that come with a picnic table. Some family campers will outfit this table with a table cloth, though others do not.
Tables not only serve as a place to eat, but also as central hub for the stuff you'll use around the campsite. Some families will set up one table for eating and another for cooking (especially those who use a camp stove).
Bass Pro Shops carries a variety of folding tables, end tables and roll tops that can help round out your campsite. If you're the type that like to go all out, you can combine your camp stove with a camp kitchen. Camp kitchens not only serve as great cook stations, but provide a place to organize your food, utensils, and pots and pans.
When setting up your hangout area, you'll also want to consider the prospect of mosquitos and other pesky, flying creatures that like to bite. Pick up a Thermacell or two. If bugs show up, turn them on and place them around your campsite and be free of mosquitos—without the need to spray yourself with anything.
Making Sure You Can See at Night
When the sun goes down, you'll need to bring your light with you. Camping lighting options have come a long since the days of lanterns that were hotter than the surface of the sun.
You'll want to consider three things when compiling your night time campsite lighting: ambient lighting (lanterns), directed lighting (flashlights and headlamps) and area lights. Our Guide to Camping Lighting provides an in depth run through of the many options that are available.
You'll need ambient lighting to illuminate large spaces. Lanterns are a great option. Picking up three or four lanterns will allow you to hang one in the tent, keep one on the table and reserve another for keeping around the campfire. There are a variety of lightweight, rechargeable and solar options that emit quite a bit of light. Some of them even allow you to charge your phone from them.
You'll also need to pick up some flashlights and headlamps for your trip. If you're camping with kids, getting each of them their own headlamp and flashlight is a great way to make them feel involved in the adventure.
Flashlight and headlamp options have really come a long way. You'd likely be best served to combine a good all around flashlight, such as the Cabela's CTL, with a few introductory flashlights for the kids. Headlamps are a great option as they allow you to illuminate whatever you're looking at, while keeping both hands free.
You might consider rounding out your campsite's illumination with some string lights. Hanging these not only helps you see in the dark but adds some flair to the experience.
Physical Preparation
Preparation and an enjoyable camping experience go hand in hand. This is especially true when camping with kids. Most essentially the preparation involves three categories: Food and Drink, Fire and Cooking, and Supplies and Accessories.
Food and Drink
Part of the charm of camping lies in being self-sufficient. This means that you'll have to bring everything you need with you.
Camping Cooler Set Up
You'll need a cooler or two. One tried and true approach lies in using one large cooler as your food and drink storage (if you have room to pack them a dedicated food cooler and a dedicated drink cooler might work even better) for the trip and another smaller cooler for your excursions while camping.
The Cabela's Polar Cap cooler is ideal for keeping a camping trip's worth of food and drinks cold for extended periods of time. Available in a variety sizes, the 60 quart Polar Cap cooler is a great all-around option. It keeps ice for days, is animal proof, and can double as a camping table or chair too.
We offer a variety of smaller coolers for packing snacks and drinks for a trip to the lake or river, too. There are a variety of soft-sided coolers and backpack coolers that are portable, lightweight and made for bringing the party with you. This multi-cooler approach helps with organization and means that you won't have to bring everything with you every time you leave the campsite.
Water and Food Storage
No matter where you camp, you'll want to bring quite a bit of water. Even if your campground has a water hook up for washing dishes or filling a bucket to douse your campfire at the end of the night, you'll still likely want to bring some cold drinking water.
There are plenty of options. You can fill a container before you leave your house—collapsible 2.5 or five gallon containers are great, so are military style water containers.
Some campers bring a cooler reserved for drinking ice. You can fill it from the freezer at home of pick up a bag or two on the road.
You'll also likely want to organize the food that you're bringing. Cooler baskets are great for keeping eggs and bread from getting squashed. You'll be amazed at the number of camping uses you'll find for gallon storage bags and aluminum foil. Reusable storage contains are great for keeping leftovers and organizing lunch or dinner offerings. You can fill them at home, stack them in the cooler and be ready for camping meal prep.
Utensils and Dinner Ware
If you plan to make camping a regular activity, you'd be well served to outfit yourself with a set camping plates, cups, and eating utensils. Pairing these with a collapsible bucket (for dish washing) and some cast iron pans and maybe a dutch oven or two and you'll have the bases covered.
You can pack up all of your camping cutlery, dinnerware and cast irons with your camping gear. Not only will you not have to worry about breaking the dishes that you use at home (the durable enamel stands up to wear and tear of camping), but your preparation for your next trip will be that much easier. Just grab the bag or bin with your camping dishes, toss them into the truck with the rest of your gear, and off you go.
Coffee
You could forget to bring coffee making supplies and equipment when you go camping, but you'd likely be sorry that you did. Pairing the Bass Pro Shops Campfire Percolator with your favorite blend of Black Rifle Coffee will keep your camping mornings on point.
Fire and Cooking
The campfire is as much a part of the camping experience as the tent. Campfires are great for sitting and telling stories around, cooking on, warming up around and, of course, making smores.
If your campsite is equipped with a fire pit, you're halfway there. If it's not, you pick up a portable fire pit ring or gather a circle of rocks (stack them closely enough together to create a physical barrier that separates the fire inside from the vegetation and leaves outside).
Whatever your set up, your campfire experience will benefit from a bit of preparation.
Keep a bucket or two of water on hand. Be sure to thoroughly douse the fire before you to go to bed.
Bring some skewers (and marshmallows and hotdogs).
Cooking
When it comes to camp cooking, there are two schools of thought. Both are great fun.
The first involves using a camp stove. Powered by propane, camp stoves can take care of breakfast, lunch and dinner. They are available in a number of configurations—one, two and three burner, table top and free standing.
Combining a camp stove with a camp kitchen and you're organized and well set up. This set up is not only ready for camping, but can handle tailgates like a pro.
The second camp cooking approach involves roasting and grilling on your campfire. We offer quite a few great fire cooking accessories. These range from swiveling grates and grills, Dutch oven tripods that are made to suspend the pot above your campfire to portable grill platforms and griddles that effective transform our campfire into a grill.
No matter how you choose to cook, your experience will benefit from including some heat protective gloves to help you move pots or adjust grills without burning yourself.
Being Prepared for Whatever Camping Throws Your Way
When preparing a camping gear list, there are a few less than obvious items that can make a big difference. You never know when or how you'll need them, but its more than likely you will…
A tarp or two (one for creating a footprint beneath your tent—this will decrease condensation- another because you might need it to keep rain off your gear (or yourself) or for any number of other things), rope or paracord (hanging hammocks or clothes lines, tying all kinds of things), a multitool (to cut, saw, unscrew and open things), a hatchet (handling fire wood, driving in tent stakes, and generally feeling prepared), carabiners (to hang lanterns, hammocks, and connect things to each over), dry bags and organizers, a first aid kit (you hope not to need it, but will feel better about being prepared), towels (you'll definitely need a towel or three, even if it doesn't rain and you don't plan to swim), wipes (for obvious and not so obvious reasons), a power bank to charge things (some lanterns and flashlights allow you to charge devices from them), and bug spray.
Picking the Right Camping Location (at the Right Time)
For those planning their first family camping trip, three general rules can help steer your path.
Rule 1: The More Remote Your Campsite, the More Gear You'll Need
Campsites exist on a spectrum. You can head to remote wilderness areas that offer nothing in the way of amenity (aside from open space and natural beauty, that is). On the other end, there are state and national parks that provide bathrooms, water hook ups, fire pits, and general stores that sell firewood, pop tarts and other camping essentials.
While there is charm in each of these experiences, the more remote and rugged your choice, the more you will have to bring with you. If you are in search of a fun family experience as you navigate your way into camping, state parks are a great option that involve much less intensive planning, packing and execution.
Rule 2: The Colder it is, the More Gear You'll Need
Camping in cold weather can certainly be fun. After all, what better time for a campfire at night or a hot cup of coffee in the morning than when it's cold out.
That said, when camping you'll need to keep yourself and your kids warm. This means jackets and warm clothes during the day and appropriately rated sleeping bags and extra blankets at night.
This is all doable, but camping in the cold takes more planning, more gear and requires more work than camping when it's not cold. If you're planning your first experience, you might shoot for mild weather.
Rule 3: As You Begin Your Camping Journey, Avoid the Extremes—Or Prepare for Them
What do December in North Dakota and August in Arizona have in common? They are marked by extreme temperatures.
As you get into camping, you might consider starting with times in the mid Spring and mid Fall. During these seasons you can more reliably predict what the temperature might be. Because you'll spend your time out outside, you'll need to be prepared for whatever the weather might do.
If you are camping in the cold weather, that means preparations to keep warm. If you are camping when it's hot out, that means hydration and sunscreen.