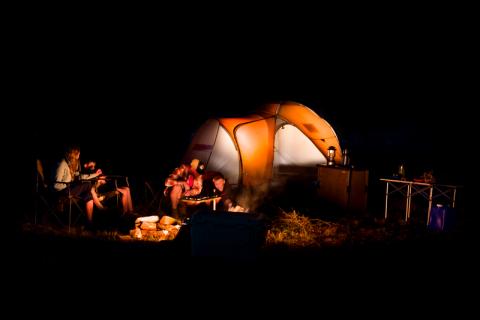 When it comes to lighting your campsite at night, there are plenty of options. Part pragmatic, part fun, camp lighting not only allows you to see at night but can add to the adventure and create ambience.
There are two main categories of lighting options—sources of ambient light to illuminate the campsite or tent and directed light sources that brighten your path. Setting your camping lighting package likely includes putting together a combination of flashlights, headlamps, lanterns and area lighting accessories. When it all comes together, the results can not only be functional, but quite a bit of fun.
Self-Directed, Handheld, and Head-Mounted Lighting
Flash Lights
Flashlights and headlamps are a critical piece of camping equipment. These days there are a variety of options, with flashlights ranging from around 50 lumens to more than 18,000.
Flashlights fall into a number of categories, but our focus lies largely in the introductory space and those that provide both high performance and good value.
Great, All Purpose Flashlights
The Cabela's CTL Flashlight delivers high performance and durability. The CTL is a great choice for a go-to all-around flashlight for a variety of outdoor pursuits.  
Available in 800, 1,000 and 1,200 lumen outputs, the CTL is rechargeable—rated for over 300 charge cycles. These military grade flashlights are composed of aerospace aluminum with a hard anodized finish and designed for years of performance.  
The flashlight is packed with a variety of performance features, including:
Removable, rechargeable lithium-ion battery with a dual charge design.

Shatter-proof polycarbonate lens
IPX-8, submersion-rated waterproof status
The CTL not only makes a great camping flashlight, but is a staple of serious hunters, anglers and hikers across North America. The 1200-lumen model broadcasts its beam out to 700 meters, with run times of 1.5 hours on high and 5 hours on low. The 1,000-lumen CTL broadcasts its beam to 300 meters, with run times of 2 hours on high and 12 hours on low. The 800-lumen CTL broadcasts its beam to 150 meters and has runtimes of 30 minutes on high and 3.25 hours on low.
Introductory Flashlights
Bass Pro Shops offers a number of high -flashlights at great value. The Shops 3-Pack LED Flashlights deliver 400 lumens with adjustable beams. Powered by 3 AAA batteries, which are included, these flashlights come camping ready.
The flashlights are a great option to have in the glove box of your car or backpack, providing a spare in case you misplace your others. If you're camping with kids, giving each of the youngsters their own light is a great way for them to be part of the adventure.
Headlamps
Headlamps are a great addition to your camping pack. Because you can mount them to your forehead and operate them without holding them, headlamps free up your hands. This feature is not only great for camping, but for fishing, hunting, hiking or generally spending time outdoors at night. 
The Cabela's Alaskan Guide Models headline our headlamp offering. They are available at a variety of price points, with a range of features.
The Cabela's Alaskan Guide Series RGB Headlamp broadcasts 300 lumens on high and boasts a runtime of 150 hours on flood mode. The RGB has 5 light modes, runs on 3 AAA batteries (which are included), and features white, red, green and blue light. It features water-resistant housing and is mounted onto an adjustable headband.
The Cabela's Alaskan Guide XP Green Headlamp is the line's most feature-rich, high performance model. Designed for serious nocturnal outdoor recreation, it is a great addition to your camping pack. Broadcasting 650 lumens for 70 hours on Maxbright LED mode (or 40 lumens for 159 hours (about 6 and a half days) on green LED mode), the XP is equipped with wide beam and spotlight settings.
Ambient Lighting
These days, lanterns are the most popular and versatile method of illuminating campsites. Recent advances in rechargeable technologies—and ever-improving performance of battery powered lighting sources—have revolutionized the lighting landscape.
Once defined by propane and lighted wicks, the lantern market now includes a variety of innovative, feature rich models powered by battery, solar power, and external fuel sources. Inflatable, compactible, color-changing and multiple mode lanterns that can run for tens of hours on a single charge make the prospect of lantern shopping a fun experience.
How to Choose the Right Lantern for Your Situation
When looking for a good campsite lantern, you'll likely want something that includes a few features:
Different Light Modes—many lanterns come with high, medium and low light outputs. These modes have a number of advantages. If you need to light up a large area, you can opt for the high output (bright) mode. Lower light modes not only allow you to create a different atmosphere in your campsite, but also drastically extend the life of your lantern's charge.
Different Color Modes—Choosing a lantern with different color modes is a good idea as well. By switching to red light or green light mode, you can illuminate the inside of the tent without waking up those sleeping inside.
Rechargeable—many high-performance lanterns now include a variety of recharging options. If you opt for the battery powered route, be sure to pack a few extra in case you need them. Many solar powered lanterns include quick charge modes that allow you to recharge the lantern with the sun or by plugging in its USB charger.
If you plan to be out for extended periods of time, you can opt for a lantern that includes as power base that will allow you to use it to charge your phone or other device.
Water Resistance Rating—because you never quite know what the weather is going to do, or where you'll wind up taking your lantern, you'd be wise to make sure that the water resistance rating on your lantern matches up to where you might take it.
Compactibility—if your version of camping involves packing things in and out in a backpack, you'll want to consider a collapsible lantern. Models include those that are inflatable and others that fold down on themselves like an accordion. Collapsible lanterns are great for family campers too—they can fit in the console of your truck, your boat's tackle bag or your hunting gear kit.
Practical Features—you might consider selecting a lantern that can stand up, is hangable, that comes with a shade or the ability to also direct beams of light in a direction.
Fun, Additional Features—Depending on the experience you are after, some lanterns can do much more than just give light. There are Bluetooth enabled lantern speakers that can play music, there are color-changing lanterns that reinforce the adventure of camping with kids and more.
Lantern Picks
Here are a few great, all-around lantern options to keep your campsite lit.
Cabela's LED Lantern With Remote 
The Cabela's LED lantern provides a great combination of performance and value. It's LED bulb produces up to 500 lumens, broadcast in a full 360 degrees. Powered by 3 D batteries, the lantern can run for up to 300 hours on low mode. It's rugged housing and IPX-4 water resistance rating make it a good all around choice for lighting your campsite. It has 4 lighting modes—white low, white high, amber low and amber high (amber light is gentle and attracts fewer insects). The lantern's remote control allows you to control it from a distance…. Meaning that you can climb into your sleeping bag and get situated without needing to turn out the light first.   
BioLite AlpenGlow 500 Multicolor USB Lantern
This compact, versatile lantern broadcasts 500 lumens of light. On high mode it runs for 5 hours or 200 hours on low. Light modes include cool white, warm white, single customizable color, multicolored light and a suite of fun and interesting secondary lighting modes. It is rechargeable with a USB plug in and includes a USB out plug to recharge other devices or run BioLite Site lights. It is compact (5.4"x3.8") and has an IPX-4 water resistance rating.
Streamlight Siege 3D LED Lantern
Powered by 3 D batteries, the Streamlight Siege has 4 LED lights that broadcast 360-degrees of soft, even lighting. Equipped with three lighting modes—high provides 540 lumens for 30 hours, medium offers 275 lumens for 70 hours and low broadcasts 55 lumens for 295 hours—the Streamlight's glare reducing polycarbonate cover broadcasts light evenly. The Streamlight has an IPX7 water resistance rating and it floats.
Portable, Packable, Rechargeable and Collapsible Lanterns
The Crush Light from Goal Zero is lightweight, collapsible and compacts down to disc that is .6" thick. It is rechargeable in the sun and with a USB power cable. With its three modes—high broadcasts 60 lumens for 3 hours, medium runs for 6 hours and low for 35 hours.
HybridLight Puc Expandable Lantern
The portable, lightweight expandable lantern delivers 150 lumens of light. When expanded it functions as a lantern. When compressed, it doubles as a flashlight. The HybridLight Puc Expandable Lantern is solar powered and chargeable with USB cable. It can deliver up to 40 hours of light on a full charge and is rated to hold a charge for 7 years. It comes with a fold-down hanger, making it a great addition for tent lighting or for your fishing or hunting packs or the console of your truck. When compressed, the puc measures just 2" thick.
Other Great Ambient Lighting Options
Placing a lantern or two around your campsite is a great way to light up the night, but there are a few other fun variety of camping lights as well.
MPOWERD Luci Solar String Lights
These solar powered sting lights include 10 individual lights on an 18' strand that packs 100 lumens.  Equipped with high, medium, low and external flashlight settings, the lights can stay lit for up to 20 hours on a full charge. They provide a great way to make your campsite your own, illuminating paths or when strands are connected together, providing lighting for the perimeter of your campsite.
Nite Ize FlashFlight Light-Up Flying Disc
While it may not be a flashlight or a lantern, what type of camping trip would not benefit from a lighted flying disc? Lightweight and durable, powered by replaceable lithium batteries, the disc's LED illumination broadcasts an array of colors through its patented fiber-optic array. The disc has 4 color modes and a run time of 20 hours.
Campfires are the original way of lighting campsites. Humans have been having a good time telling stories around fires since before there were tents.
The Funky Colored Flames are crystal kits that are specially formulated to change the flame color of any wood burning fires. They are great fun. After all, making fire turn blue, green and purple is a wonderful way to invite kids to participate in the adventure of camping.
Note: Do not use Funky Color Flame kits on cooking fires or if you plan to make s'mores with the kids.
 
Campfire: The original camping light.