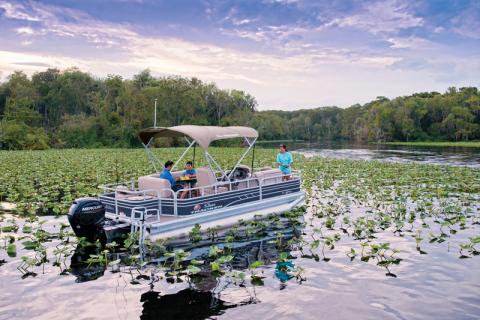 Pontoon boats are wonderful. Their charm lies not only in the ability to comfortably host families and friends, but in the wide variety of options they open for their owners.
If you're so inclined, a properly equipped pontoon boat allows you to fish, ski, tube, wakeboard, grill, toast the sunset, picnic, lounge, and even go camping on the water. You can do all or none of these activities—after all there are not many better places to relax and do nothing than aboard your own pontoon boat.
What's more, you can do whatever you choose with whoever you choose to do it with. You can pontoon by yourself or bring the kids (and their friends) or bring your friends (and their kids.) Depending on the model, a pontoon boat can comfortably host as many people as a whole fleet of bass boats!
Not only do you have room for people, but you can bring the dogs, the kayaks, the inflatables, the fishing poles, the coolers and all the towels and changes of clothes you might need.  
In reality, there are number of ways to consider just how great pontoon boats really are. Here are three of our favorites.  
Perhaps the Most Family Friendly Boat in the World
The pontoon boat's ability to comfortably host groups make it perhaps the most kid-friendly vessel around. Everything about them is made for creating lasting family memories.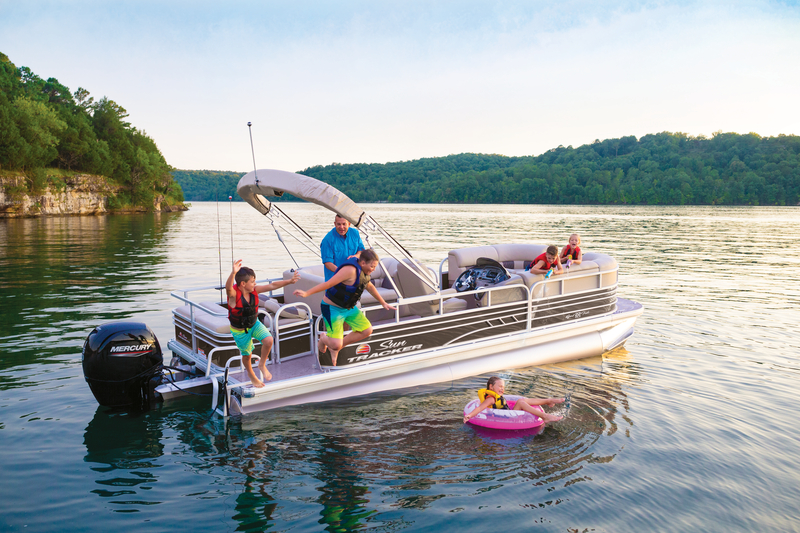 In fact, pontoon boats "grow" with kids and families.  What starts out as a wide, stable platform that allows life jacketed toddlers to walkabout on the boat, turns into the perfect swimming and jumping platform for kids in the four to 10 (maybe more accurately 3 to 65) age range.  Just open the front gate, put down the ladder and off they go—for hours and hours.  
As kids turn into teenagers, they want to invite their friends on the boat to do teenage things. Guess what? The pontoon boat—and its marine grade sound system-- is still the perfect platform for your family boating adventures (even if you can't agree on whose playlist should get the most airtime). 
For many pontoon boat-owning families, their boat becomes a nucleus for family time. Quality time together for not just this weekend or next, but for years to come.   
And, you know what they say about families that pontoon together?  They have lots of fun.  
More Than A Boat: A Portable, Amphibious Adventure Machine  
When researching boats, you come across many vessels that are categorized by the activity they are made to do. There are bass boats that are made for bass fishing. There are ski boats made for skiing. There are sailboats made for sailing.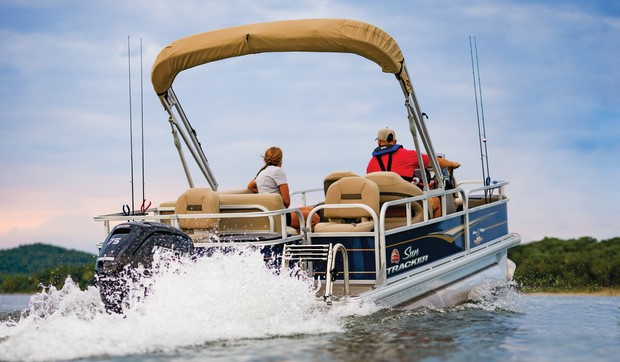 Because they are so good at doing so many things, pontoon boats do not fit well within this method of classification. Pontoon boats, perhaps, fall more closely into line with how we consider land-based vehicles. Think about it… 
Pontoon boats provide all of the "pack your party and bring it with you" of an RV with the "blaze your own trail, do it your own way" of TRACKER Offroad vehicle. However you choose to think about them, a pontoon boat is a portable, amphibious adventure machine that brings with it a variety of benefits and wonderful experiences. 
Sun Tracker. Ready for anything. 
Pontoon boats not only open "life is better at the lake" access at your favorite local destination, but provide a platform from which to launch your preferred brand of supercharged recreation (or super relaxed leisure) wherever in the world you'd like to trailer it.  
The pontoon boat allows you to bring the party with you. 
Pontoon Boats: Well-Endowed Fishing Machines  
With all of the talk of swimming, adventure and quality time with the family, don't sleep on the fishing abilities of the pontoon boat. You can outfit your pontoon boat with a trolling motor and equip it with live sonar and a whole suite of revolutionary applications. The fishing configurations of Sun Trackers and Ranger pontoons come ready to go (but you can upgrade and customize your suite of marine electronics to further optimize your set up).  
Check out our guide to setting up live sonar on your boat.  
Pontoon boats can be equipped with ample live well capacity. You can add rod holders from stem to stern— enough to catch catfish all day, with your kids and their favorite fishing buddies.  
In fact, if you fish reservoirs or lakes, a pontoon boat can take you most of the places that a bass boat can. Sure your pontoon may not win a race with a Nitro or Triton, but it can get you there in style and comfort. And once you arrive at your preferred fishing destination, you'll have everything you need to enjoy whatever brand of day on the water that you prefer.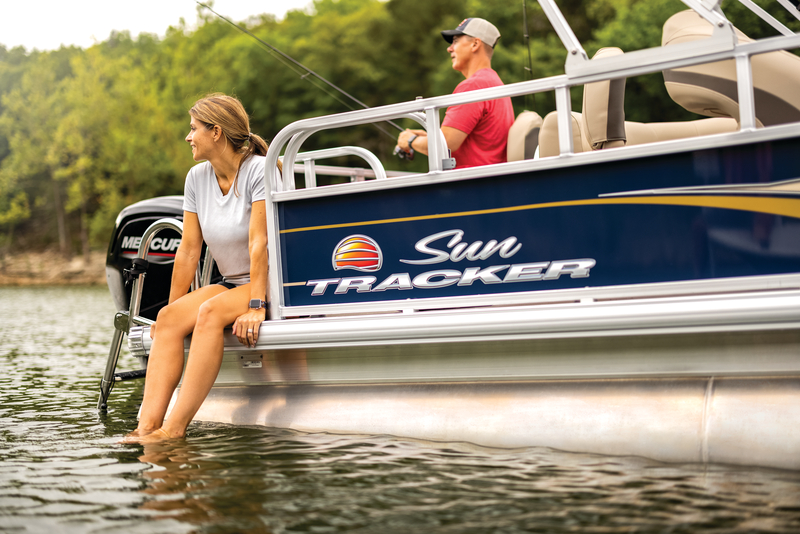 You can fish hard while your wife enjoys a relaxing day, lounging on the water…. Or vice versa!  
Creating Your Perfect Pontoon Set Up 
Sun Tracker makes the world's best selling pontoon boat. Ranger's line up melds iconic fishability with the space, versatility and capacity of a pontoon boat. Regency artfully sets the standard in luxury pontoons, blending comfort, amenity and style in a way not replicated. 
 Ranger pontoons: The picture of quality, fishability and versatility. 
Pontoon boat models range from 16 to 25 feet in length, accommodating between 7 and 14 people. Sun Tracker and Ranger pontoons are available in fishing and recreational configurations. Regency's powder-coated luxury comes in three sizes, powered by FourStroke Mercury outboards ranging from 200 to 350 horsepower. 
Regency pontoons make a statement that is unlike else on the water.
If you know what you're looking for, our nationwide network of Bass Pro Boating Centers and independent dealers can get you into the right boat for you. If you are in the process of exploring which pontoon might best suit your needs and budget, our team's experience and commitment to service and value can help. 
No matter which route you choose—two logs or three, 18' fishing configuration or 24' recreation layout, now is a great time to buy a pontoon boat. The combination of Inflation-Buster pricing and financing options as low as $5 per day—with Bass Pro Shops gift cards included with your purchase, we've got just the right portable amphibious adventure platform (pontoon boat) for you.