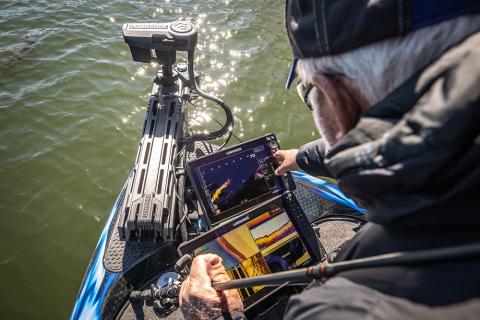 Live sonar has revolutionized the fishing landscape. While the result is easy to understand—you can view fish underwater in real time—you'll need to compile a number of compatible pieces of hardware to make it work on your boat.
This article provides a breakdown of what you need to make live sonar work as well as some background on features, products and accessories that can round out your boat's set up. We even provide a helpful reference chart at the bottom of this article that lists the proprietary names used by each electronics company for their live sonar products.
How Does Live Sonar Work?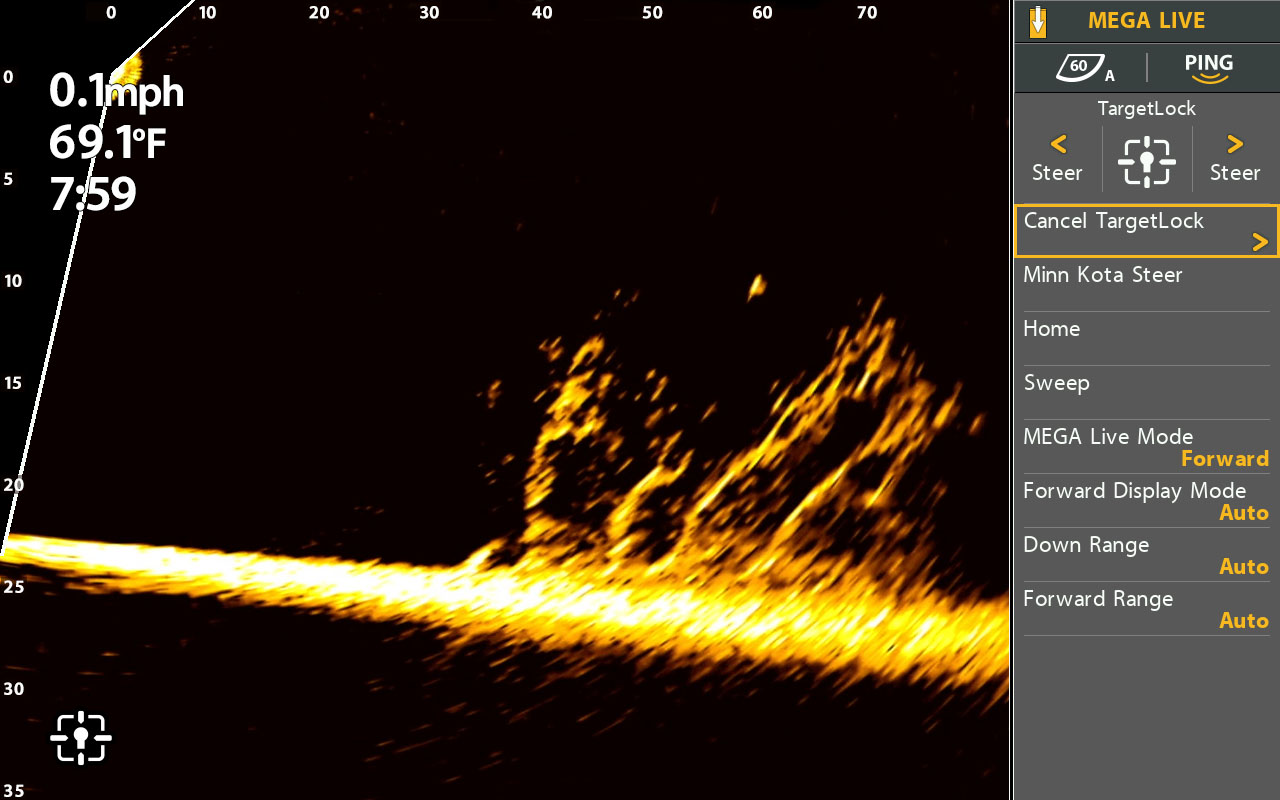 Humminbird MEGA Live imaging.
Live sonar is delivered by a forward-facing transducer and sonar module. This transducer, which provides a viewing range of approximately 20 degrees, is generally mounted on the trolling motor or standalone mount.
In practical terms, you can think of a transducer like a camera. Instead of capturing images and video by recording light waves, transducers convert electricity into sound waves that they broadcast into the water.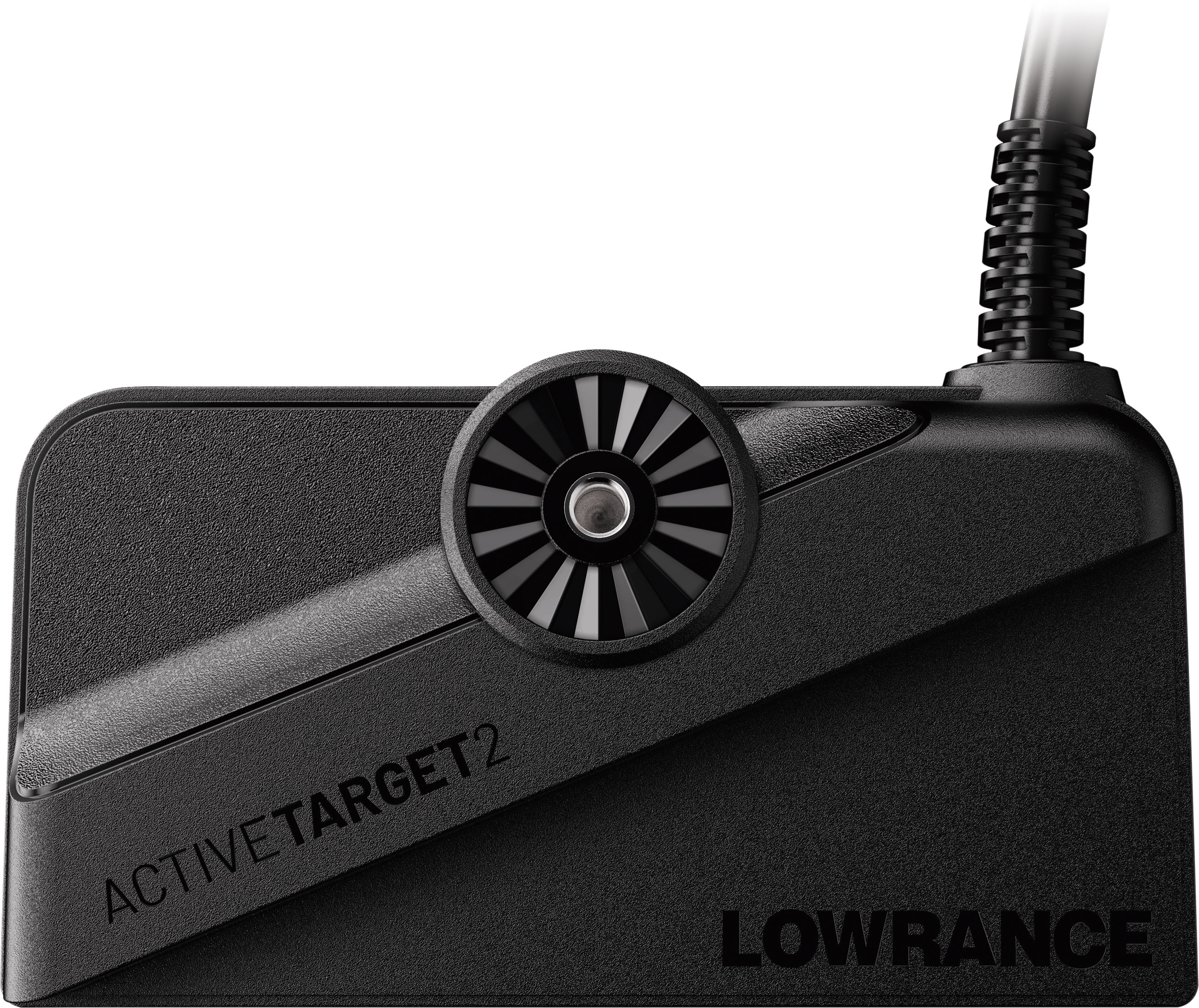 Lowrance Active Target 2 Live Sonar Transducer.
Energy from the emitted sound waves then bounces off of structure and fish, echoing back to the transducer. The transducer collects the reflected sound waves, converts them back into electrical signals that it sends to the fishfinder. The fishfinder translates this underwater view onto a screen that provides, in the case of live sonar, a real time broadcast of what's happening beneath the water.
It is a complicated process that produces stunning results. In practical terms, live sonar allows you to see what's happening beneath the surface without need of swim trunks and goggles.
Live Sonar: What You Need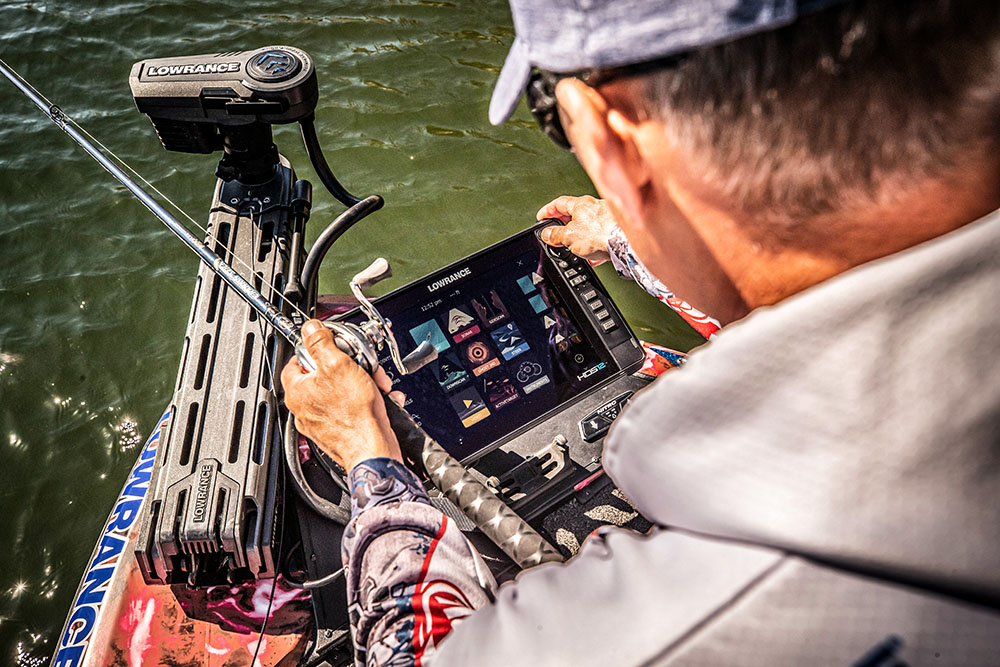 At its most basic, you need a live sonar transducer and a live sonar compatible fish finder. The transducer, which is mounted onto the trolling motor (or standalone mount) at the front of the boat, is connected to the fish finder with network cables.
Depending on your set up, the fish finder screens may be located at the console, forward on the bow, or both. You'll need the same brand of live sonar compatible fish finder and live sonar transducer for the system to work.
There are a variety of live sonar transducer options. These vary by brand and mounting style.
Many transducers can be affixed to whatever trolling motor you have on your boat. So long as the fishfinder and the live sonar transducer are compatible, the trolling motor brand or model does not matter in this scenario (though some may require additional mounting hardware and accessories).
Live Sonar, Fish Finder and Trolling Motors: Ensuring Compatibility
There exists a variety of other applications that you can pair with your live sonar. These include GPS-enabled trolling motor anchoring systems, accessories that allow you to lock your live sonar onto a piece of structure, and transducers that provide a wider field of view.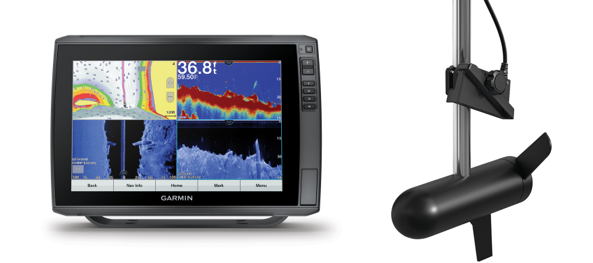 Garmin fishfinder, trolling motor, and live sonar transducer.
Many boat owners pair live sonar with GPS-enabled anchoring accessories that allow your trolling motor to keep your vessel in position. If you go this route, there's a few things to keep in mind.
Be sure that all three systems (live sonar, positioning system/ trolling motor, and fish finder) are:
Suitable to your preferred style of fishing and conform to the installation requirements of your boat.
Compatible with the technology you plan to use.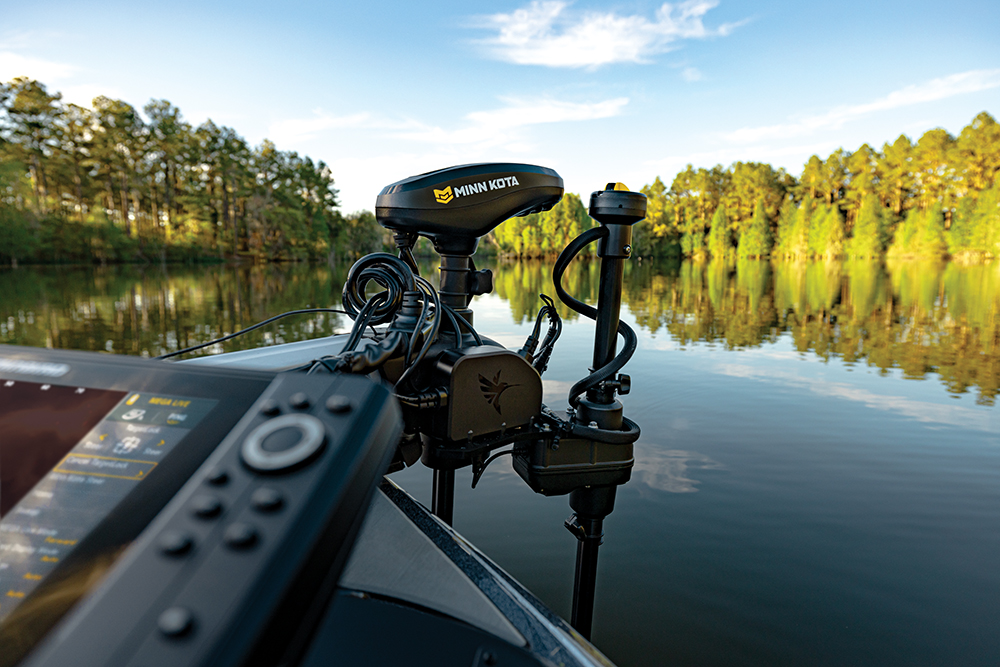 Each marine electronics brand has its own proprietary name for live sonar and for trolling motor anchoring. These names are listed in the chart below. The chart also provides a breakdown of the offerings by brand and the product lines that are compatible.
The 360 Sonar—Broadening Your View
To round out your electronics set up, you may want a 360-degree transducer. This transducer broadcasts its waves completely around itself, allowing you to see the full range of water and structure beneath and around your boat.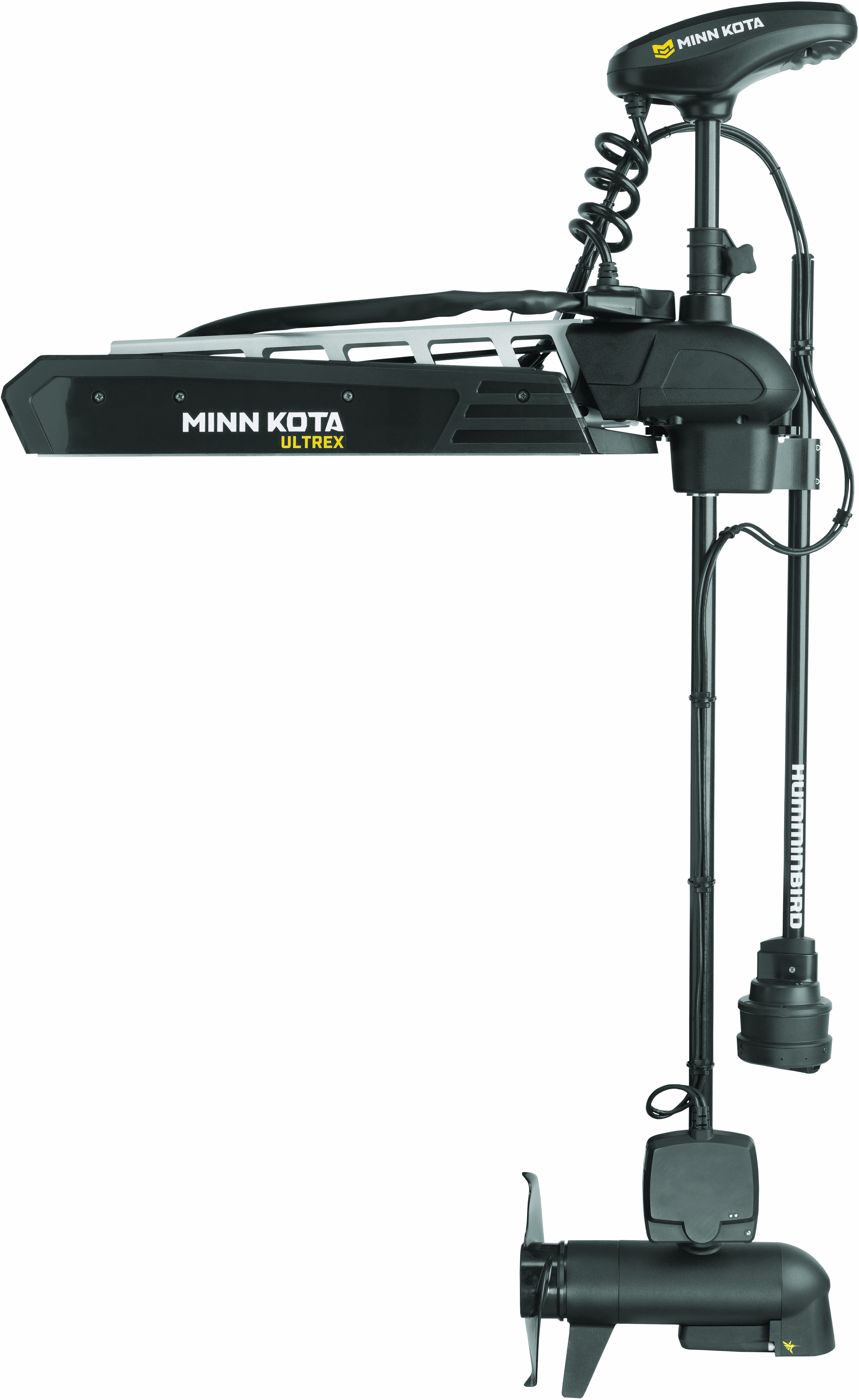 Minn Kota Ulrex trolling motor equipped wiht MEGA Live transducer (just above trolling head) and MEGA 360 transducer (stand-alone mount).
This 360-degree sonar does not have live capability. You will be able to mark fish, but not watch their movement or reaction in real time. Pairing these two sonar applications allows you to use the 360-degree sonar to locate structure and where the fish are holding on it, before focusing on your live sonar to make your final approach.
Understanding Your Options By Brand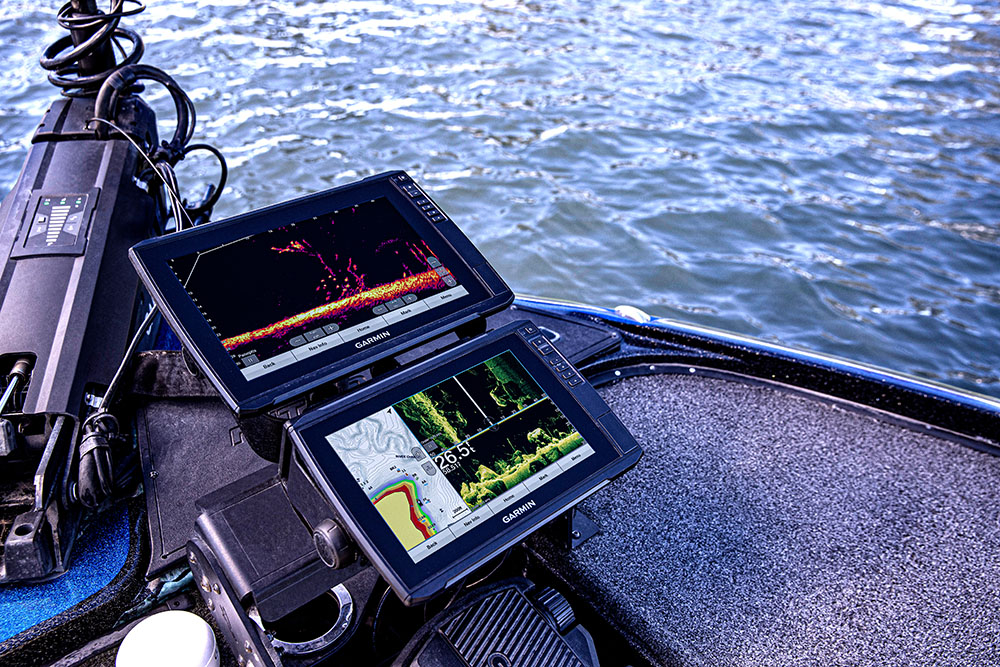 Live Sonar Name: LiveScope
Trolling Motor and Anchoring Name: Garmin Force trolling motor with Anchor Lock
360 Sonar Name: Not Currently Available
Recommended Products for Each: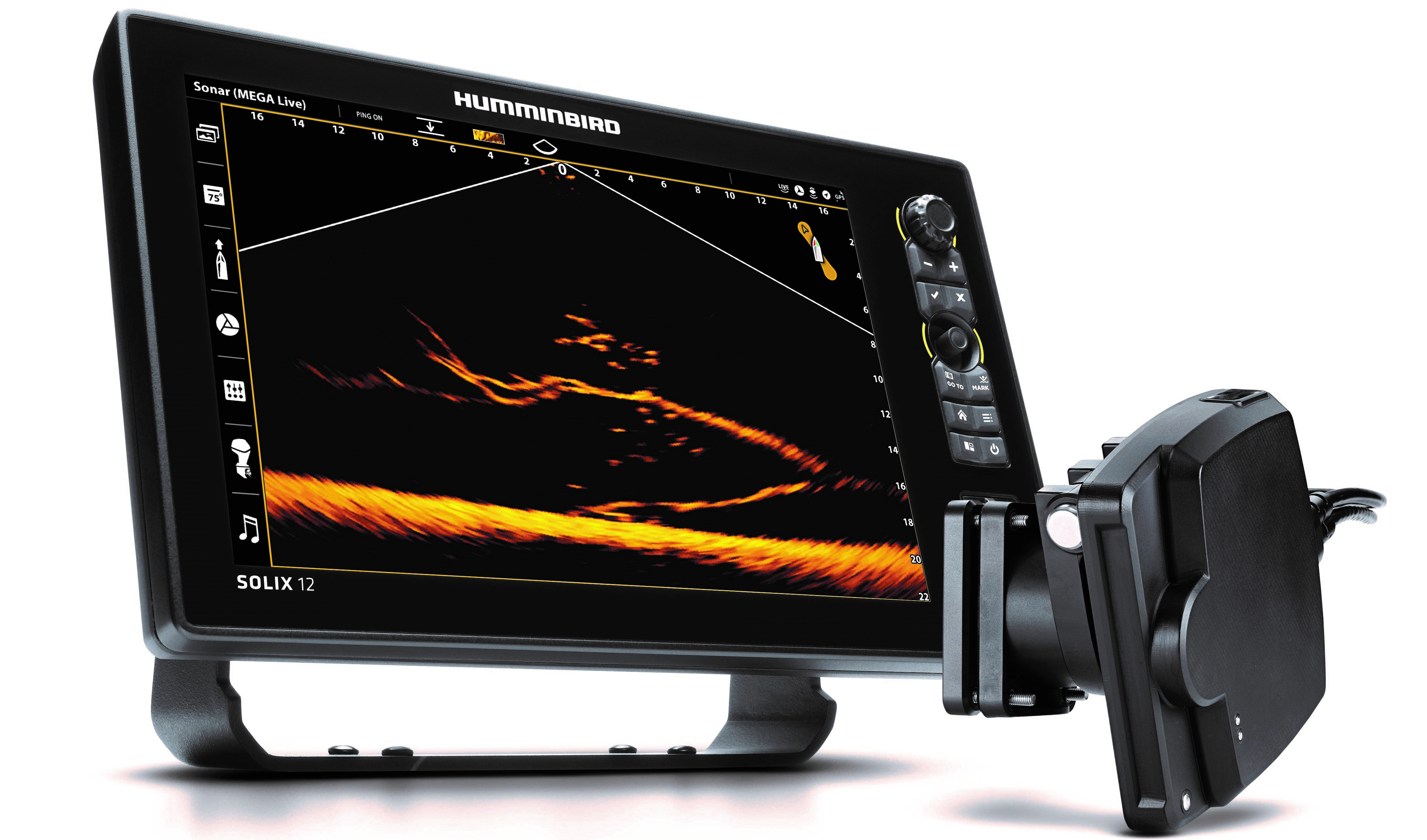 Live Sonar Name: MEGA Live
Trolling Motor and Anchoring Name: the Minn Kota Ultrex trolling motor comes equipped with Spot Lock
360 Sonar Name: MEGA 360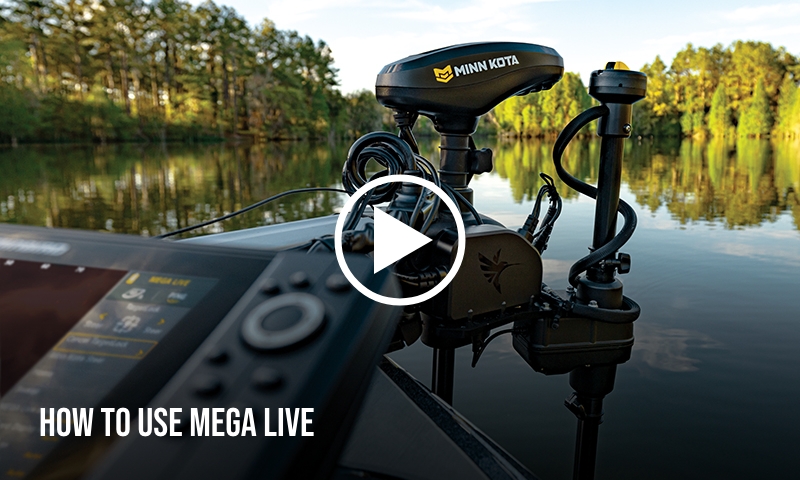 Recommended Products for Each:
Live Sonar Accessories: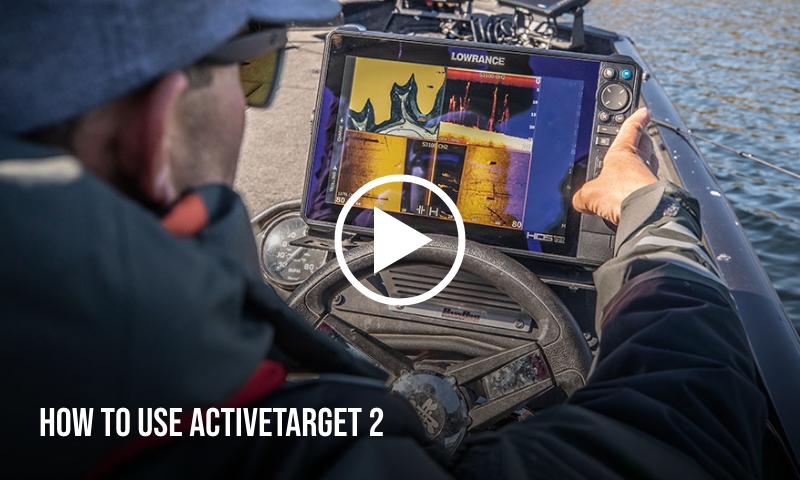 Live Sonar Name: Active Target
Trolling Motor and Anchoring Name: Lowrance Ghost trolling motor with Anchor Mode
360 Sonar Name: Lowrance Active Imaging 3-in-1 Nosecone for Ghost Trolling Motor
Recommended Products for Each:
Live Sonar Accessories: