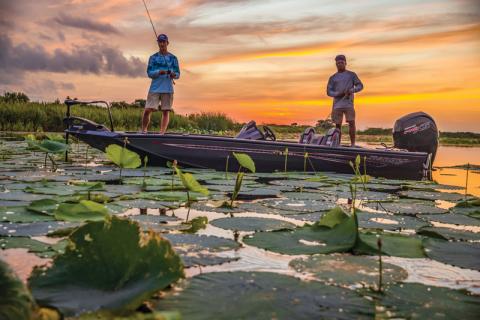 The National Fish Habitat Partnership is the most comprehensive freshwater conservation program in the United States. The partnership began with a spark of inspiration from Johnny Morris, founder of Bass Pro Shops and noted conservationist.
Johnny had grown concerned over the chronic degradation of freshwater habitat across the United States. Many reservoirs in the United States were impounded in the 1960s or before. When reservoirs were first created, they were full of submerged timber and other underwater habitat that is essential for bass, crappie and for baitfish.
Over the years, the submerged habitat degraded, and many reservoirs were left with barren lake bottoms. Fishing suffered, so too did the communities that benefit from anglers and their families traveling there to fish.
The birth of the National Fish Habitat Partnership at Big Cedar Lodge.
In 2006 in response to this chronic, nationwide problem, Johnny brought together conservation leaders and state fisheries agencies with an idea. Johnny donated $2.5 million in seed money for a pilot project on Missouri's Table Rock Lake and the National Fish Habitat Partnership was born.
Establishing a National Model for Habitat Improvement
Working with federal and state fish and wildlife agencies in Missouri and Arkansas, the Table Rock Lake project placed 2,100 mega structures across the lake using specialty-built Tracker Marine habitat barges. The Table Rock pilot project not only benefited the iconic Missouri reservoir but established a national model for submerged habitat improvement.
Specially-built TRACKER Habitat barges helped execute the NFHP's pilot project on Table Rock Lake.
Since getting started on Table Rock, the National Fish Habitat Partnership has executed more than 1,300 projects in lakes, rivers and streams across all 50 states. The results of NFHP's work are felt not just in waterbodies, but in communities and economically as well.
Good for Lakes, Fish, Jobs and the Economy
NFHP projects support good fishing. Good fishing attracts anglers and tournaments. Anglers and tournaments support jobs and economies. Good conservation pays.
The National Fish Habitat Partnership is a great example of public-private partnership between the federal and state agencies, non-governmental organizations and industry partners. Habitat improvements have generated an economic value of more than $1 billion and support 20,000 American jobs. The return on investment to date has been 18:1.
The 2021 Bass Pro Shops U.S. Open: Recreational Fishing, Bass Pro Shops and Toyota Empower Conservation
In November 2021, Table Rock Lake and Bass Pro Shops once again hosted the National Fish Habitat Partnership and a coalition of leading conservation organizations. This time the occasion was the largest fishing event in the history of amateur bass fishing, the U.S. Open.
The culmination of a series of eight regional tournaments across the U.S., Table Rock Lake not only set the stage for the finals of the U.S. Open, but the largest television audience in the history of fishing—and the first million-dollar payout in the long, proud history of amateur bass fishing.
The U.S. Open not only generated incredible support for conservation but produced a lifetime of fishing stores.
In celebration of fishing, of conservation, of Bass Pro Shops' 50th anniversary and of all of the benefits that time in the great outdoors provides, Bass Pro Shops and Toyota partnered to match 100% of the entry fees from the entire U.S. Open series and give it all to conservation. The result, a $1.58 million dollar donation to the National Fish Habitat Partnership.
Johnny and Bass Pro Shops partnered with Toyota to donate 100% of the entries from all U.S. Open events to conservation. The result: $1.58 million to the National Fish Habitat Partnership.
2023: Investing in Lakes Across the United States
Bass Pro Shops' investment in conservation allowed the NFHP to open a national request for proposals for lake improvement projects. Leveraging an additional $3 million in matching funds, the National Fish Habitat Partnership announced 9 projects that will be completed in 2023.
Funded projects include:
Arkansas: Beaver Lake, Norfolk Lake, Bull Shoals Lake
Pennsylvania: Blue Marsh Lake
Illinois: Lake Shelbyville
Missouri: Mark Twain Lake
Tennessee: Old Hickory Lake
Pennsylvania/Ohio: Pymatuning Reservoir
Texas: Ralph Hall Reservoir
Missouri: Table Rock Lake
Iowa: Three-Mile Lake
"The diversity of these projects across the country will touch a significant population and promote volunteerism and community involvement. These projects are truly a win-win for conservation and angling, and we couldn't do this work without the contributions of conservation-minded retailers like Bass Pro Shops," explained Ed Schreiber, Chairman of the National Fish Habitat Partnership. "Thank you to Johnny Morris for supporting our nationwide effort to conserve fish habitat through such a significant event in the first-ever Bass Pro Shops U.S. Open."
Bass Pro Shops proudly supports conservation across North America. Standing united with a customer base of 200 million sportsmen and women, Johnny, Bass Pro Shops and Cabela's lead the largest conservation movement that our country has seen in generations.