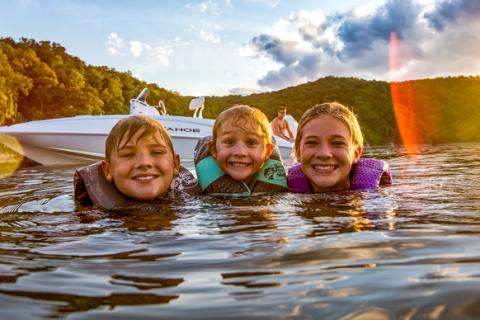 Many people begin their boat buying search by looking for the perfect boat. Does such a thing really exist? We've decided to write this article to save you from hours of online research and to let you in on something of an industry secret.
There is no such thing as the perfect boat. A boat, rather, can only become perfect when the right model is deployed in the right situation. The number of boat styles, options and configurations available today make it possible to precisely match your perfect vision of boat ownership with a vessel that can deliver it.
What happens when you get the right boat for the right person? Years and years of fun and excitement on the water. Only then does a boat become perfect.
What follows is the guide to choosing the right boat for you. As with many things in life, the answers have as much to do with people and families, as it does with boats and accessories.
How Do You Plan to Use the Boat?
The first step in getting the right boat has less to do with the boat and more to do with understanding the types of experience that you'd like a boat to make possible. First consider: how do you plan to use the boat and who would you like to invite along? Understanding these two variables will refine much of the trajectory of your search.
Ranking Which Boating Activities are Most Important to You
At the risk of over simplification, you can consider three main boating activities. How you will ultimately use the boat will likely be a combination: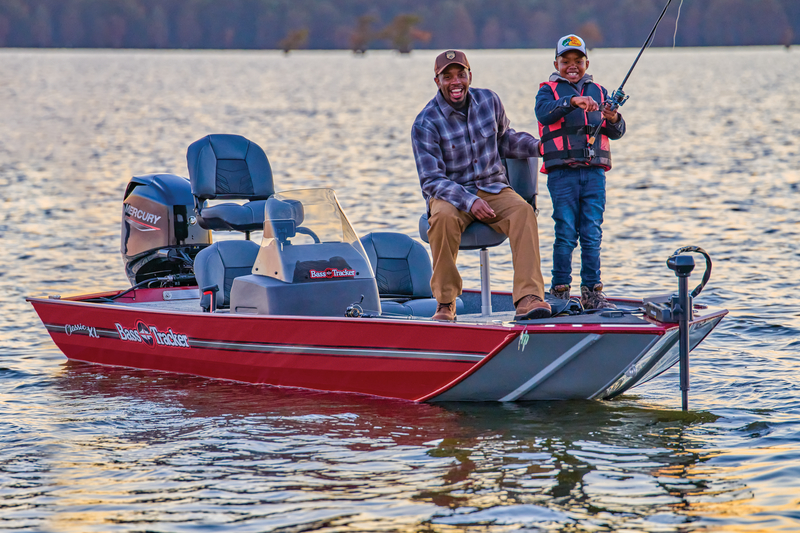 1. Fishing
A boat that is configured for fishing will include rod holders, tackle storage, live wells and a specialized marine electronics set up. It will also likely have a trolling motor and perhaps a shallow water anchoring system.
Fishing Boats by category:
High Performance: BASS TRACKER, Ranger
High Capacity: Sun Tracker Pontoons, Ranger Pontoons
2. General Recreation/Cruising
A boat that specializes in general recreation and cruising will include plenty of seating, comfortable deck space, and likely a sun cover. It will also likely include under seat storage and plenty room for all of the accessories (towels, floats, inter tubes and coolers) you'll need for a weekend on the water.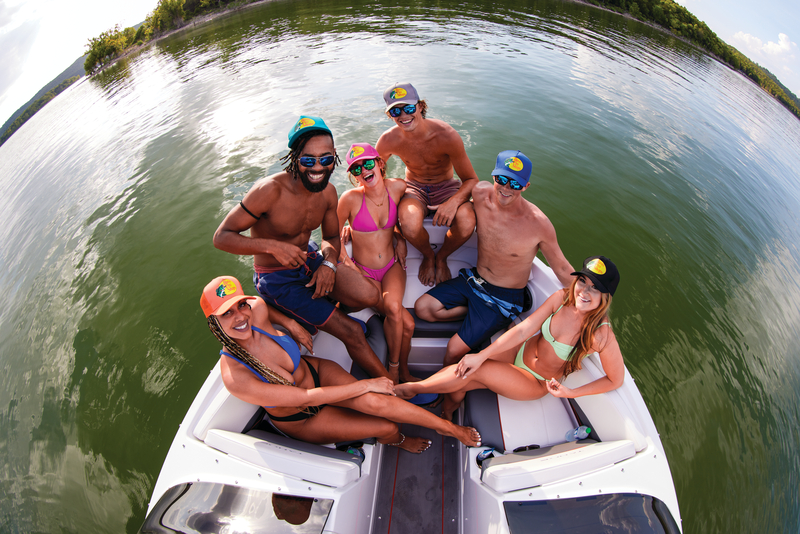 General Recreation/Cruising Boats by category:
High Performance: Tahoe Deck Boats, Ranger Pontoons
High Capacity: Sun Tracker Pontoons, Ranger Pontoons
Luxury: Regency Pontoons
3. Watersports
A boat that specializes in watersports will be maneuverable, include comfortable seating, and hardware needed for pulling wakeboarders, water skiers and tubers.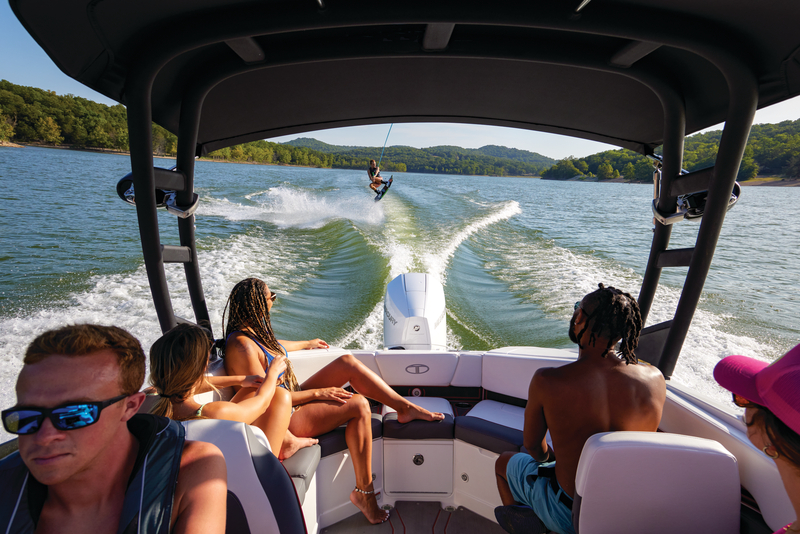 Watersports Boats by category:
High Performance: Tahoe Sport Boats
High Capacity: Tahoe Deck Boats, Sun Tracker Pontoons, Ranger Pontoons
Luxury: Tahoe, Regency Pontoons
A good first step in selecting a boat is to think about which of these activities will be your primary focus. You'll then think about what other activities will round out your time on the water.
For example: you might really want to fish on your boat. Your wife might want to lounge and relax. Your kids likely want to fish, relax, swim and have the option to go skiing or tubing every now and again.
There is no right or wrong answer to this question, and the answers will likely vary by family. Considering all of these desires during your boat purchasing process can help ensure that the interests of everyone are represented in the vessel that you choose.
Who Would You Like to Invite Along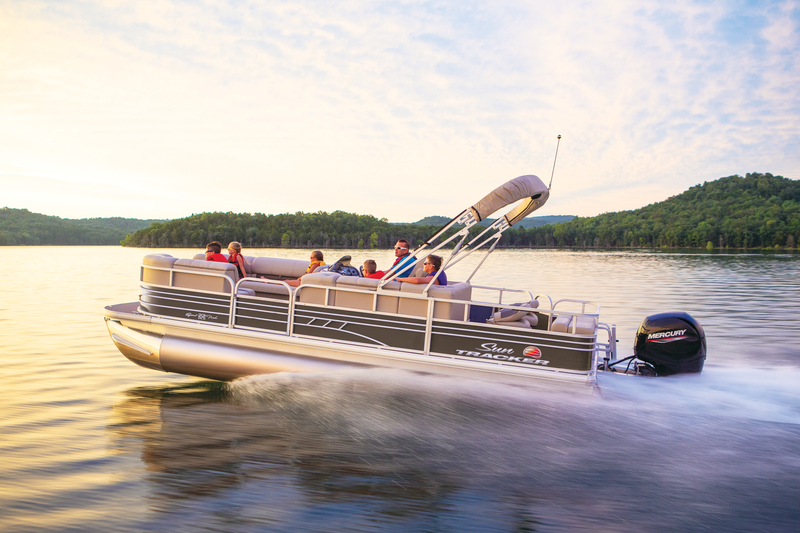 The next step is to consider how many people your boat needs to be able to accommodate in order to fulfill your desired experience. Boats range in size from single person kayaks to pontoons that can comfortably accommodate 14 passengers. Considering how many people you might have aboard your boat goes a long way to choosing the right boat for you.
The perfect boat for a tournament bass fisherman might well look a lot different than the boat that of a family of five who wants to bring the kids and invite other families to join them on the lake. Once you have the number of people you need your boat to accommodate, you can then cross reference the passenger capacity listed on each model's webpage.
Here is a general reference that can help with matching your desired passenger capacity with a boat configuration that can best accommodate: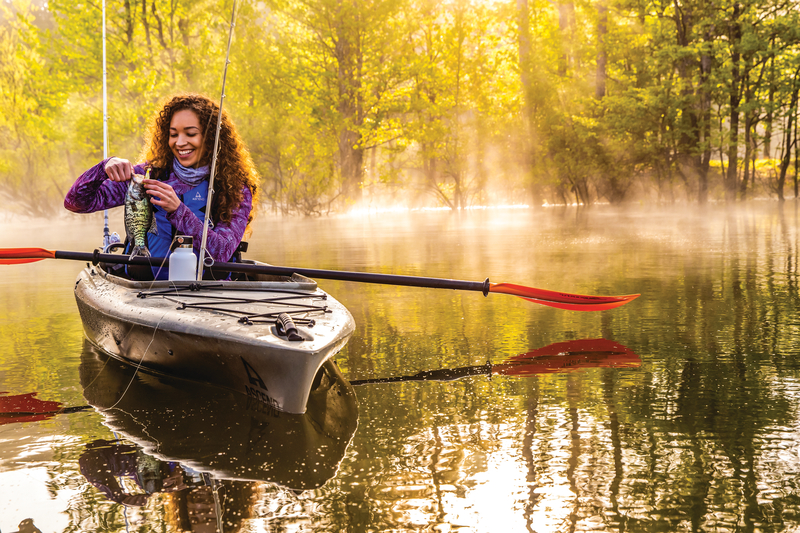 Max Capacity 1-2: Ascend Kayaks
Max Capacity 3-4: BASS TRACKER, bass fishing configurations of Nitro, Triton, and Ranger
Max Capacity 4-6: Fish and Ski models from Triton and Nitro, Reata line from Ranger, Tahoe Sport boats
Max Capacity 7-10: Tahoe sport boats and deck boats, pontoon boats
Max Capacity 11-14: Pontoon boats
Putting Everything Together
Once you've got a handle on the type of activities you'd like your boat to support and how many people you'd like to be able to host, you can then begin to evaluate your options. Here's one approach.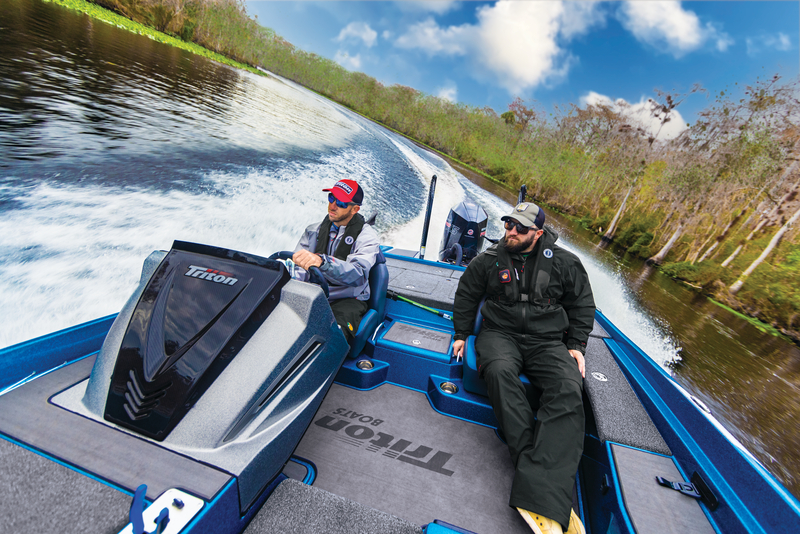 Your primary focus (fishing, general recreation, or water sports) will likely determine which model and configuration of boat is right for you. You can then add additional capacity to your boat by incorporating optional hardware and accessories to fine tune your package.
Most brands offer lines that are configured with different options—i.e. Ranger's Z-Comanche series is a high-performance bass boat while the brand's Reata line is made for hardcore fishing and recreation. Sun Tracker's pontoon boats are offered in fishing and recreational configurations.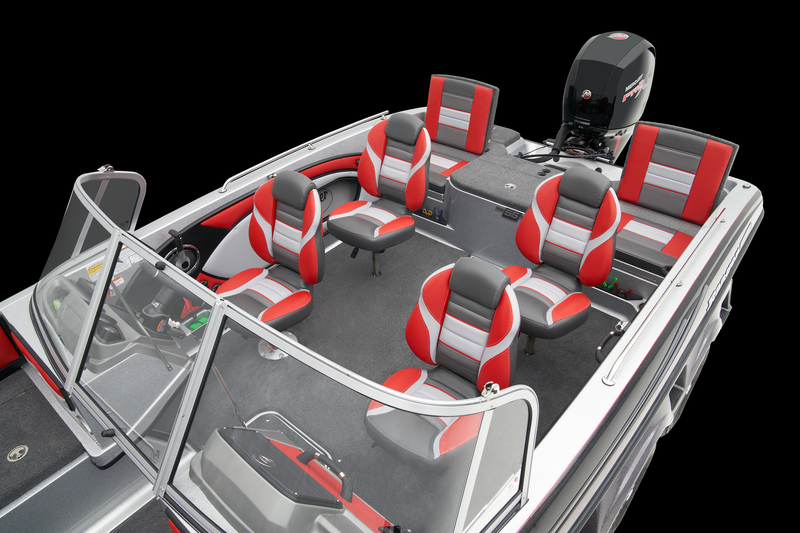 Ranger's Reata line combines high level fishability with the capacity to host passengers and have non-fishing fun on the water.
Here are a couple of scenarios you might encounter:
You want a fishing boat that can pull wake boarders - here you might consider adding a tow package to a fishing configuration.
You want a water sports boat that can also fish - here you might consider equipping a Tahoe sport or deck boat with marine electronics system set up for fishing.
You want a lake cruiser that can also fish and pull your kids on tubes - here you might opt for a pontoon boat that is outfitted with live wells, a trolling motor and live sonar, and a tow package.
Whatever brand of recreation you favor, you then cross reference your activities and hardware packages with the passenger capacity that you'll need to accommodate. Generally speaking, the higher number of people you want to bring, the more this comes into play.
If you plan for two or three people, you have plenty of options. If you need to accommodate two families (each with two or three kids), your options largely lie in deck and pontoon boats.
Budget
Considering your boat budget involves two aspects: price overall and monthly payment. The White River Marine Group's trademarked No Haggle, No Hassel national price makes comparing models and options simple and easy.
The White River Marine Group offers a boat for every budget. With financing options as low as $5 per day and special Inflation Buster pricing, right now is a great time to buy a boat.
Each of the White River Marine Group's brands hosts its own website that allows you to shop boats near you or customize available models to suite your needs. These tools—and the teams at the Bass Pro Boating Centers and our industry-leading network of independent dealers—are designed to make the process of getting the right boat for you a simple and straightforward one.
This article provides a foundation for your search. You'll likely benefit from speaking with one of our team members to fine tune your unique boating package.
Other Considerations
With a handle on how you want to use it, how many people you'd like to invite aboard and an idea of how much you are comfortable spending, you're almost ready… Here are a couple other considerations to make sure you get it right.
Where Will You Use Your Boat

Where and how you plan to use your boat can go a long way to determining which model will work best for you. If you plan to fish on big water or in places that are known for getting rough, you might consider a Deep V hull. These are commonly used by walleye fishermen who bring their boats to the Great Lakes.
If you are an inexperienced boater (or plan to teach a young boater to drive yours) and fish in waters with submerged timber or other structure, you might consider an aluminum hulled vessel. Fiberglass hulls are high performance and offer a number of benefits, but aluminum might hold up better to dings, scrapes and scratches that sometimes come with learning to drive a boat. This same logic applies to fishing rivers with variable depth that can change from season to season.
Where Will You Keep Your Boat
Before you buy a boat, you'll need to have an idea about where you plan to keep it. Options include a slip at the marina, on the trailer in the garage or shop, or on the trailer outside (side of the house, in your driveway, etc.).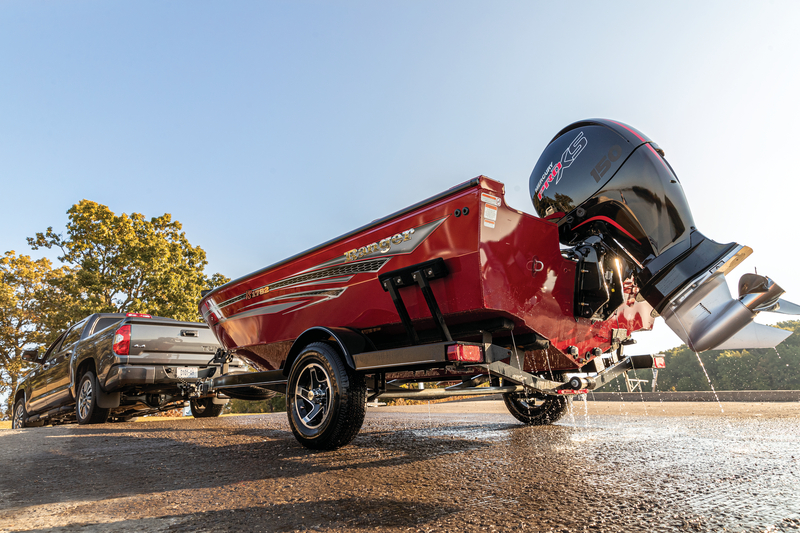 If you plan to go the garage route, be sure to measure the length, width and height (especially if your boat has a center console with gap tower, antenna or other hardware) of your storage space to make sure it will fit. Nobody likes the terrible surprise of a boat that is 4 inches longer than the garage.
If you opt for the outdoor storage route, you would benefit from purchasing a cover when you buy your boat. You may also wish to purchase some wheel chocks to keep your trailer in place and a trailer lock to provide some peace of mind. Check for available purchase incentives, as many White River Marine Group models come with Bass Pro Shops gift cards.
A Dream Turned Real
What might start as a daydream about all the fun you could have owning a boat could actually be the start of finding the right vessel for you. After all, the secret to the perfect boat lies in pairing the right vessel with the right situation.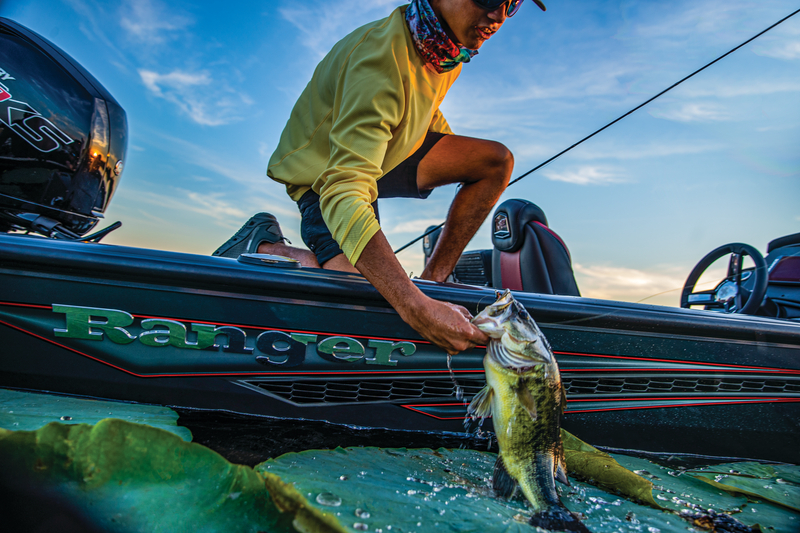 The White River Marine Group not only makes America's favorite boat brands, but by volume we sell more vessels than anyone else in the world. We're committed not just to value, service, quality and providing a great ownership experience, but to helping would-be boaters find the right experience for their families. We would love to help you navigate the boat, financing and accessory options—contact us today.