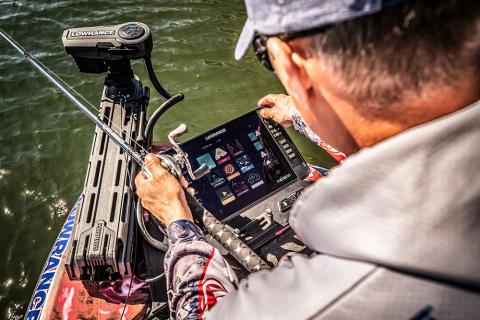 Introducing the new ActiveTarget 2 live sonar from Lowrance. Following up on the popularity of ActiveTarget 1, this marine electronics system offers a number of advantages and improvements:
The ability to run multiple live sonar transducers at the same time!
Brighter, cleaner, and clearer picture.
More consistent image across the entire range of view.
The ability to overlay live sonar and Ghost 360 degree sonar onto your charts.
Includes forward, down and scout modes and is compatible with the same hardware and systems that run ActiveTarget 1.
The HDS PRO Advantage: The Ability to Run Multiple ActiveTarget 2 Transducers and More
There are a number of new advantages to combining HDS PRO fishfinder with an ActiveTarget 2 live sonar. These include Ping Synchronization and the ability to run multiple ActiveTarget 2 transducers.
Ping Synchronization
When Ping Synchronization is turned on your boat's HDS PRO display and ActiveTarget 2 transducer can tell when each other are pinging. They then alternate their pings to reduce interference and improve system performance.
By synchronizing when transducers emit their pings, you can also now run multiple ActiveTarget 2 transducers at the same time. This opens a variety of new views that have never before been possible.
Scout Wide Mode set up. Two Active Target 2 transducers mounted on a Scout Wide Bracket.
Scout Wide Mode
You can put two ActiveTarget transducers and modules in the Scout Wide mode. This gives you a view field of 270-degrees of live sonar—that's three-quarters of the way around the boat. It requires a Scout Wide Bracket on your Ghost trolling motor.
Scout Wide Mode offers an incredible 270-degree view of live sonar.
180-mode
This set up involves using two ActiveTarget transducers, each pointed straight in opposite directions. This provides the ability to cover twice as much range as when using a single ActiveTarget 2 transducer. That's twice the same range with the same clarity, integration and feature set as you've come to expect from ActiveTarget.
The 180-degree set up: two ActiveTarget 2 transducers mounted to face opposite directions. This provides a full field of view, all in live sonar.
Two ActiveTarget 2s Running in Different Modes: One in Forward Mode and One in Scout Mode
This option provides the best of both worlds. It combines the 135-degree field of vision of scout mode—in which the transducer seeks out the action—with the fixed forward mode (that points wherever the trolling motor is headed). This hybrid view allows you to seek out action, while also watching the fish's reaction to your baits.
Ghost 360 & ActiveTarget 2 Scout Chart Overlays—And How They Benefit Your Fishing
Lowrance's latest marine electronics packages are fundamentally changing how people fish. Known as the Ultimate Fishing System, ActiveTarget 2 provides a number of new and exciting possibilities. Here we will explore two of the most beneficial: Scout Mode and Chart Overlay.
The set up:
HDS Pro 12 fishfinder, Ghost Trolling Motor, Active Target 2 live sonar transducer
Chart Overlay for Ghost 360
The Chart Overlay system for Ghost 360 allows you to transpose the image of what lies beneath the water around your boat over the top of your chart. This view allows you to simultaneously see the structure of the bottom while understanding the depth contour that you are looking at on your map.
Ghost 360 scans are not live sonar, but they provide a full field of vision of the bottom around your boat. Combining this view with ActiveTarget 2's live sonar applications directly benefits your ability to understand the body of water that you are fishing—and to easily find structure.
Scout Overlay
This function provides the ability to overlay ActiveTarget Scout Mode live sonar onto your chart. Scout mode allows you to direct live sonar in scout mode around your boat and to transpose the image of what lies on the bottom over the top of your chart. It provides the ability to explore structure and where and how the fish are holding on it (and reacting to your bait), while reading the bottom contour on your chart.
This capacity allows you to actively search out fish and understand the dynamics of the place that you are fishing. It provides direct and fundamental advantages to boats that are equipped with ActiveTarget 2, the Ghost trolling motor and HDS Pro fishfinders.