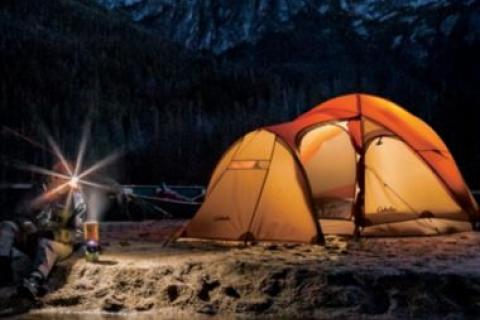 No matter if you're staying at your favorite campground or deep in the backcountry, your tent is your home away from home. And the right tent can make your stay more enjoyable. Whether this is your first tent or you're looking to upgrade, there are a few things to consider when choosing which tent to buy. Let's take a look at some things to consider.
First, decide what kind of camping you'll be doing. Will you be camping on the trail? Are you camping with friends and family, or staying in the backcountry for a while? Or are you headed up the mountain? This will affect what kind of tent you'll get.
Tip: Buying a tent? Just ask the right questions. Learn how to make sure you find exactly the tent you need for years of fun with your family and friends.
Types of Tents Used for Outdoor & Camping Adventures
Backpacking Tents - The Light Weight Shelter
These minimalist tents prioritize portability, making them lightweight and easy to fit in a pack. Ultralight tents are even lighter, and some models allow you to use your hiking poles to pitch the tent. Since these tents are both 1 or 2 man size, there isn't much elbow room.
Tip: The Ascend Orion 2-Person Backpacking Tent is easy to carry, easy to setup and gives light packing hikers 3-season protection for the trail. this lightweight tent offers great ventilation, gear storage and protection from ground-level moisture. Carry Weight: 5 lbs. 9 oz. About $119.99
Shop all backpacking tents at Cabelas.com
Family or Cabin Tents - For Comfort and Space
Accommodate a larger number of people with plenty of space for gear and family-friendly features are integrated. This design is great for families of all sizes as well as large groups of friends. They're well-suited for car camping, but not a good choice for extreme conditions.
Tip: 6 Crazy Delicious Hot Dog Recipes Camping Kids LOVE
Tip: The Bass Pro Shops Eclipse 10-Person Cabin Tent is an easy to setup design, thanks to a strong fiberglass and steel pole frame, the 10-Person Cabin tent goes up in just minutes so you can get to enjoying your weekend faster. Have some separation and us the built-in room divider. You've got room to move in the 14' x 10' with a 7' center height plus an interior gear loft, and hanging storage pockets. About $249.99
Tip: Another 10-person tent worth mentioning is the Coleman Weathermaster 2-room tent. This tent gives you the room to handle big groups on long extended camping trips. Roof panels feature 68 denier polyester mesh. The Weathermaster tent has 2 doors, with a hinged door design on the front. This Cabin-style, 2 room tent has a center height: 80''. Carry weight: 30.86 lbs.
Tip: Which is Right for You: Air Mattress, Sleeping Pad or Cot? Learn more.
Cold Weather Mountaineering or Expedition Tents for Nature's Most Extreme Conditions
These 4-season tents withstand harsh conditions, such as high winds, snow and cold, so they're ideal for camping at high altitudes and during the winter. However, they'll most likely be too warm in warmer weather and condensation will build up inside.
Tip: The Cabela's Big Horn III 6-Person Tent is sturdy enough to take on extreme weather conditions. The Big Horn lll is a single-wall tent made of XTC II fabric to repel rain and snow and the heavy-duty steel frame ensures support to withstand wind. The hexagonal design offers room for cots, gear, and a stove around the sides while leaving the middle area open. This tent has a sidewall stove jack, a storm flap, and a heat-resistant insert, as well as a zippered opening in the sewn-in floor for a stove. Includes ground sheet, 12" steel stakes, guy ropes, and zippered storage bag. The stakes weigh 11 lbs. Tent and frame weight is 72 lbs. Floor dimensions: 12' x 14'.
Lodge and Outfitter Tents - Rugged, Spacious, Wilderness Refuge
These tents serve as base camps, hunting camps or summer camps for extended stays in the backcountry, which makes them an excellent choice for hunting or fishing trips or even family getaways. Outfitter tents also know as "wall tents" provide more headroom than traditional camping tents. They are made for long-term outings and are equipped for cold weather using tent stoves. However, their size also makes them heavier.
Lodge tents combine the structure of a Dome tent with the near-vertical walls of a Cabin tent.
Tip: How to Build Your Own Rocket Stove (video)
Tip: the Cabela's Outback Lodge 6-Person Tent is an easy-to-setup, single wall tent offering storm-ready protection. The Outback features a convenient zippered power port and 3 storage pockets for gear and includes steel stakes, guy lines, fabric sticker, and bottle of seam sealer. Dimensions: 10'x10'with a 8'5" center height. Carry Weight: 23 lbs. 2 oz. About $249.99
Tip: The Ultimate Alaknak 13'x27' Outfitter Tent from Cabela's is a rugged, traditional wall tent with enhanced safety features and user-friendly updates. This walled tent offers extreme outdoor protection from the weather and the body and roof delivers high tear strength with top fire-, abrasion-, and puncture resistance. This outfitter tent has extra-tall 5' walls and 9' 8" center height with lots of head room for easy maneuvering inside the tent. Made of a 300D polyester oxford with 3,000mm waterproof coating, the tent floor features a zip-open panel for safe placement and use of a heat stove. Stove jack (5") in the tent roof features a roll-away storm flap to keep flap away from a hot pipe while in use. Comes with 12" steel stakes, guy ropes, repair kit and a large zip-close storage bag. Footprint: 13'Lx27'W. Carry weight: 123 lbs. About $1,499.99
Watch Video: Cabela's Alaknak Tent Setup - Keefer Brothers Style
How Tent Size and Weight Play Into Your Buying Decision
Tent Size Matters
Tents are sized by person capacity (i.e., two-person tent, six-person tent). There is no industry standard for determining capacity, but manufacturers typically allow 20 to 25 sq. ft. per person. This means you'll most likely be lying right next to your tent mates with your sleeping bags touching or even overlapping. If you want more room, upsize "one person". Also, look at the floor plan. Some models only allow room for campers, while others have nooks and crannies for storing gear and clothes.
Also Read: More Tent Buying Tips
The Tent's Weight Matters
If you are car camping or have additional help hauling your tent such as an ATV, horse, or eager friends and family, weight is not a large factor. However, if you are carrying it on your back with a week's worth of gear, every ounce counts, so look for a lightweight tent.
Also Read: Which is Right for You: Air Mattress, Sleeping Bag or Cot?
The Tent's Shape Matters Too
Tent shape makes a huge impact on square footage and overall space. The interior volume of a tent is gauged by floor dimension, floor area and peak height (only at the top point, not consistent throughout). In addition, the more vertical the walls, the more livable space you'll get.
A-Framed Tents
The original A-frame tents, based on pup tents, were lightweight, simple to set up and fairly inexpensive. They had rectangular floors with sloping sides and ridgepoles. However, they had low headroom and little elbow room due to the sloping sides. The modified A-frame improved upon the original by adding a center hoop pole or diagonal center poles. This causes the sidewalls to curve outward, increasing space. Lateral stability also increases to help the tent hold up better in the wind
Tip: The Bass Pro Shops Eclipse Hiker/Biker 1-Person Backpacking Tent is a basic A-frame tent utilizing walls, rainfly, and floor all made of a lightweight 190T polyester taffeta with 1,200mm PU coating for a lightweight and effective shield from the elements. It has an easy access door and great ventilation plus it's a quick and easy setup for a 1-person backpacking tent. Tent measures 6'11"Lx2'11"Hx4'W with a protected front vestibule area. Carry weight: 2 lbs. 12 oz. About $29.99
Cabin / Outfitter Tents
Near-vertical walls maximize interior space. This means plenty of room for cots or air beds as well as everyone's personal belongings – and you'll still have room left over to stretch out. Some models even feature room dividers or space for a wood-burning stove. However, Cabin tents are bulky so they're not well-suited for on-the-go campers. Plus, they rely on stakes and guy lines in order to maintain their shape.
Tip: The Bass Pro Shops Eclipse 6-Person Cabin Tent gives families an easy to set up shelter for weekend campouts and a great shelter from the elements and insects at the campsite. Has an interior loft and 2 hanging organization shelves for gear plus rainfly that provides a covered awning over the door. Comes with tent stakes, reflective guy lines, and heavy-duty zippered carry bag. 9'L x 10'W with an 84" height. Carry weight: 19 lbs. 12 oz.
About $199.99
Dome / Geodesic Tents
While starting out as true domes, these tents, with up to 50% more room than A-frame tents, now come in numerous shapes slightly resembling curved domes. Curved sidewalls shed rain and snow before it can accumulate. They're also very strong in windy conditions or inclement weather. They often have good peak height for headroom, but sloped walls reduce interior space.
Tip: The Cabela's Alaskan Guide Model Geodesic 4-Person Tent offers true 4-season protection. The full-coverage rainfly creates an integrated vestibule for protected storage space for gear and protected entry into the tent's D-style door. Comes with 24 aluminum stakes, 16 tie downs, 2 oz. seam sealer, and repair kit. Designed to shed rain and snow and built to withstand extreme conditions and field tested in Alaska.  Dimensions: 8'6"Lx8'6"Wx4'8"H. Pack size: 30"x10" with a 8". center height. Carry weight: 24 lbs. 11 oz. About $349.99
Tip: The Cabela's West Wind 8-Person Dome Tent makes a great family tent for weekend getaways or extended campouts. Spacious enough to sleep 8 comfortably, this sturdy, 3-season tent features a free-standing 5-pole frame.   A family-focused design, the West Wind includes hanging entertainment system with power port, gear loft, and 4 mesh pockets to keep valuable gear organized and off the floor. Dimensions: 12'1"x14' with a 6'8" center height. About $349.99
These are some of the most common tent shapes, but you'll see other types like fast-pitch tents that allow you to set up the footprint, pole structure and rain fly without the main tent body (essentially a tarp). Whichever tent you choose, it's important that it meets your space needs.
Types of Tent Construction
Free-Standing vs. Non-Free-Standing Tents
Free-standing tents can stand on their own without the use of stakes or guy lines. As such, you can easily move them around once you've set them up, and you can always stake them down for added stability. Dome tents are the most common examples. Non-free-standing tents rely entirely on guy lines and stakes for support. Cabin tents often use this structure to ensure near-vertical walls.
Three Season vs. Four Season Tents
Three-season tents are designed for camping in moderate conditions spring through fall. They often feature mesh windows or panels to maximize breathability and air circulation. Four-season tents are built to withstand high winds and heavy snow loads. This is the type you need if you're camping in winter or scaling mountains. They're less breathable but retain heat really well.
Single Wall vs. Double Wall Tents
Double-wall tents feature a main tent body (waterproof floor, breathable roof) plus a rain fly. Single-wall tents are designed to shed snow rather than rain and are constructed of breathable fabrics that allow water vapor to escape.
Tents With Perimeter Floor vs. Bathtub Floor
With a perimeter floor, the waterproof floor sections and sidewalls are stitched together at the perimeter. This creates straight, taut edges along the tent's borders, which maximizes floor space. A bathtub-style (or seamless) floor features rounded perimeter edges with no stitch marks that could possibly leak. However, edges may curl up on all sides in a loose manner, resulting in less floor space.
Tents That Use Pole Clips vs. Pole Sleeves
Pole clips and sleeves are used to set up a tent. Pole sleeves distribute tension across a larger area, resulting in less stress and a stronger pitch. However, it can be tough to thread poles through the sleeves in wet or low-light conditions. Pole clips are easy to attach and create larger gaps between the tent body and the rain fly, which improves ventilation and minimizes condensation. If you want a tent that is truly easy to setup, be sure to look for models that say only one person is needed to set up.
Types of Supporting Tent Poles
Poles are the foundation and frame holding up your tent. There are three important characteristics to consider when choosing tents poles: weight, strength and durability. Of course, you'll want to consider price as well. The pole material that is best suited for you will depend on what kind of camping you'll be doing.
Fiberglass Tent Poles
The biggest benefit of fiberglass is the price point. Tents with fiberglass poles are more affordable and will still serve you well for seasons to come. They won't rot or corrode, but they are heavier and weaker than aluminum.
Aluminum Tent Poles
Aluminum poles are lightweight, durable and strong. However, aluminum is subject to corrosion over time. If you are going to get aluminum poles, be sure to look for anodized aluminum, which makes the poles more resistant to corrosion.
DAC Aluminum Tent Poles
There are many different types of DAC poles, but they are all incredibly lightweight. Featherlite SL (Sleeve) poles are 15% lighter than comparable aluminum poles and have a high strength-to-weight ratio. DAC NFL poles are the lightest aluminum poles on the market but are limited to high-end backpacking tents.
You can also find combination-pole tents where large- and small-diameter poles are used together to maximize strength and minimize weight.
Types of Tent Fabrics
Tents come in a range of fabrics. Understanding the differences between them will help you choose the right tent.
Nylon Tents
Nylon is very light yet strong and has a natural resistance to abrasion, chemicals and mildew. However, it has the capacity to absorb moisture and colors tend to fade when exposed to UV rays over time.
Polyester Tents
Polyester is commonly found in rain flys. It resists wrinkles, water and UV rays – giving it superb durability
Canvas Tents
Canvas tents are usually made of cotton or linen. It's heavy and strong. Plain-woven canvas features increased flexibility with use, while cotton-duck canvas is exceptionally tear- and abrasion-resistant.
Mesh Tents
Mesh is typically made of nylon or polyester and used for increasing ventilation in a tent. No-See-Um mesh, which is often used, is finer mesh than screens in homes to keep out small insects.
Ripstop Tents
This fabric weave pattern resists tears very well.
Taffeta Fabric in Tents
This fabric weave pattern resists abrasion but doesn't handle tears well.
Denier Fabric in Tents
Denier is not a fabric. It's a measurement and is used to determine fiber thickness. Lower deniers result in sheer, soft and lightweight fabrics. High deniers result in thick, sturdy and durable fabrics.
Waterproofing Fabrics in Tents
Tent fabrics can be waterproofed with either polyurethane or silicon coatings. Silicon is often used on low-denier fabrics to boost tear resistance. Polyurethane is cheaper and considered to be slightly better than silicon. Both of these methods are measured with millimeter (mm) ratings. This simply denotes the amount of water in a column for one minute before a single drop of water will appear through the fabric (1,500mm rating means 5" of water in the column).
Types of Tent Features to Consider to Get the Most Out of Your Tent
Tent Color
Lighter colors keep the interior bright, which is great for visibility. Darker colors absorb heat from the sun – great for camping in cold weather.
Tent Vestibules
Vestibules are the front or back porches of camp life usually created by an extension of the rain fly. They provide additional dry areas to store packs, boots and other camp items, especially when they're wet or muddy. Some are more elaborate and roomy with additional support poles that actually create a small second room. Vestibules also allow thorough ventilation, even when it's raining, by providing enough coverage to leave your tent door unzipped without getting wet.
Other features to think about include multiple doors, pockets, gear lofts and special ports that allow you to run extension cords into your tent. You can find a wide selection of vestibules, replacement tent poles and other tent accessories here.