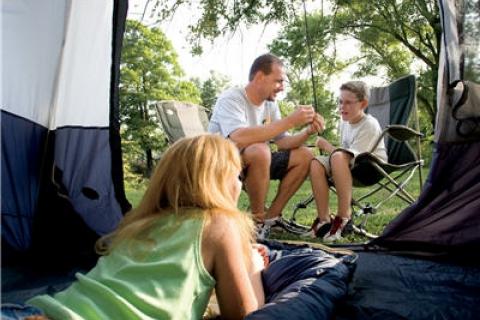 Having a peaceful sleep is important to stay rested, alert and relaxed, but getting enough shut-eye can be challenging beyond the walls of your home. Investing in a quality cot, mattress or sleeping pad is one of the best things you can do to get your 40 winks when camping. There are plenty of options to choose from and you'll need to make some important decisions to determine the best piece of gear to suit your needs and budget.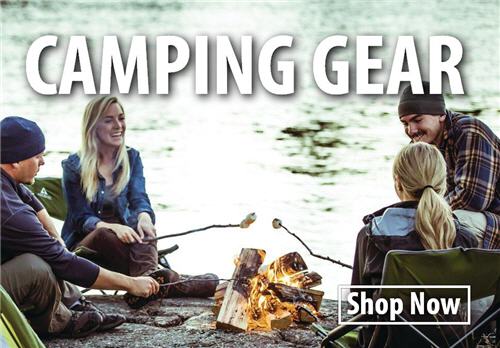 About Sleeping Cots
Sleep cots are comfortable but they're also bulky and heavy. Many campers are willing to accept these characteristics, though, for the assurance of a good night's sleep. Most cots are constructed using an aluminum frame with fabric stretching across that becomes taut once assembled. 
An advantage of cots is they raise you off the ground. Elevation helps with air circulation to keep you cool in hot conditions; it also separates you from its chill in cool weather, which helps combats heat loss. The generous width and length of cots also offers space for moving while sleeping. Another benefit of the cot is that you can store gear underneath you.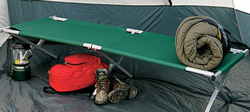 The bulk and assembly size of cots makes them impractical for minimalist camping, but they're a great choice for a hunt camp, cottage or even as a back-up spare bed for guests at home. Cots are available in a wide price range, and high-end models are on par with similarly sized air mattresses as well as bunk beds like the Cabela's 2XL Outfitter Buck Bed by Disc-O-Bed. 
About Air Mattresses and Sleeping Pads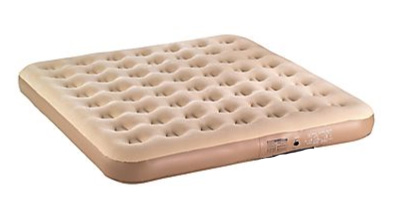 The difference between the terms air mattress and sleeping pad is a grey area. Generally, mattresses represent a larger, cushier inflatable option. They are also called air beds. Sleeping pads are smaller, delivering comfort in a compact size. Sleeping pads come in inflatable and foam models. Here's a quick overview of some important considerations for mattresses and sleeping pads. 
Mattress Size — The length, width and thickness of a mattress or pad are the main factors that influence comfort and insulation. The majority of sleeping pads sold are for one person. Mattresses mimic traditional beds and are available in single to king sizes, so there are plenty of options to suit a range of slumbering scenarios.
Sleeping pads come in a range of sizes from small to extra large, letting you pick a model to match your body size and sleeping requirements. If unconcerned about bulk, invest in a larger model to give yourself room to move during sleep. Some pads are 3/4 length, which helps save on space. Consider this option if you're under gear constraints for weight and bulk (such as canoe camping or hiking). The trade off is some of your body will be exposed to the floor, which isn't a major issue in the heat of summer but it can ruin a night's rest when in cool climates.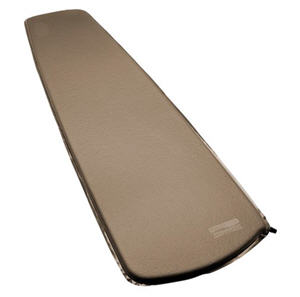 Thicker mattresses and pads will offer lots of cushioning and be more comfortable than thin ones. Pad thickness also provides insulation. This might not be an issue if you're sleeping indoors, but when outside in cool temperatures, a thicker sleeping pad makes a big difference in insulating you from the cold ground. 
Closed-Cell Foam vs. Inflatable Models — Another big decision is whether to buy closed-cell foam model or an inflatable model sleeping pad. Both types have pros and cons. 
Foam Pads — Closed-cell foam pads are the most rudimentary and least expensive sleep support option available. They are low maintenance, offer moderate cushioning and comfort, are lightweight and fairly durable. Compared to similar sized inflatable pads, foam pads are slightly more bulky when rolled or folded for storage.
 
Inflatable Mattresses and Pads — Inflatable mattresses and sleeping pads are a step-up from foam options. High-end models compete with cots in terms of comfort. 
Larger air mattresses (or air beds) are great if you have ample space to transport and set up gear. Some models, like the Napier Sportz Truck Tent Air Mattress, are designed to fit inside the bed of a truck. Certain air mattresses need to be inflated with a pump. Some models feature a built-in battery operated pump to inflate the bed. 
Self-inflating mattresses and sleeping pads are mainly designed for individual use. To self-inflate, simply unravel the mat and it expands. Close the valve and you're ready to snooze. Of course, you pay for this timesaving technology.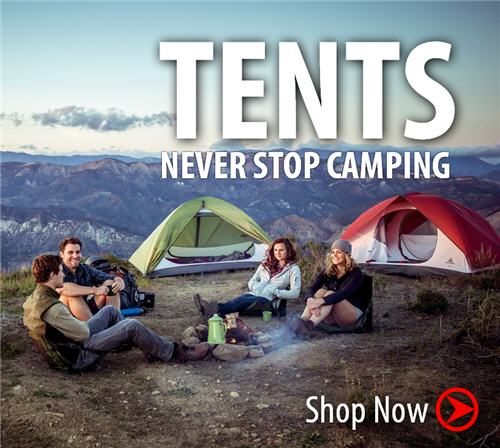 If tent camping, consider buying a mattress with a gripping material on its side. This keeps the mattress from sliding on the tent floor and shifting from underneath you during sleep. 
A common combination is using a foam pad in addition to a self inflating one for increased insulation (and cushioning). Bring both models for cool weather camping and secure them together with straps. During warm conditions just leave one at home. 
When choosing an inflatable model, pay close attention to the quality of the valve. I can recall awaking from more than one slumber while camping because the air mattress valve came unplugged during the night. Today's models have improved significantly, but be sure to review this feature on a mattress. If you have the option of a better value, buy it.
About Air Mattress Accessories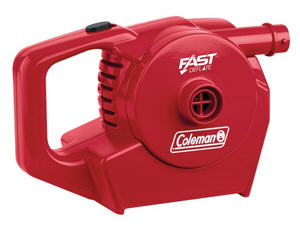 Given the characteristics of self-inflating mattresses, you'll need to keep them constrained during travel. Store the mattress by rolling them to release air, and then secure the mattress using straps or a stuff sack. The latter protects the mat from dirt and water. 
Another inexpensive but handy item is a mattress repair kit. Most mattresses feature fairly robust exteriors, but it's not armor. Carrying a repair kit ensures you can fix a tear before it worsens and inflate again in the field.
Air pumps like the Coleman QuickPump 12V Air Pump are handy to inflate air mattresses. You can purchase powered models for AC 120 volts, DC 12 volts or rechargeable models. Hand or foot pumps get the job done, too, but those pumps take more time and work than electric models. 
Another handy accessory to boost functionality is a chair sling for sleeping pads and small, self-inflating mattresses. Simply fold the pad and slip the chair's sleeves over the ends. The adjustable straps keep the seat bent and upright. A unit like the Therm-A-Rest Trekker Chair Kit lets you lounge in comfort when roughing it in the bush. 
Don't get caught snoozing when you have to choose a cot, mattress or sleeping pad. Weight all the choices and features, while considering the application. Don't skimp on the final purchase either. Invest in a quality unit, your body will thank you for it.