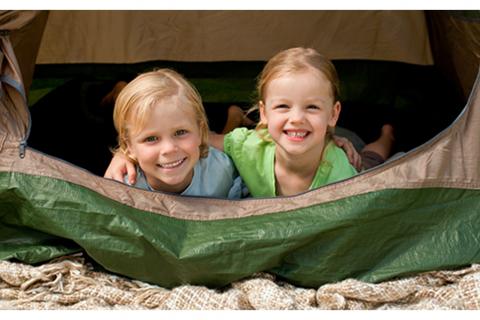 Things change when kids come into your world, and camping is no different. It is no longer beer, backpacks and beans; now it is sippy cups, SPF 50 and s'mores. All for good reason. You are going to help your children fall in love with the wilderness, just as you have. It is time to introduce your kids to the wonders of nature with the first camping trip as a family.

To Begin
Start with a few day-hikes and set up the family tent in the backyard to practice an overnight. You will get a feel for what the kids require along the way and be able to test out your sleeping arrangements ahead of time.

Location
Do not drive around looking for the perfect campsite; not this time. Choose your campground ahead of time and make a reservation if possible. The sooner you can set up camp and keep the kids active and entertained, the better. Think seclusion and shade, but as long as there are rocks, dirt and wildlife, you should be good.

Packing
You know to pack the basics: extra trash bags, water, paper towels. And it all goes in plastic bins. There is no reason to change this practice with the kids in tow. Teach them how to pack efficiently and take only what is necessary. There is an art to it and the earlier the kids learn this, the better off for all your future family adventures.
Always pack extra clothes. Your kids will get muddy, and they will spill on themselves. They will get warm, and they will get cold. They will wipe their boogers on their pants. So if you pack anything extra at all, pack more clothing.
A big block of ice can turn your cooler into a refrigerator for days. With the kids in tow, you will need plenty of diverse snacks to keep their tummies happy. Prep what you can at home (cut veggies, divide bulk trail mix in individual-portion baggies, etc.).

Keep Them Entertained
Being outdoors is often entertainment enough, but be ready with games just in case. Mobile devices and anything that involves a remote control should be banned on this trip. Take a football, scavenger-hunt list, bean-bag toss, a Frisbee and a book about star gazing.
Give the kids a brand new camping backpack to fill with toys, stuffed animals or whatever they feel they will need for the trip. It will give them a sense of comfort knowing they are not missing anything at home.

Valuable Life Lessons
Camping provides you an opportunity to impart these valuable life lessons to your kids:

Awareness
Most children do not appreciate their surroundings. They would not notice a hawk soaring above or the smell of freshly cut grass. But your kids will, because you will teach them at a young age to appreciate what Mother Nature has to offer. Take the time to learn to identify the songs of some of the birds you might encounter in the area you will be camping (lots of online information available) and stop what you are doing if you hear one. Learn to identify some of the trees, too. Mention this information casually to judge interest from your kids. If they want more information, be prepared to give it to them. This will build an overall awareness many kids are missing these days.

Independence
Camping enables kids to explore the world and engage in their surroundings. They are forced to navigate, make decisions, take care of themselves and do their part around the campsite. Their willingness to participate will be a positive force in their future independence.

Safety
This is a good time to foster an understanding of the importance of safety in the wilderness. You will play an integral role in educating them about campfires, cleaning injuries and being aware of their surroundings.

Cooperation
Get the kids involved from the beginning planning stages through to campsite cleanup. Teach them how to set up and break down camp, how to gather wood for the fire and how to play campsite games.