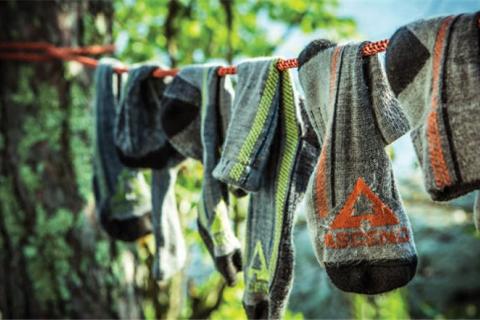 When conversing with people who don't camp, or haven't camped since he or she was a kid, the subject of feeling dirty after a day of being outside is often mentioned. When I inform the curious that freshening up is an easy thing to do while camping, I receive doubting looks. Not to replace a sparkling shower house, but when bathing facilities don't exist at the campground, the following five tips will keep you feeling (and smelling) clean.
#1. Hand Sanitizer at Camp
Hand sanitizer is quick and efficient product that not only removes bacteria gained in filleting fish for supper, but also works well for trail-dirty feet. A little goes along way; is easily applied and excess dried with a hand towel.
#2. Biodegradable Soap for Natures Protection
Biodegradable soaps like Sea to Summit Wilderness Wash offer a less guilty way of rinsing off a cleaning agent in the wild. Some biodegradable soaps are hypoallergenic and handle washing eating utensils, as well as the body. Small bottles of these soaps require little space in a pack.
#3. Alcohol Wipes to Use in the Wilderness
Alcohol wipes come in various sizes of packaging, starting with a teabag-size package to a coffee can sized container holding dozens of wipes. Wipes saturated with cleaning agents (not all use alcohol) work best as a full-body cleaning system that moisturizes the skin also. Various brands are scented to please the nose, but when in bear country it's best to use scent free wipes or a scent free body and hair wash like Primos Control Freak Body Soap & Shampoo. If you do decide to use wipes be sure to pack a reclosable poly bag to discard used wipes for disposing later.
#4. Use No-rinse Soap and Shampoo
No-rinse soap and shampoo require only enough water to disperse the cleaners on the body or hair. As the name implies, simply lather up and wipe off with towel — no water needed. For women, dry shampoo, found at local drug stores, can help spruce up oily hair, leaving a fresh scent.
#5. Wear Clean Clothes
Don't redress with dirty clothing. Clothing materials not only hold soiled scent but also harbor bacteria that could lead to sickness. If limited clothing is packed, at least rinse the day's clothes with water (and biodegradable soap) and let dry overnight if possible.



Bonus Tip: If you do have access to some water, then consider shower tent or shower shelter like the  top rated Cabela's Easy-Up Deluxe Shower Shelter and solar showers like the popular Seattle Sports Solar Shower sold at Bass Pro Shops.