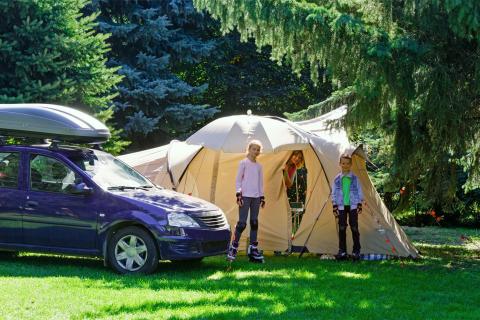 Use these five important camping tips to plan a trip that everyone in the family will enjoy!
There are so many resources available to help plan your next camping trip; it's really not complicated. The challenge arises in planning a trip that everyone in the family will enjoy. It's true, "you can't please all of the people all of the time." Still, by carefully planning the location and activities of your next family camping trip, you'll be able to leave everyone looking forward to the next one, rather than dreading it.
1. Begin by Planning the Camping Trip Early
Creating a great family camping plan doesn't do any good if the things you want to do are already booked. Case-in-point is the state and national park campgrounds and cabins. For sites during peak seasons, you'll probably need to book as much as a year in advance – more if it's possible. As an example, in Minnesota's state parks, the most popular parks are booked full – at least on weekends – within 24 hours of registrations opening. So making that critical reservation means having A, B, and C plans figured out before bookings open. Contact the your area state park offices or find a park at https://www.nps.gov/findapark/index.htm  to find out when registrations open – today!
You'll also want to make a complete camping checklist. The list will vary according to the where your going, type of camping, type of activities, time of year and length of time of your trip. So its a must to do a checklist or two.
Tip: Buying a Tent? Here's a Guide to Make the Perfect Choice (infographic)
2. Assessing Your Family's Travel Tolerance
Your family is unique to you. Each member will have a different tolerance for how long they are willing to ride in a vehicle to reach a camping location. Exploring a magnificent, exotic, distant place is an admirable camping goal, but it becomes a whole lot less enjoyable if there are family member(s) complaining about the drive. Double that if anyone is prone to motion sickness.
Sure, smartphones with streaming video, music, and games allow passengers to "zone out" for the drive, but then that's not what family camping trips are about. To help keep the drive tolerable, but everyone involved, plan questions to ask. Play games like Channel Craft Wildlife Bingo. Or, the old fashioned road games like keeping track of license plates from the states or playing Channel Craft License Plate Bingo or looking for signs with words beginning with letters in alphabetical order will keep passengers engaged. The 50 Campfires team offers excellent suggestions for road trip games in their article, 8 Road Trip Games to Make Time Fly.
Tip: Bass Pro Shops has indoor and outdoor fun games for kids and family here
There's nothing wrong with planning a trip that's within an hour's drive of home, especially if you just have a few days for the getaway. Most family camping trips happen within a couple of hour's drive of where the family resides. Car camping isn't about exploring the wilderness as much as it is about time together.
3. Schedule Like Goldilocks - Consider What is Just Right for the Camper
Remember the fairytale of "Goldilocks and the Three Bears?" Goldilocks was always looking for the chair, bed, or porridge that was "… just right." That's what you're seeking in planning activities for your family camping trip, too.
Tip: Shop prospecting and metal detectors and accessories at www.basspro.com/shop
Over-scheduling will give the trip the feeling of a forced march. One of the biggest detriments to families getting outdoors today is over-scheduling all of life's other activities. Combatting that is one of the best reasons to get away on a camping trip.
On the other hand, being the camping trip planner, you should never hear the complaint "There's nothing to do," without a recommendation … or two … or three to offer the disgruntled camper.
"Just right" is a balance between planned activities – something geared specifically to the tastes of each member in the family – and free time that allows for spontaneity, creativity, and imagination.
Tip: A Guide to Great Glamping Locations You Won't Forget
Tip: The Camping Bucket List: 7 Camp Destinations to Consider
4. Don't Miss Opportunities That Pop Up - Go With The Flow
Selecting the location for your family camping trip will be based on planning that "just right" schedule. You want to make sure there's something nearby of interest to each member of the family. If time permits, you can plan a day catering to the interests of each camper – caves and dinosaurs, sporting events, kayaking, hiking, fishing, etc.
However, don't be so rigid that you miss opportunities that pop up. For example, if you come across a farmer's market in a town between home and the campground, what a great chance to lay in some extra provisions – especially local foods – for the campsite. The same goes for a flea market or a carnival or state fair.
Allowing for these by-chance opportunities will make for the most memorable trips. So what if you get to the campground a couple of hours later than planned? Spontaneity is what makes family camping trips meaningful.
5. Research the Vibe of Campgrounds
Every campground has its vibe. Some are like close-knit neighborhoods. Some are secluded. Some are almost like one big family. Some are loud, and others are positively, not loud.
Tip: Click to visit Big Cedar Lodge Camp Glamping here.
Do some research to determine the vibe of campgrounds in areas that interest you to select one that best suits your family and the purposes of your trip together. In addition to contacting the campground office and seeking word-of-mouth recommendations, there are several websites you can check out like 50 Campfires, Hipcamp, Airbnb, Harvest Hosts, Campground Views, and many others.
One of 50 Campfires favorite questions to ask the staff at a state park or any campground is, "If you were going camping here, which campsites would be your choice?" Who better is going to know the hidden scenic views, the places you'll hear rushing water, or which sites are closest to (or farthest from) the bathhouse?
Tip: Camping Checklist & Tips for Easy Camping
A Good Time For All
Most importantly, remember that a family camping trip is supposed to offer a good time for all – including you. When you're planning locations and activities, don't leave yourself out of the mix. It's your vacation, too!