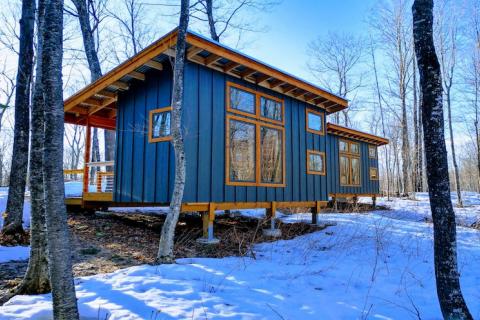 Where Can You Find the Best Places to Try Glamping?
You may never have actually gone "glamping," but it's pretty easy to figure out the roots of the word. It's a mash up between glamour and camping – glamping! However, because the term is so new to the outdoors, it's still seeking a solid definition.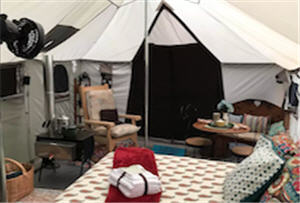 Well, just as in other outdoor pursuits, like hunting and fishing, there's a range of luxury to be found in glamping. For some, glamping can be any kind of accommodations that will allow you to sleep off the ground out in the woods. On the other end of the spectrum are glampers who require full-service in the great outdoors - up to, and including, room service!
Hardcore wilderness campers, like backpackers, often scoff at the idea of glamping. They believe, "If you don't do it yourself, then it's not camping!" And they are right, it's not camping, it's glamping! Why should anyone belittle someone else because of how they choose to enjoy our common love - the outdoors? And if glamping creates an appreciation of the experience that makes someone decide to try it on his or her own, then another voice for "camping" as you define it is born.
Tip: Shop camping gear at Bass Pro Shops here.
Glamping accommodations run a huge range from a tent that's set up when you arrive and is stocked with coolers of food and beverages to boats and rafts to tree houses to yurts to rustic tiny homes to full-fledged cabins. That's one of its beauties - it can be most anything you want it to be and are willing to pay for. You actually might not need any gear to give glamping a try as glamping outfitters can rent you almost anything for your stay. Or you may bring along specialty gear that you already have like mountain bikes, paddleboards, kayaks, fishing gear, etc.
Another great thing about glamping is it allows a family or group of friends to incorporate many favorite activities in a single trip. If you book a glamping location, it can be nearly anywhere and won't tie you to a single activity. You can fish, canoe, bike, antique shop, and try out restaurants and cafes all in the same trip and from the same base camp.
So how do you find the perfect glamping location to create your own definition of the word? Well, here are some of our favorite resources!
Big Cedar Lodge Has Unique Choices in Glamping Accommodations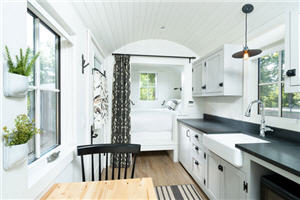 This unique glamping experience is located in the rugged landscape of the Ozark Mountains, overlooking Table Rock Lake in Missouri. Big Cedar Lodge (www.bigcedar.com) is a wilderness haven of natural beauty that can only come from Mother Nature with a sprinkle of rustic luxury. The area"s natural beauty brings outdoor and wildlife conservation to life, a place where you'll find yourself escaping into relaxation and connecting to the great outdoors.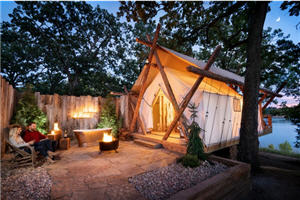 These getaway accommodations are unique and well thought out, such as: camp huts that are reminiscent of vintage camp bungalows or tiny houses, the cozy camp cabins are the ideal excape with open floor plans and the glamping tents combine camping and comfort with wood floors, chandeliers and heating and cooling.
Tip: Click to visit Big Cedar Lodge Camp Glamping here.
Airbnb.com Has Glamping Rentals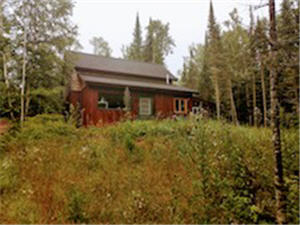 The www.airbnb.com began as a site to find rooms in other peoples' homes to stay at while you're traveling - bnb stands for bed and breakfast. However, it's grown to include all kinds of accommodation opportunities - including "glamping" however you define it.
Creating an account at airbnb.com is free and once you do, you can create custom searches for accommodations for any location around the world. Clicking on the "more filters" tab allows you to refine your search to find barn, camper/rv, tiny house, and farm stay options. Spend some time and you'll discover truly unique places to glamp including furnished yurts, rustic tiny homes, remote cabins, and even hike-in accommodations.
You'll be able to read all about the property including reviews from previous visitors, and you can even contact the host with questions before you decide to book. Most Airbnb properties allow free cancellation with a minimum notice that will be stated in the listing. Most listings also include how much interaction you'll have with the hosts. Some locations allow for being on your own and others practically invite you to be part of the family - whichever you prefer.

Tip: Click to visit airbnb for vacation glamping experience and other vataction rentals here.
Hipcamp.com Includes Public & Private Glamping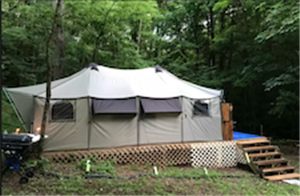 The great thing about the www.hipcamp.com site is it includes both public and private glamping opportunities. Many state parks offer everything from rustic camper cabins all the way up to fully outfitted cabins with gourmet kitchens and outbuildings! When you set up your free account on hipcamp.com, they take you through a brief questionnaire about your camping/glamping preferences, and they use this to bring to the top properties that most seem to fit your glamping (and camping) style.
You'll find private accommodations and glamping sites you never would have discovered without hipcamp.com. The easy-to-use filter tabs allow you to choose "lodging" (which is where the glamping locations are listed), "campsites" (tent sites), and "RVs" (for trailers and motorhomes).

Tip: Click to visit HipCamp for a unique camping experience here
Harvesthosts Is a Distinctive RVer Experience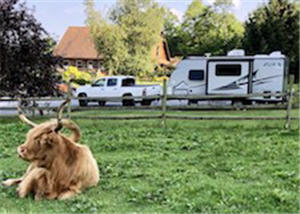 The www.harvesthosts.com program isn't strictly a site for glampers, but it's a unique - and money-saving - site for those who travel in self-contained motorhomes or travel trailers - meaning that you have your own bathroom facilities. Harvest Hosts currently has nearly 750 participating farms, breweries, wineries, and other attractions where you can camp overnight for free! All the host properties ask is that you partake in whatever they have to offer. This might mean buying farm fresh vegetables, eggs, or meat. Or perhaps enjoying some of their wine or the brew pub. And you get to camp for free!
The only fixed expense is the $79.00 membership in Harvest Hosts for access to their growing directory of participating properties! You can cover the cost of your membership in the first weekend you participate! And these properties are so much more interesting than staying at a packed, side-by-side, $50/night campground or state park.
As you search for your first glamping location - or your hundredth - you'll discover the hunt is nearly as much fun as the nights in glamp! You can review as many properties as you'd like - for free - until you find the perfect one for you and your family.
Tip: Click to visit Harvest Hosts information on overnight stays at incredible locations across North America here.