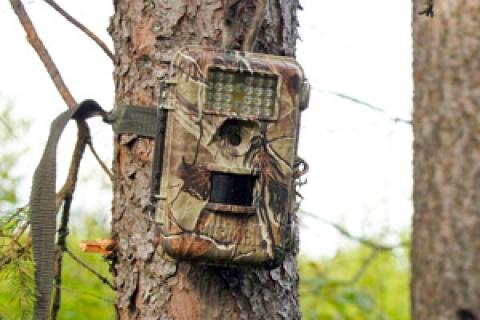 I spend a great deal of time in the outdoors. I fish, hike, paddle and scout. And, although I don't hunt with a gun, I do so with a camera — capturing wildlife in its most natural setting.
Although originally targeted at hunters, game cameras (also known as trail cameras) are becoming more common for outdoor enthusiasts. They can remotely record nature and animal behaviour discreetly and covertly, giving the user an intimate look into the lives of animals. Here is some advice and how I photograph something of interest and what to look for in a game camera.
Tip: Shop Trail Cameras and Accessories at Bass Pro Shop here
Keep a Game Camera With You - You Never Know When You Have an Opportunity to Capture a Cool Experience
I always travel with a game cam in the back of my truck. Whether out on a hike or if I spot something from the road, cams are easy to set up in hopes of capturing something of interest. When you think about it, the possibilities are endless: Set one up on a well-worn deer trail; at the edge of a fox or coyote den; a beaver lodge; or at the site of a deer kill.
This past week I spent three days exploring Algonquin Provincial Park in Ontario, Canada. This area is renowned for its population of eastern wolves. Although I have found many fresh tracks in the past, I had yet to see one. That was about to change. On my second last day, I discovered an area just outside of the park that was littered with fresh wolf tracks. I set up my trail cam in the area and left it overnight. Come morning, upon retrieving it, I was delighted to have captured video of a wolf. Definitely a cool experience.
Advice on What to Look for in a Game Camera
When purchasing a digital game camera, also know as a trail camera, keep a few points in mind. Look for a unit with the highest mega-pixels that you can afford. The higher this number, the better quality your still pictures and video captures will be. Speaking of video, ensure the unit you are buying is capable of shooting it. Not all units do but it is definitely a must-have.
Infra-red (IR) capability is recommended for night time shooting. This feature won't spook animals but provides a clear picture when the sun goes down. Another must-have.
Tip: On the hunt for a high-quality trail camera that won't break the bank? The Cabela's Outfitter Gen 3 30MP IR Trail Camera boasts a lightning-fast .5-second trigger speed, snapping 30MP images and HD 1080p videos to help you snap photos of your favorite wildlife. Utilizing a 100' infrared flash, 48 LEDs illuminate nighttime photos and videos, without startling wildlife out to an impressive 80'.
I personally like a unit to have a viewing screen built-in. I can quickly check my footage when out in the field, without having to swap out memory cards to view later at home. Although pricey, some units now allow you to remotely view your captures from your cell phone or computer. I am in the market for one of these units next.
The amount of batteries needed to power your unit can also vary significantly. Some require four — others upwards of ten. This equates to additional costs which should be taken into consideration.
Pick up a game camera and start exploring the hidden world of wildlife. The thrill of the hunt is right around the next corner.