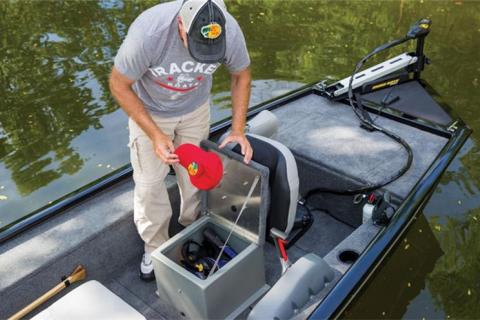 Whether building a new boat deck or dealing with existing carpet that has weathered, installing fresh-fibered boat carpeting is a relatively easy and pain-free task. Not only will new threads increase the cosmetics of your boat ten-fold, but will also be a welcome relief for your tender feet.
Follow these simple steps to get the job done right.
Marine Carpet Grade - Don't Go Cheap!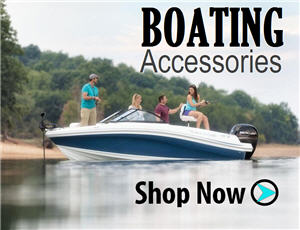 When purchasing new carpet for the boat, ensure that it is high-quality marine grade. Boat carpet such as this should all offer fading, mildew, rot, stain and UV resistance properties.
Although the inexpensive route might be attractive for the wallet, these "cheap" alternatives simply won't stand up to the abuse that both you and the elements dish out.
Tip: No boating face-lift is complete without new carpet. Bass Pro Shops carries a  boat carpet replacement kit. Check out these reviews and customer boat photos. This is what customers are saying ...
8 Simple Steps to Install Boat Carpeting
Step 1: Remove deck pieces from the boat.
Step 2: Place the plywood pieces on the underside of the rolled-out carpet.
Step 3: Draw a chalk line 3-4 inches outside the perimeter of the wood. (This overlap should be adequate enough to be stapled onto the back during the last step.)
 
Step 4: Carefully cut the pieces of carpet with some share scissors.
Step 5: Apply marine carpet glue like boat and outdoor carpet glue by following the directions carefully, ensuing an even and consistent spread. (For most adhesives, it is applied directly to the deck.) If curing is required before affixing the carpet, allow the correct amount of time.
Step 6: Stretch carp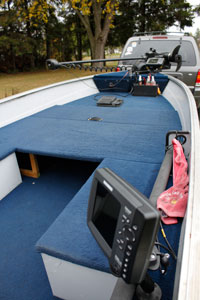 et across the deck as effectively as you can during the gluing stage. This will ensure no "wrinkles" appear once completed.
Step 7: Use heavy-duty staples to secure the overlapping carpet to the back of the deck. Ensure that the staple length is less than the deck width itself (don't laugh — I have seen this happen!).
Step 8: Fit finished deck back onto boat and secure with screws.
And there you have it. A fairly easy DIY project that will have your boat looking brand new once again.
Also Shop These Other Popular Boat Surface Products:
Tuff Coat rubberized boat deck and dock non-skid coating - this non-skid coating features highly effective noise absorbing, which makes it extremely handy in coating aluminum boats and skiffs, as well as lessening the noise in your truck, dock, deck, or ramp.
SeaDek Brushed Sheet Material - perfect for DIY projects requiring a superior non-skid surface and comfort underfoot.
INCOM Life Safe Safety Grit Anti-Slip Tape - INCOM Life Safe Safety Grit Anti-Slip Tape.