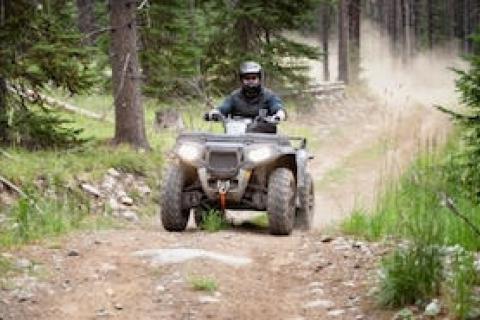 All-terrain vehicles are enjoyed by outdoor enthusiasts for their adventurous off-roading capabilities and versatility. But don't let their rugged exterior fool you – they are not immune from serious tragedy. On average, 700 people die each year from ATV accidents, and head injuries are the leading cause of death. With the summer and fall being peak ATV seasons, it's helpful to review some of the important safety guidelines that will keep you protected.
Don't drive an ATV on a paved road
ATVs are not designed to be driven on the pavement. Their tires are made to handle mud traction, and they have solid rear axles and no rear differential, which makes them difficult to turn on paved roads.
Always wear protective gear
Don't ride above your ability level
Inexperienced drivers get themselves into trouble when they bite off more than they can chew behind the wheel. Be familiar with the terrain you're riding on, and survey the area. Are there steep hills? Large holes in the ground? Patches of mud? If you're unsure about the obstacles, choose a less treacherous location to ride.
Take an online or hands-on safety course
Safety courses teach drivers how to control ATVs in everyday situations. Drivers with hands-on ATV training have a decreased risk of injury than drivers with no formal training. The Consumer Product Safety Commission (CPSC) provides state ATV information related to specific state laws and where to enroll in an ATV safety training course near you.

Always ride by yourself unless the ATV is designed to carry more people
There are many different sizes and styles of ATVs, but most are designed for one person. A driver must be able to shift their weight and adjust to the terrain – a passenger can impair a driver's ability to properly maneuver an ATV.
Children under 16 should be supervised and never operate an adult ATV
Children who ride on adult ATVs are twice as likely to suffer an injury than those on a youth ATV. Smaller frames and lower speeds are just some of the features of youth ATVs that are meant to protect a minor.
Don't drive while under the influence of alcohol or drugs
One of the leading causes of ATV accidents is driving while intoxicated. ATVs are just as dangerous as a car or any other motor vehicle and should be operated as such.