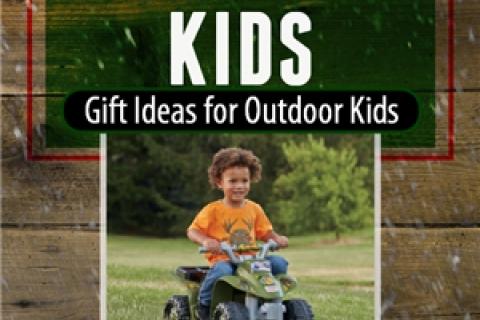 Selecting the right Christmas gift for children is always a challenge. You want to give them what they want, but also gifts they'll enjoy, appreciate, grow with — even learn from — for a long time to come. Any gift that encourages a child to spend more time outdoors and foster a lifelong appreciation for the outdoor lifestyle meets all those criteria. Here's a list of the best just a couple of mouse clicks away at Bass Pro Shops (or visit your nearest Bass Pro Shops store to visit Santa's Wonderland!).
Bass Pro Shops® 1:10 Mossy Oak® Camo Remote Control Ford F-350
Now your youngster can have their own remote control version of the "big kids' toys" with the Bass Pro Shops® Mossy Oak® Camo Remote Control Ford F-350. It has all the bells, whistles and mud-slinging fun of the adult version. The 1:10 scale RC truck boasts an exclusive Mossy Oak camo look, detailed trim, working headlights and taillights, plus engine and horn sounds. The dual joystick transmitter controls forward and backward maneuvering, left and right steering, and sound. Rechargeable battery included for unlimited hours of fun. $79.99.


Bass Pro Shops® North Pole Central Lines Train by Lionel
Do you think that the Christmas card image of the Lionel train winding its way around the carefully wrapped gifts under the tree is just a remembrance of a bygone era? It doesn't have to be. Bass Pro Shops® is proud to offer this Santa red special edition Lionel electric train set including an electric locomotive and tender controlled by a remote; a flatcar with a trailer; a hopper; a caboose; 8 curved O-36 FasTrack® sections; one 10-inch straight FasTrack section; and one FasTrack wall-pack terminal section. Each car proudly wears the Bass Pro Shops logo. Share with the youngsters on your Christmas list one of the true joys of your own childhood holidays. It's a gift sure to become a family heirloom. $269.99.


Bass Pro Shops® Grizzly Unbreakable Remote Control Helicopter
Outdoor kids can be tough on toys, but let them throw their rowdiest at the new Bass Pro Shops® Remote-Controlled Grizzly Helicopter. It is the world's first and only unbreakable RC helicopter. The Grizzly can withstand up to 200 pounds of crushing force and features a GYRO for stability with a single rear rotor for precision. Flying this remote-controlled helicopter is a breeze—go forward, backward, up, down, left, right, or hover. Easy to fly and control without spinning in circles. Includes a rechargeable battery with wall charger for unlimited hours of fun. Control transmitter runs on six AA batteries (not included). $49.99.


Bass Pro Shops® Adventure Playsets
The best, most appreciated toys are those which fire youngsters' imaginations for outdoor pursuits such as trailering the horses to the woods for a family horseback ride; roaring across the lake toward a bass fishing hotspot; or camping, kayaking and riding an ATVing. Bass Pro Shops playsets inspire these dreams with lifelike action figures and gear to set play time and dreaming in motion. Each set includes a tow vehicle, trailers and all the gear to inspire dreams of great outdoor adventures. $39.99.


Bass Pro Shops® Ride On ATV for Kids
What kid doesn't want his or her own ATV to hop on, fire-up and ride off to new adventures? Get the little ones started early with the Bass Pro Shops Camo ATV Ride-Ons or Pink Camo ATV Ride-Ons. It features an interactive throttle, realistic ATV revving sound, and light-up dash buttons with talking phrases and sound effects. A parental sound control allows volume adjustment as needed. These ATV Ride-Ons for kids also feature rugged wheels, front and rear racks, and a walker bar. Ages 1+. Safely holds children up to 40 pounds. $49.99.


Bass Pro Shops® Outdoor Mega Pack: The Hunt and The Strike Video Games
Tired of the kids playing nothing but fantasy games on the Wii system they got last Christmas? You'll set them to exploring new, realistic outdoor adventures with the Bass Pro Shops Outdoor Mega Pack. The Hunt: Trophy Showdown is the most realistic game-based hunting experience available, bringing them to a variety of North American landscapes to hunt big and small game, and even predators. The Strike: Tournament Edition is the closest experience to real tournament fishing without getting wet! They'll go head-to-head with the world's greatest anglers in a series of 10 tournaments on North America's premier fishing lakes. Both feature real GPS navigation to build skills that transfer to the woods and waters. $39.99.


Bass Pro Shops® NXT Generation® Rapid Riser Compound Bow for kids

The youngest would-be archers want to stand side-by-side with mom and dad at the archery range or even in the deer stand. Now they can with fun-scale archery gear sized just for them. The Bass Pro Shops® NXT Generation® Rapid Riser Compound Bow for kids is a fun way to get young archers active in the outdoors. Maybe even headed for the Olympics some day? Could be! This functional compound bow includes 3 suction-tipped arrows, plus a window cling target. Center fire configuration is ideal for right- or left-handed shooters. Ages 5 and up. $34.99.


Bass Pro Shops® Realtree Xtra Camo Big Wheel Ride-On Toy for Kids
Think the classic Big Wheel toy tricycle is a thing of the past? Think again! It's reborn for today's youngsters with a distinctive outdoor twist – Realtree Xtra camouflage accents. And you'll find it only at Bass Pro Shops. With a large 16-inch front wheel, this tricycle features a low-riding design to make for easy on and off, and the low center of gravity provides comfort and security. Sturdy construction and the "Grow with Me" 3-position seat supports your child as he or she grows. Intended for children 3-8 years with a recommended weight limit of 70 pounds. $59.99.


Bass Pro Shops® Fisher-Price® Power Wheels® Lil Quad Camo ATV for Toddlers
Zoom! And over the hills (well actually just across the backyard) your little outdoor adventurer will go on the hunting-inspired Bass Pro Shops® Fisher-Price® Power Wheels® Lil Quad Camo ATV. It's designed just for toddlers, riding low for easy on/off with simple push-button operation — stop and go. Rechargeable 6V battery (included) provides the power for a safe, but exciting 1 mph ride on hard surfaces or grass. Ages 1–3. Maximum weight capacity 40 pounds. Includes manufacturer's 1-year warranty. $99.99.


Bass Pro Shops® Tracker Remote Control Fishing Boat
How real can a remote control toy actually be? Well, this one can land a fish up to two pounds! Bait the hook, troll the waters, and watch the bobber. When there's a hit the young angler uses the remote control to play the fish, and the skillfully piloted boat will actually land the fish back at shore! A telescoping rod makes retrieval easy and radio controls make fishing fun. Includes hooks, bobbers, 2-pound-test line, and five foam floaters. Requires 6 AA batteries for boat and one 9V battery for controller (not included.) Ages 8 and up. $39.99.