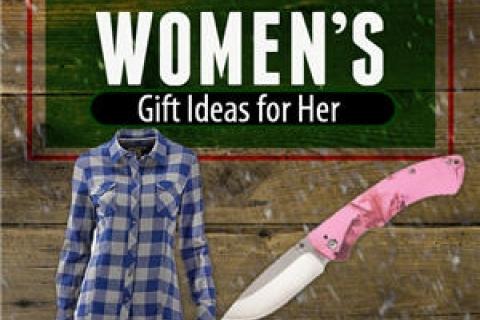 There are so many great Christmas gift ideas for women at Bass Pro Shops that it's hard to decide what your mom, wife, sister, daughter or friend will love best. So, we've made the job easier for you by narrowing thousands of ideas down to our favorite 14.



Bass Pro Shops Wilderness Collection 16-Piece Stoneware Dinnerware Set is the epitome of back-to-nature elegance that is perfect for any home or cabin. The embossed design features a rustic antique finish and North America's majestic white-tailed deer, moose, elk, and black bear. Dishwasher and microwave safe. $49.99.


Natural Reflections Fleece Robe makes chilly winter mornings and evenings even cozier. The ultra-plush fleece is soft and comfortable, the perfect robe for when she's ready to curl up in her favorite chair. $34.99.


Knit Lounge Top and Crop Pants take relaxing to a whole new stylish level. Comfy and cute for when she's ready to kick back and enjoy. Top: $21.99. Pants: $17.99.


Emperia Conceal and Carry Tote Bag is a classy choice for women who carry. This elegant-looking handbag features an exterior pocket on the back (next to the user's body) with an ambidextrous removable Velco-attached handgun holster. A dual-zippered entry with large pull tabs allows for rapid access to a concealed handgun. $64.99.


Marled Henley Sweater is a stylish cold weather classic that she can wear alone or add a splash of color with a layer underneath. Available in a variety of colors, this Henley sweater looks great with jeans for a weekend adventure or dress it up with a skirt for work. $34.99.


Natural Reflections Full Zip Chenille Sweater will become her go-to piece for fashion and comfort. Available in a variety of colors, this soft chenille sweater is perfect for when she's hanging out at home, headed to lunch with friends, or enjoying a wonderful outdoor adventure. $39.99.


Natural Reflections Ladies' Flannel Shirt is outdoor chic with a flattering fit and remarkable softness. This wardrobe essential comes in a variety of colors. $24.99.


Bob Timberlake® Fleece Throw Blanket and Decorative Pillow. The Paint Horse design of the throw blanket and pillow provide a western flair that's ideal for lodge or ranch décor. This rustic accent features the white spotted pattern of a wild pinto pony that's perfect for a chair, couch or bed. Throw blanket: $55. Pillow: $35.