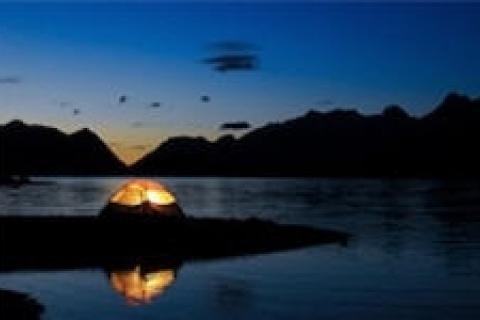 When you think of your favorite camping destination, a few mental snapshots of America probably come to mind: cooking over a campfire, tents surrounded by trees and a beautiful vista, perhaps a lake with a small, serene beach.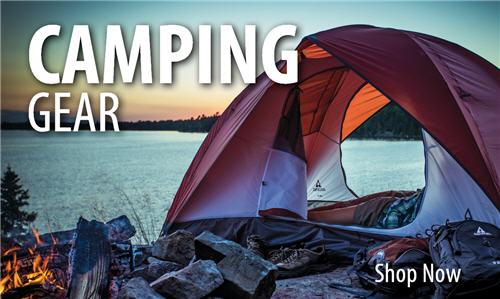 But that kind of traditional destination isn't your only option to enjoy the great American pastime of camping. 
This summer, consider switching things up and visiting one of the nation's more unusual camping destinations, ranging from the historical to the haunted.
1. A Civil War-era Fort: Dry Tortugas National Park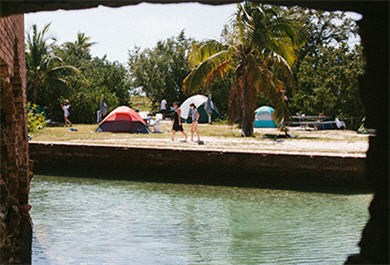 Fort Jefferson, built in 1846 on the 16-acre Garden Key island in the Gulf of Mexico, is a stunning historical destination for your next camping trip. The grounds were used as a prison, which once held Union prisoners including deserters and even Dr. Samuel Mudd, who abetted John Wilkes Booth after he assassinated Abraham Lincoln.
Situated in Dry Tortugas National Park, 70 miles west of Key West, you'll be surrounded by blue waters and the opportunity to snorkel. You can also take advantage of fishing expeditions for catches ranging from amberjack to tarpon.
Click here for more information on camping in the Dry Tortugas.
Be sure to check out Bass Pro Shops in Islamorada, Fla., and stock up on fishing gear.
2. Area 51's Backyard: Tikaboo Peak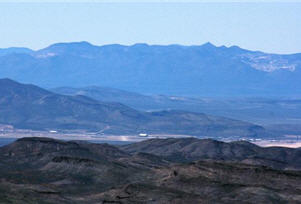 If you're feeling a little daring, try setting up camp near Area 51, the storied top-secret military base 83 miles northwest of Las Vegas. Overlooking Groom Lake, and about 26 miles away from Area 51, Tikaboo Peak is situated on public land near a portion of Badger Mountain, one of Nevada's tallest peaks. It's a steep hike, those familiar with the area say, so make sure you have the right hiking boots.
Locals and UFO watchers have been camping around the far stretches of the base's perimeter for years, hoping to enjoy a light show or unusual sight at night (it's important to heed the many military no-trespassing signs closer to the base). Who knows what you'll see in the mysterious night skies above.
Be sure to check out Bass Pro Shops in Las Vegas, NV, and stock up on fishing gear.
3. Haunted Hocking Hills: Old Man's Cave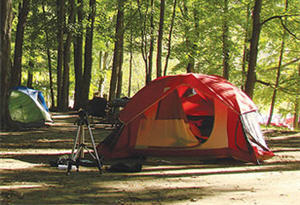 Located at Hocking Hills State Park in the southeastern Ohio town of Hocking Hills, Old Man's Cave is reportedly a haunted rock structure near a mile-long gorge, where the ghost of the 19th century recluse Richard Rowe supposedly haunts the area. The legend of Rowe holds that the old hermit accidentally shot himself while trying to refresh his water supply by using the butt of his musket to break a frozen stream nearby.
Old Man's Cave is just one of six areas of the state park, which has become a popular hiking destination because of its beautiful geologic features, which range from waterfalls to sandstone cliffs. 
 
Be sure to check out Bass Pro Shops in Cincinnati, OH, and stock up on fishing gear.