We've all been there before, especially those who live in the "North Country". The day has been booked off work for weeks, or the lake had been flat calm all day, but the wind kicks out 3-foot waves. It's safe enough to go fishing, but there's got to be a way to slow the drift of your boat down so that you just don't sail over the fish!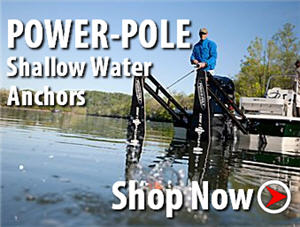 Mark Zona, host of Zona's Awesome Fishing Show, grew up using a "drift-sock" or "wind-sock" or "drift anchor" as they're known.  The smaller the size of the sock, the faster the boat would drift, while a larger the cone provided for a slower drift.  That meant multiple sizes had to be stored clumsily in a dedicated compartment.


Sure, they could slow a boat down to caterpillar's crawl, but they were bulky, inconvenient, and heavy.  "Try pulling one of those back on-board in 3- to 5-foot waves!  They're heavy, you get soaked, your boat gets soaked, and you still have to store it between runs!" Zona reminisced.  "It taught me boat control on excessively windy days but it was a love/hate relationship.  I knew that by 4 or 5 o'clock in the afternoon, I'd be exhausted."



WATCH VIDEO: Zona's Tip for Drift Paddle Position
How the Power Pole Paddles Came to Be

Vice President of Sales and Marketing, Robert Shamblin JL Marine Systems Inc. Power-Pole, approached Zona many years back about advancing the Power Pole shallow water anchor to be able to be a viable tool in rough water.



TIP: Find Power - Pole shallow water anchors and accessories at Bass Pro Shops
"I thought, good luck with that, you'll never replace my drift sock," Zona said.


After much research and product development, Power Pole got it to where it is right now. "It took a lot of product development together," Zona started.  "I lost a lot of paddles in the bottom of the Great Lakes- until we got it correct!"   


Zona figures ½ his time on the water was spent with a drift-sock over the side back in the day.  "Power Pole's main objective was that I would never throw a windsock out again. Spot on, since that product went to market, I've never thrown a sock out," he said.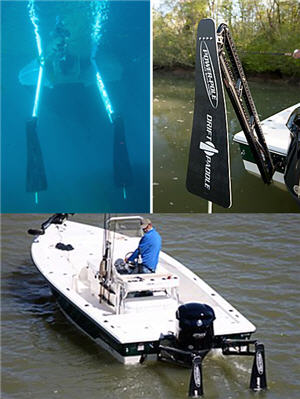 Drift Paddle™ Accessory for Power-Pole® Shallow Water Anchors
Why Power Pole Drift Paddles are Important for Anglers

Zona's heard of anglers who run Power Poles yet have never mounted the drift paddle to them under any weather condition, to that he shakes his head.


"In the wind, you are generally at the mercy of the wind shifting your boat and trying to turn you into a kite.  The drift paddles stabilize your boat to where you can actually maneuver," he started.  "I am now able to dictate my speed by the depth that I lower them into the water. With a stiff 10- to 30- mph wind, you really only need to lower them 4- to 5- feet down in the water.  It locks you up."  


The greatest asset of using the Power Pole Paddle is that they can suit just about anyone's style of fishing.  


"If I want to crank the north shore of Erie and it's gassing 15-mph out of the west and I want to cover water, I'll put them down 2 or 3 feet in the water.  If I catch one, I lower them and slow down more.  I adjust it by the amount of water in which I want to fish at the speed and technique I want to fish them with." Zona started. "If I'm dragging or drop shotting a deep flat, I'm able to adjust the speed of so many variables of how slow I want my bait to be dragged."  


When he wants to cover more water, he'll submerge ½ of the paddle in the water.  If he wants to cover less and slow right down, he'll bury them.  He'll set them up at what he refers to as a "parallel angle"; 75% of the time where they are the same angle as the side of his boat.  If he wants to totally hit the brakes, the paddles will be parallel with the back of the boat, a tactic he doesn't employ often.  "I rarely do that because I lose maneuverability with my trolling motor when I have them at brake angle.  When I have them at the parallel angle, I'm always able to maneuver with my trolling motor," Zona explained.


Where the paddles win out is that once a drift-sock is thrown over the side, you are committed to drifting that line.  By using his MotorGuide X5 Sonar Enabled trolling motor he still has superior maneuverability while fishing at a slower pace. "I am deadly agile, accurate, and mobile where I wasn't with drift-socks.  If I put them in brake mode, I do lose control," he explained.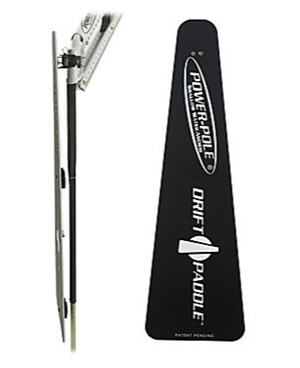 Drift Paddle™ Accessory for Power-Pole® Shallow Water Anchors
Thinking Outside the Paddle
Zona loves flipping massive grass flats for largemouth.  Yet, some days it is to "pole down" with his dual Power Pole Blades to be able to properly cover vegetation.  "My gosh, if you live on Lake Guntersville and throw a Strike King Red-Eye Shad over a flat or flip into pockets of sub-surface milfoil and you are not using those when its blowing 20-mph, you are insane!" he joked. "I don't know how they aren't mandatory on a boat above the Mason Dixon line!"


A couple years back, he shot 12 episodes for ZAFS, none on the Great Lakes, yet on every show he needed the paddles to slow his boat down to fish the conditions he was faced with.


The Inside Deal

Drift paddles can be changed out with a pull-pin.


But, word to the wise, always shut down your master power switch every time you leave the water.  The last thing an angler needs is for the Poles to deploy as they are driving down the road!  Zona is sure to mount his deploy buttons away from where a trolling motor cable might bounce off of or the butt of a rod.  Some sparks aren't worth the flash!


Brains First - Be Safe on the Water

No doubt, Power Pole Drift Paddles can sure help the best of anglers navigate bumpy water much better and put more fish in the boat.  No one wants to lose time on the water, but no product can replace common sense.  Wear and PFD, life vest or life jacket and don't fish alone in rough water.  If it's so rough that you are wondering why you are out there, you're right, time to get in and be safe!


Zona's Tip: Drift Paddle Position