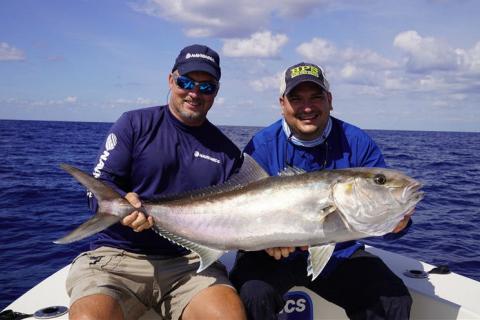 If all you've ever fished is freshwater, you'll have a quick reality adjustment once you hook into your first saltwater fish.


Paul Michele, National Sales Manager Americas, has been targeting saltwater fish since he was 4-years old when his grandfather got him hooked on it.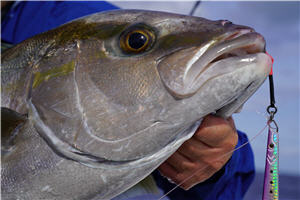 Growing up, he hired private charter boats, fished on head boats, and upon working in the industry began fishing with people "in the know." He learned more techniques allowing him to experiment on their own.
Find This Fish Where They Play the Bait Game
"Reef Donkey" is the nickname afforded to the amberjack known to frequent wrecks, big rocks and strong rises off the bottom where large amounts of fish bait can congregate. They're a very structure-oriented fish with a tonne of power, aggressiveness, and sheer firepower to burn your arms up.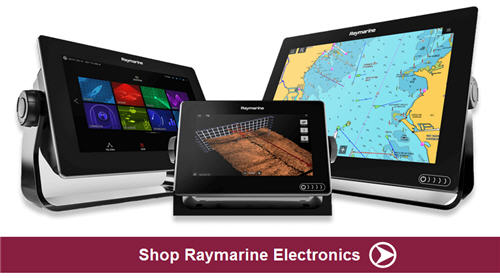 If your part of the ocean is devoid of such structure, sometimes they'll set up on off-shore lumps. "An offshore lump can be a rise that comes up 30-feet off the bottom that causes a lot of upwelling from the current and, that water current pushes a lot of bait on top. The amberjacks sit on top of those rises, and that's where you can drop jigs to them," Michele said.


"Amberjack are voracious feeders," Michele said, so while he might find a wreck holding fish, there might not be any presence of bait because they devoured it all. "They're waiting for more food to get delivered to them by the current," Michele said.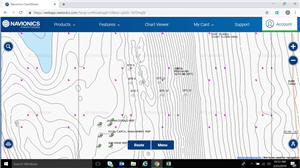 When targeting amberjack, Michele typically checks his icons that he's used to punch key spots on his Navionics mapping first. Such areas will be located in  120- to 250- feet of water. He'll have specific icons that can be customized through the menu system to highlight wrecks sitting on large off-shore reefs. Michele utilizes his Raymarine electronics to search around the wreck as cement balls are often sunk to help create reefs or secure old tug boats. "There will be different parts of debris that will hold those fish, or I'll look for a significant change on the bottom," Michele said.


He'll highlight those lumps on the bottom to indicate the rises from deep water. Using his electronics, he'll mark them on his sonar using the touchscreen feature when an area looks worthy of further investigation.
Bombs Away With the Right Fishing Lure
He knows he's found pay dirt when he graphs what appears to be a Christmas tree growing from the bottom.  He'll hit the brakes, position on the perimeter and drop his jig down. "The real key to those fish is working the jig quickly through the water column which initiates a very aggressive strike," Michele said. "Everyone has a different technique to move that jig. I like to move the rod tip fast and move quickly while other guys like to make big swings of the rod."


The key is getting the jigging spoon above the bait pod. Schools might be 30- feet off the bottom and 50-feet thick but once the spoon clears the school, be ready to get your fishing rod ripped out of your hands literally!


Imagine dropping a 7- to 10-ounce jig down 225-feet, ripping it upward and reeling as quickly as possible and repeating until the lure makes it back to the surface. Wait, let's not forget the moment that your jig gets slammed like an Amtrak heading in the opposite direction. There is not a single freshwater fish that can hold a candle to the sheer power of that 25-pound "reef donkey."  
   
Chartreuse, pink and fluorescent blue/purple-colored Williamson jigs like the Williamson Lures Vortex Speed Jig or the Williamson Lures Benthos Speed jig usually get the job done. Michele tries a 6/0 assist hook to the line tie for short striking or swiping fish using 65- to 85-pound fluorocarbon line, one hook tied to the top split ring while the other one hangs halfway down the bait. 


Joining the 80-pound braided main line to this jig with a uni-knot, he'll set the drag on his 65 series Okuma Azores spinning reel with just enough slip to breaking off fish. He prefers a fast taper rod in the 30- to 50-pound class, but it has to have a "little bit of tip," or the jig won't perform correctly. That said, the rod needs enough backbone to begin moving that "reef donkey" on the hookset, or it will break you off once it heads back into the nearby structure.
You Have a Fighting Chance to Land One of These Fish
Unless you've "felt the heat" that these fish can bring to the table, the sheer instant power can burn your arms up- literally. During the early stages of the battle, you have to put a lot of pressure on them to get them turned away from the structure. If you aren't accustomed to that kind of power, you are going to realize quickly that not many fish will get to the side of the boat.


You want to move them up the water quickly also because as I experienced, a goliath grouper weighing upwards of 500-pounds, has no issue eating your amberjack for a snack.