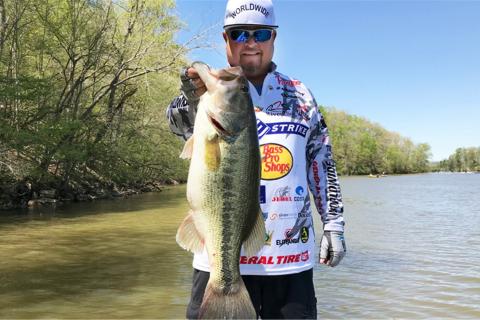 MLF Pro James Watson knows that one of the most effective baits to fish during the post-spawn is a floating worm. That said, the bite only lasts for a week before fish get even more hungry. This is when they need to put on some weight as they rebound from the spawn.
 
Tip: Check out the video below and watch James Watson spoon jacking
Typically, they'll pull off-shore and relate to the first available piece of structure. That structure is usually floating docks sitting in 25- to 125-feet of water. This is when they settle into their summer haunts.
 
"On highland reservoirs, the first place they'll stop at once they come off beds are floating boat docks. This is because shad are spawning on them. Or, the shad use those areas as cover," Watson stated. "Bass like the shade of the docks and use them as an ambush point."
 
Table Rock is a key lake for Watson to employ his "spoon jacking" fishing technique. The lake not only has off-shore docks but clean water. Both are imperative for this deal. The types of bass in play wth this technique are smallmouth, spotted, and largemouth bass.
 
Fishing with a 1 ounce fishing spoon he'll pitch it into each stall and let it free fall to the bottom. He'll "jack" it (rip the bait upwards using his rod) a couple of times, before reeling in and doing it again.
 
The River2Sea World Wide Spoon, which Watson helped design. The River2Sea spoon uses in-house technology, by integrating special weighting and cupping to enable the spoon to fall away from the boat towards and underneath its target. Watson pointed out that by the end of its descent, the spoon might be 4 stalls away depending on how deep the water is where the dock is that he's targeting.
 
Use the Best Fishing Reel, Line and Rod Pairing
Watson stresses that without the best fishing reel, line, and rod pairing for the job, you are destined to fail with this technique. Notice that read, best, not the most expensive. Watson has tried other reels, but he'll stake his career on the Bass Pro Shops Pro Qualifier 2 Baitcast Reel with 7:5 gearing. Watson stressed that the rod, reel, and line are incredibly important.
 
"Dollar for dollar it's the best reel on the market offering over three gear ratios at a $100." he said. "Sure, I have a Ranger bass boat, big truck, and they aren't cheap, but I wholeheartedly promote this reel as the best value on the market. I can't spoon jack with any other reel."
 
With a standard spool size, it holds more than enough 20- to 25-pound fluorocarbon fishing line required to allow the bait to freefall properly. It goes without saying you'll also use up plenty of line due to line twist or the line breaking off after getting hung up.
 
Though he prefers a 7-5 Cashion Spoon Jacking Rod, Watson admits a medium/heavy fishing rod that could double as a light action flipping stick with parabolic action would help to absorb not only the power of the fish but to neutralize a 1-ounce fishing spoon.
Add an Extra Fishing Hook - Chances Are You'll Hook Two Fish!
With an added stinger hook to the swivel, hooking two fish at the same time is a possibility. These are good problems, especially when a hungry school of fish is in play!
 
"If you see three or four come with the hooked fish, hit free spool and let them swim back down as you might be able to pick up another fish on the stinger hook," he said.
 
Be Aware of Tournament Rules
As well, Watson stated that some tournament organizations do not permit anglers to add a hook to a spoon after it's been opened out of the package, but if the bait is sold with the stinger attached, it may be compliant.
 
On bright days, a chrome or chrome/blue spoon world's best while clouds overhead deem gold to be the best color. As bass feed heavily on bait in the fall, white is an obvious choice.
 
The 1-ounce model works fine on shallow ledges, but the soon to be released 2-ounce model falls twice as fast with the same rear trajectory. The added weight is especially useful when fishing in current.
 
He'll also count the spoon down and fish it over treetops and twitch it like a walking topwater bait. A devout line watcher, Watson advises anglers to pay close attention at all times as many bites occur on the descent.
Switching to a Walking Bait
When the spoon bite just isn't happening, or Watson has used up all those fish, he'll work those deep corners of the docks with a River2Sea Rover 128 walking bait. Be it docks or trees, as long as they're the first line of cover outside of the spawning area, he'll surgically dissect those areas. Once the dock bite shuts off, he'll go looking for pole wood.
 
"Find the deepest pole timber/hardwood that you can see exposed over deep water. A good deep cedar tree and pole timber mix is the best recipe for fishing topwater lures. And, through the summer, it's the best for a topwater bite," Watson said.
 
Bone, white, or loon are all good color choices. The darker the sky, the darker the lure and the more aggressive they're feeding, the faster they'll work the bait.
 
Once you're outfitted with a rear feathered treble hook, there's no need to change the hooks. They're razor-sharp right out of the package and designed to spec by River2Sea. To drive the hooks home, he fishes a medium-heavy action 7-3 Cashion casting rod paired with a Bass Pro Shops Platinum Johnny Morris reel (8:3:1) spooled with 30-pound Maxima braid. He'll always tie directly to the split ring when fishing with braided line, due to its no-stretch properties, snaps will open up unless you are throwing monofilament instead.
Watch this video of Watson Spoon Jacking With the Bass Pro Shops Pro Qualifier Reel.