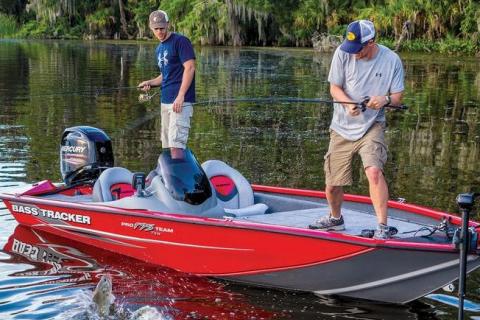 Fishing has gotten good on your favorite lake, and you've been bitten hard by the bass boat bug. A bass boat is a major purchase -- perhaps the biggest recreational purchase you'll ever make. Naturally you want to get the right boat at the right price. But how should you go about getting the best deal on the boat that's right for you?


I've been involved with bass boats since the tri-hull days of the late '60's, as a boating-industry consultant and correspondent for several boating publications. And as the owner of over 30 different bass rigs, I'm painfully aware of how confusing and frustrating shopping for a bass boat can be. Let's put the pieces together with some inside information geared to getting you into the boat you've been dreaming of, at a price you can afford.


One-Stop Shopping
If you're like most bassers, you don't have time to comparison-shop at every fishing boat dealership in the area. Good news: You don't have to. The most time-efficient way to check out the latest bass rigs is by attending a boat show. Most major cities have at least one boat or outdoor show annually, usually in late winter or early spring. Here, manufacturers and/or boat dealers display their latest wares under the same roof, allowing you to compare features and prices -- and perhaps make your bass boating purchase.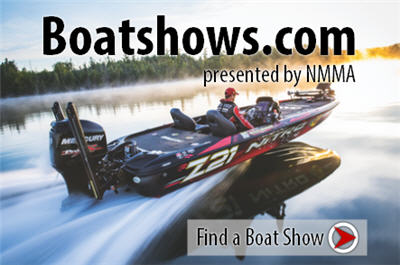 "I figure I saved a week of running around from dealer to dealer by doing my comparison shopping at a boat show," an Atlanta bass angler told me recently. Boat dealers are there to sell boats, he added. "Dealers have stocked up prior to the show and they're in a bargaining mood. They offer show specials that may include extras like batteries or depth finders at a good price."


But a big, crowded boat show can be a frustrating place to try to make a buying decision. Here are some tips that can help make a show work for you:


Avoid weekend crowds -- If possible, visit the show during the week. My Atlanta friend arrived when the doors opened at 6 p.m. on Tuesday (the first night of the show) and was able to peruse many different rigs by the 9 p.m. closing time. "A guy in my bass club who was also shopping for a new boat waited until Saturday, and the crowds were so bad, he couldn't get close enough to check out all the rigs he'd wanted to," he said.


One visit may not be enough -- A major boat show will feature several hundred bass rigs under one roof. It's wise to plan at least two visits to the show to narrow your buying decision. Your initial visit should be an editing session -- move quickly, eliminating from consideration boats that don't fit your needs or price range. Carry a notepad and jot down the brand and model number of rigs you want to look at more closely -- and note down their booth number as well (in a big exhibit hall, it's easy to forget what's where). Then on your second visit, examine the boats that grab your attention more carefully.


Get it in writing -- Most dealers exhibiting at boat shows will be glad to give you a written quote listing a rig's standard features. This is handy information to carry with you when talking to other dealers and examining their wares. But be aware that prices quoted at boat shows usually have a time limit -- you may not be extended the special show price once the exposition is over.


No boat show where you live? Take a tip from a friend of mine who lives in a rural Tennessee town: "I drove 175 miles to Nashville to attend a boat show, and figure I saved well over a thousand dollars by buying a show special from an exhibiting dealer. I took my wife, spent the weekend and made a mini-vacation out of it. I saw more bass boats in two days than I'd have seen in 10 years at the small dealerships in my area."


Things to Look For When Buying a Bass Boat

Buying a bass boat is a decision that's highly charged with emotion. Face it -- some boats hit your hot button, others don't. It's tough to be totally rational when evaluating such factors as a boat's styling, some boats appeal to some shoppers, and others don't. But when comparison shopping, there are some concrete things that are commonly overlooked that you should consider when making your buying decision.


Boat Beam   -- "Most bassers categorize bass boats in terms of their length.  They compare the various brands of 17-, 19- or 20-foot boats, but they may not consider the beam (width) of these rigs.  In a bass boat, 'beamier' is better.  A wide rig is roomier inside, better balanced and more stable when running or fishing.  A wide-beamed boat also runs and fishes in shallower water than one with a narrow beam.  If you're considering two rigs with similar construction, features and pricetags, I'd definitely go with the wider one."


Hull Weight -- Compare the dry hull weights of the boats you're considering.  This information should be listed on the boat's specification sheet.  Hull weight tells you a lot about the boat's construction.  A 20-foot tournament hull ought to weigh around 1,500 pounds.  If it weighs only a thousand pounds, a red flag ought to go up.  Super-light hulls are faster, but they usually won't ride as well as heavier boats.  The performance of a light bass boat also tends to decline sharply when the boat is weighed down with batteries, fuel and fishing gear, while a heavier rig carries this weight better.  A light boat has less fiberglass and may develop stress cracks over time.  But by the same token, rule out a 'lead sled' -- a boat that's needlessly heavy just won't run right.


Boat Construction -- "Different bass-boat manufacturers use different construction methods.  Some employ a choppergun, which sprays chopped glass and resin into the mold, while others hand-lay the material.  A hand-laid boat usually has more uniform construction.  Hand-laid boats often cost more, but they normally last longer."


Boat Motor Fuel capacity --  "If you fish tournaments on big reservoirs, you need plenty of fuel.  A 20-foot boat with a 200-horse outboard should have a 40- to 50-gallon tank." 


Boat Trailer -- "Too many bass anglers make their boat-buying decision without taking the trailer into consideration.  Some dealers knock the  package price down by plopping the boat on a cheap trailer.  Insist on surge brakes on any rig measuring 19 feet or more; these add around $450 to the bottom line, but could save your life.  Consider a tandem-axle trailer for a tournament boat in the 20-foot class.  Twin axles support the weight of a big boat better.  They also reduce trailer bounce that's transmitted to your tow vehicle.  Add around $550 to the package price for the tandem option.



Tip: Here's a boat trailer accessory buying guide to complete the set up.

Boat Financing

You've narrowed your buying decision down to two rigs, each with a sticker price of $19,500. But one rig may end up costing you hundreds -- even thousands -- more.


The reason? Financing -- the "F" word that too often fails to garner the prospective buyer's serious consideration. It's critical to compare financing terms before you buy, for example, one dealer may offer a lower monthly payment on a comparatively priced rig, but your total cost may end up being considerably higher.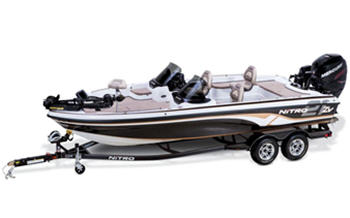 Make sure your boat has plenty of dry storage. No matter how much there is, you'll find a way to fill it!
Sometimes the cold, hard fact is that the boat you've been lusting over may be too much for your budget. A typical fully rigged tournament model costs about $23,000. If you put only $2,500 down with no trade-in, you're looking at a monthly payment of around $470 for five years. Not everyone can afford this luxury -- and a bass boat is a luxury, not a necessity.  Rather than see his customer stretch his finances to the breaking point, a reputable dealer will point out lower-priced, high-quality alternatives. Not everyone can afford a top-of-the-line rig. There are plenty of excellent lower-priced glass and aluminum bass boats on the market, and a large dealership should have an excellent selection of clean used rigs as well.


Buyin' Time or Cryin' Time?
Shopping for a bass boat can be a maddening experience.  But by using the tips in this feature, you can keep buyin' time from being cryin' time.  Do your homework, shop carefully, and get a boat you can afford, not just a boat you want.  It'll all come together when you bring that first 5-pounder over the side of your brand new bass rig this spring.


More Boat Shopping Tips
Storage -- Bass fishing is a very gear-intensive sport. It's wise to choose a boat with the maximum amount of dry storage. Lightweight boats tend to have small storage boxes.


National Brands -- There are hundreds of small, regional bass boat manufacturers. Their boats may be well-built and priced right, but you usually get a better warranty and trade-in by sticking with a nationally known boat brand. Plus, if you buy a regional brand that's fairly popular in the Southeast, then move to another region, you may find the boat hard to sell where it's not a familiar brand.


Get It Up Front -- Make sure you get all the accessories you want on your new boat at the time of the initial purchase. If you buy the boat and then haul it back 6 months later to have another depthfinder installed, you'll pay more in labor costs. By getting them up front, the accessories become part of your monthly payment and are more affordable.


Get What You Want -- You might ask, which is cheaper, a bass rig that's sitting on a showroom floor or an identical rig that the customer special-orders. The answer? Typically they both cost the same. If you don't see exactly what you want at the dealership, order the boat. That way, you get what you really want. If you go ahead and buy the red boat off the showroom floor when you really wanted a green one, you'll kick yourself every time you get in the boat.


Extended Warranty -- These days, most quality bass boats come with good warranties on both the hull and major component parts. What you should really be concerned about is the outboard motor. Outboards usually carry a 1-year factory warranty. I'd seriously consider factoring the cost of an extended engine warranty into the purchase price of the rig. An additional 4-year warranty on a 200 hp outboard could cost between $1,000 and $1,150. At $250-290 per year, that's mighty cheap insurance. Replacing a lower unit on a V6 outboard runs in the neighborhood of $3,000; a new powerhead will cost you around $4,000. If you keep your boat for five years, chances are your outboard will need a major repair sometime during that period. Some boat buyers say, 'I don't believe in extended warranties -- I don't have them on my refrigerator or microwave. Keep in mind,  your refrigerator and microwave aren't turning 6,000 revolutions per minute. Outboards are expensive; you're wise to protect your investment. Extended warranty repair work isn't totally free --  most warranty policies have a service charge per repair.


The Right Boat Service Center -- Many boat dealerships have service centers. As part of your buying experience and, before you close the deal, talk to the dealership service manager. Verify the technicians hold boat engine manufacturer certifications. Manufacturer certifications are typically ongoing programs designed to keep mechanics up to date on the latest engine technology and product developments.  Look for and ask if the dealership has a Marine Industry Certification. You can feel confident you are choosing a business that is committed to your satisfaction if they do.

Do You Really Want a Bass Boat?
Don't automatically assume the best boat for you is a conventional bass rig.  Here are some alternatives to consider:

Fish & Ski -- These dual-purpose boats have become an extremely important segment of the bass boat market.  They're ideal for family-oriented fisherman whose spouses and children play an important role in their on-the-water activities.  "I couldn't talk my wife into a bass boat, but she loves our new fish & ski," a Dallas, Texas, bass angler said. "The interior seats five people comfortably, whereas a bass boat only handles two or three.  The casting decks aren't as big as those on a bass boat, but they're big enough.  The windshield is nice when I'm tournament fishing on a cold, rainy day."


Walleye Boat -- These high-sided Deep V aluminum and glass rigs are favored by walleye anglers in the Midwest who frequent big, rough waters, but many bass anglersare finding them functional as well.  Their livewells are much bigger than those of bass boats, which explains why trophy largemouth guides in Florida and Texas and striper anglers nationwide are using them. 



Riveted Jon and utility boats provide outdoor enthusiasts an extremely rugged and affordable means to chase their passion. Great for boating in shallow water where bigger, heavier boats can't reach.

Flats Boat -- If you live in a coastal area, a saltwater flats boat may be a far better choice than a bass boat.  "I use mine for largemouth bass, snook and tarpon," says Tarpon Springs, Fla., guide Ray Van Horn.  "It handles better than a bass boat in shallow water and runs almost as fast.  I have a trolling motor on the front for bass fishing and another on the stern when I'm using the poling platform in salt water."


Jet-Powered Aluminum Boat -- If you fish in shallow tailraces or rivers, nothing can beat an aluminum boat with a jet-powered outboard.  Jet outboards don't have propellers -- they suck water into an intake and blow it out a nozzle at high velocity to create thrust.  Properly set up, many jet rigs can run full-speed in only 4 to 6 inches of water!


Cartop Boats   -- In many areas, the best bassin' is found in small, remote lakes or ponds where launching a big bass boat is impossible or prohibited.  "I've caught 16 bass over 10 pounds from my little topper boat, and I never caught a single fish this big from the 20-foot tournament rig I used to own," a Valdosta, Ga. lunker hunter indicated.  The trend in cartoppers is to boats made of tough, lightweight plastic; many of these come complete with swivel seats and trolling motor for about $500.