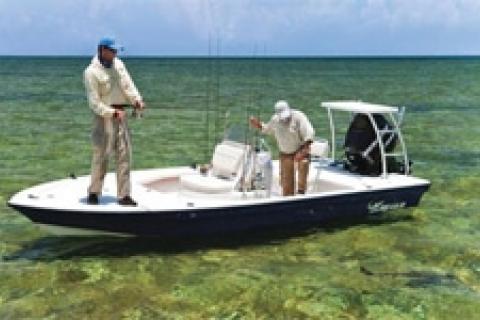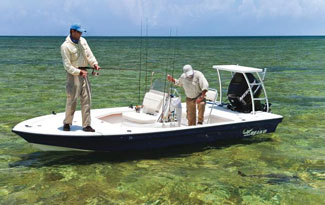 The 18 LTS Inshore from MAKO boats is a classic flats boat, shown here in a classic flats-boat setting.
Popularity of fishing the marine flats and shallow waters of the world has grown exponentially and continues to grow at a rapid pace. Numerous vessels manufactured specifically to fish these skinny waters have emerged to form a spectrum of offerings.  


Extremely shallow draft and quiet operation — the two primary requirements of a skinny-water vessel — are met by a series of watercraft, beginning with non-motorized paddleboards; then canoes; followed by paddled or electric-powered kayaks; and concluding with outboard-motor-rigged flats boats and bay boats.  


Flats boats begin that class of marine vessel that relies on regular outboard engines to get from port to the flats (and in between), but then tilt up the engine and rely on push-pole power to pole the flats with a deliberate track versus the aimless meandering that drifting by breeze affords. Not surprisingly, the other term for flats boat is "technical poling skiff." In other words, if there's no push pole affixed by holders/brackets on the gunwale, thereabouts or in usage, it's not truly a flats boat.


The general size range for flats boats is 14 to 18 feet. A stern mounted over-the-engine-poling tower is essential.  


It's best to think of a flats boat as a stealthy hunting tool that gets you easily into shallow waters, typically measuring a foot or less, in pursuit of tailing bonefish or redfish. Therefore, the draft (the vertical distance between the waterline and the deepest part of the keel) of a flats boat should be no more than 10 to 12 inches — a vessel with this sort of draft is capable of taking on and pursuing the smallest flats species. Larger game fish, such as tarpon and permit, require deeper water on the flats and, therefore, present no problem given the shallow draft of your boat.  


Quiet poling operation of the flats boat is essential. This means a great deal more than the obvious "no-stamping-around-in-the-boat-or-slamming-hatches" rule. It means choosing a flats boat with a hull that features chine and side designs that minimize the "slap" of small wavelets caused by wind, as well as water volume shifts caused by the poler when turning to go after a newly sighted fish.


Regarding the hull bottom design, although flat-bottom boats draw less water than V-bottomed boats, the latter shape with the newest configurations and features will not only make the ride to the flats much smoother and less "bangy," it also holds its own as a "quiet hull" when poled.


Ability to pole shallow is the first of the two features you want in a flats boat, and this is determined by hull configuration, design, weight of materials used in construction, as well as weight of contents — people, tackle, ice chest, gas and, last but not least, weight of the outboard engine.


Poling quietly is affected not just by poling thoughtlessly; poor weight distribution, such as too many anglers on a bow already challenged with an electric motor, can create a heavy entry in the front of the poling track. I advise anglers to avoid electric bow-mounted motors if they are strictly flats fishing, not only because of the weight, but for the clutter the motor creates, which snags stripped fly line and causes trip-and-fall problems for anglers whose eyes are glued to game fish targeted outside the boat.



Large storage compartments under flush, uncluttered decks are the signs of a fine flats boat.
The interior design should feature raised casting decks, fore and aft, that have totally flat and unencumbered surfaces. All good, large casting decks afford storage through hatches that close quietly, have good rustproof hinges, and that drain water into the cockpit sole and then sump via integral channels and drain holes. All hatch handles, cleats and hardware should be recessed or flush-mounted wherever possible to facilitate a walk-around-in-battle ability for close hookups and release moments. Ideally, gunnels should be wide enough for an angler to stand on or cross over at any point during presentation and battle.  


The next choice flats anglers face is the location of the helm for the motor. In the recent past, this meant choosing a stern-oriented, tiller-operated engine. Current choices include side-mounted consoles or center consoles with electric-start motors, although side-mounted consoles seem to be less popular these days.  


There is a direct relationship between helm placement, size and weight of the flats boat, and the size/horsepower and weight of the engine used to power it. Some of the newest skiffs manufactured by a vacuum bag process of super-strong, yet super-light, materials weigh very little — sometimes just over 400 pounds. Not only do they float in just inches of water, but also require only very small engines -- often no more than 40 horsepower — to get on plane and run very fast. If the engine is a four-stroke, it can run all day with very little gas consumption.


It really furthers the ultra-shallow objective of these super-light skiffs to forego the weight of a center console and use an electric-start, tiller-handled engine. (You may have seen them in operation, but it's best to avoid the "pull-start" tiller-operated engines, unless you have the strong hands of a guide.)


The two major cons of a tiller engine are that the rear placement of the operator reduces over-the-bow visibility when underway, and it adds approximately 200 more pounds of stern weight. Standing while running with a tiller handle extension can compensate for this, though I feel this adds accident risk to the picture. The rear weight of the tiller operation can also be somewhat offset "out of the hole" by trim tabs, but these tools still do not match performance provided by center placement of the guide and console. Furthermore, these super-light, super-shallow flats boats belong in the calmer inside flats. During rough weather with big breaking waves, they simply do not hold their own with heavier flats boats with bigger engines, higher sides and center consoles with grab handles. 


I always advocate center-console flats boats when big waters, big weather and big fish are involved. The center console may add some weight, but the added visibility for the operator, added storage capacity, added space for electronics and gauges, clustered access to helm controls and trim tab controls next to the steering wheel seal the deal for me. Some center-console flats boats function quite well with outboard motors as light as a 60 horsepower model. These engines feature power tilt and trim, which makes careful motor operation on and off the flats a simple matter.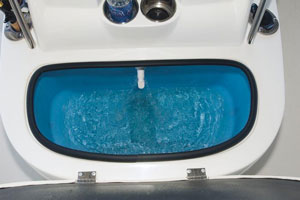 Most livewells on flats boats are fed by electric water uptakes.
Electric-powered trim tabs are a necessity, not just for jumping on plane quickly, but also for modifying the running angle of the vessel when it encounters large waves off the beam, bow or stern. Some center-console flats boats have jack plates, which enable the engine to be vertically adjustable on the stern to allow for shallow water running. I confess to being ambivalent about jack plates since I generally oppose running flats boats over the shallows — inevitably, the sea grasses suffer.  


All good flats boats should have more than ample rod storage. The three classic placements are under the gunnels with rod racks and bow tubes, in the gunnels, and vertical storage alongside the center console. The first form of storage is most friendly to fly rods, which are often 9 feet long and necessitate horizontal non-jarring placement. In-gunnel rod storage is specific to a few manufacturers only and often supplemented by a small storage cluster against the center console. I personally carry ten rods each trip and store fly rods on rod racks under the gunnels, as well as some shorter 6-foot plug rods in tubes mounted vertically on the center console. I have never had center-console rods spook flats fish, but, in order to eliminate risk of entanglement on the backcast, these must be repositioned if the angler is fly fishing.


I would not be comfortable with any flats boat that does not have some sort of livewell. Flats fishing is too dynamic and demanding a sport to eliminate a feature that would have live crabs, shrimp or pinfish available when the fish refuse artificials or flies. Though some purists eschew the livewell, I do not, and I assume the average inshore angler would not either.  


Pushpoles come in a variety of materials ranging from fiberglass, graphite, various composites and more. My advice is to buy a pushpole of the lightest weight possible since you'll be using it all day on the flats. Remember to pole the boat without wild swings of the pushpole since flats fish easily see this motion and spook. Ideally, it helps to have retractable pushpole holders, since this will help fly-line management on the bow.  


These are some of the most important considerations related to choosing and outfitting a flats boat. Hopefully, these suggestions help get you started on a form of angling that is currently taking the fishing world by storm.