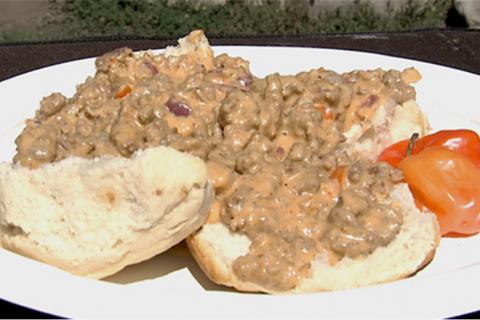 For fans of warm buttery biscuits and gravy, this well known southern favorite with a "crazy spicy" boar sausage gravy is camp favorite and a must-try. And hey, if spicy gravy isn't your thing, you can omit the habanero or substitute a milder pepper, like a yummy jalapeno.
Prep Time: 20 minutes,   Cook Time: 25 minutes,   Servings: 4-6
Biscuits & Sausage Gravy Recipe Ingredients:
1 1/2 lbs wild boar sausage
1 lb breakfast sausage (not cooked)
1-2 tbs ice water
1/4 cup Hi Mountain Breakfast Sausage Seasoning
1 19-oz can flaky refrigerated biscuits
1 habanero, seeded and minced (might want to start with 1/2 habanero and add more if desired)
1/4 cup yellow onion, minced
3 tbs all-purpose flour
1 12-oz can evaporated milk
1 1/2 cups milk
1/2 tsp salt
1/2 tsp freshly ground black pepper
2 tsp butter
Biscuits & Sausage Gravy Prepping Directions:
1. Place wild-boar and pork sausage into a bowl, and add 1/4 cup Hi Mountain Breakfast Sausage Seasoning.
2. Add a tablespoon or two of ice water to help distribute seasoning and keep it cool. Mix until seasoning is thoroughly distributed.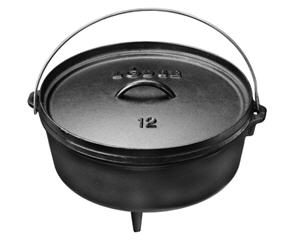 TIP: Temperature regulation is the key to baking anything in a Dutch oven. If it's too hot on the bottom, you'll burn your biscuits and the tops will be doughy. Make sure you put more briquettes on the top than the bottom.
3. Lightly coat the bottom and sides of the Dutch oven with oil or butter.
4. Arrange biscuits close to each other in the Dutch oven. They do get bigger, so give them a little room to grow.
5. Check them after about 10 minutes to see if you need to adjust the coals.
6. Place a large cast iron skillet either on or over a hot bed of coals.
7. Add sausage, pepper and onion and brown, breaking up sausage as it cooks.
8. Sprinkle flour over and stir to distribute evenly. Cook, stirring often, for 5 to 6 minutes more to remove raw flour flavor.
9. Stir in evaporated milk, milk, salt and pepper. Scrape bottom of the pan to loosen any bits. Bring gravy to a boil, stirring frequently. Simmer until it reaches desired thickness. Stir in butter.
10. Place a biscuit or two on a plate, and top with gravy.
NOTE: If spicy gravy isn't your thing, omit the habanero or substitute a milder pepper, like a jalapeno. Cutting around the outside of the pepper, avoiding the ribs and seeds, is the easy way to get it ready for chopping. When working with habaneros, it's a good idea to wear rubber or latex gloves and, for obvious reasons, keep your hands away from your eyes and sensitive areas of your body.
How to Make Your Own Biscuits:
*4 servings*
2 cups all-purpose flour
3 tablespoons baking powder
1/2 teaspoon salt
1 tablespoon fresh rosemary leaves, minced (or substitute 1 teaspoon dried rosemary leaves)
1/3 cup shortening (like Crisco)
1 cup milk
Directions:
1. Combine flour, baking powder and salt. Add rosemary and mix evenly. Using a pastry cutter or a pair of forks, cut shortening into flour mixture. Stir in milk.
2. Dough will be sticky. Transfer to a floured work surface and knead for 2 to 3 minutes.
3. Spoon golf ball-sized portions into a well-greased Dutch oven. Cover with lid and place in coals. Place additional coals on lid and bake for 12 to 15 minutes.