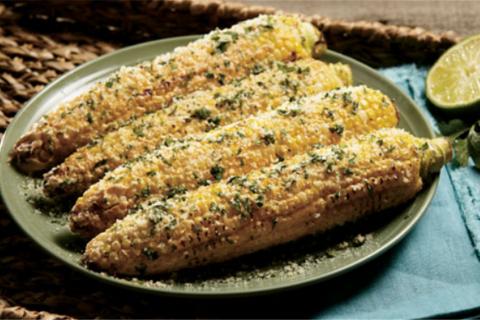 Cook up Some Corn on the Cob Quick With a Little Help From the Cabela's Pellet Grill!
The summer is all about taking it easy. When it comes to mealtime that means moving our cooking outdoors and firing up the grill. Check out this easy corn on the cob recipe that will have your taste buds in awe.
Recipe Ingredients for Grilled Corn on the Cob
4 ears of corn, husked
2 TBSP mayonnaise
1 lime wedge
1/4 tsp chili powder
1/4 tsp salt
1/4 cup Parmesan cheese
2 TBSP cilantro
Ground black pepper, to taste
Preparation Directions:
1. Fill hopper with Cabela's BBQ Wood Pellets
2. Preheat grill to 450F
3. Place corn on grill, grill for about 5 minutes
4. Turn ears, repeat until all sides are charred
5. In a separate bowl, add lime juice, mayonnaise, chili powder, pepper and salt, stirring to combine.
6. In another bowl, combine Parmesan cheese and cilantro
7. Coat corn in mayonnaise mixture then sprinkle Parmesan mixture on the corn
8. Enjoy!
Click here to print or download this corn on the cob recipe